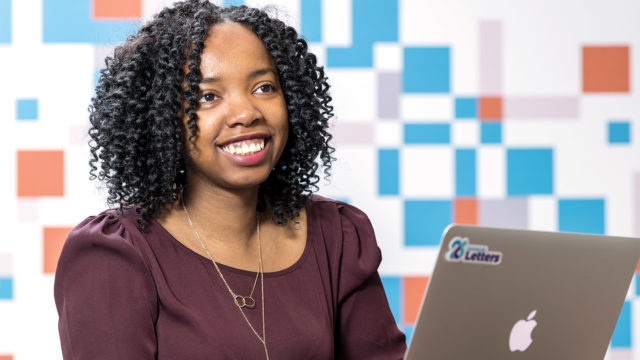 Caroline Karanja '12 is helping organizations talk about equity—and take action.
In a recent business meeting, two women of color—including Caroline Karanja '12—were the decisionmakers. But you wouldn't know it, based on how the prospective clients steered the discussion. "There were three white men in the room, and the folks pitching to us only directed their questions and eye contact to those men," she says. "It was so pronounced that after the meeting, our male colleagues said, 'Did you notice they didn't give you the time of day?'"
That's the type of workplace interaction that contributes to disparate rates in how organizations retain people of color, Karanja says. Minneapolis and St. Paul rank first nationally in retaining professionals, but just 14th in retaining professionals of color, according to Greater MSP, a regional nonprofit focused on jobs and economic development. Karanja can list plenty of similar stories from just her own workforce experience—interactions that aren't explicitly sexist or racist, perhaps, but chip away at morale and make other job opportunities seem more enticing. "Those little moments add up; it's death by a thousand paper cuts," she says. "When you have a skill set that gives you a lot of employment options, what keeps you in an organization is the community you build and that organization's culture. If that culture facilitates exclusivity or microaggressions, if you don't feel like your voice is being heard—when someone comes along with a better offer, you're more likely to take it."
Company cultures need to change, she says, and there's no time to waste, given the rapidly changing demographics in Minnesota and around the country: through 2030, the number of people of color in Minnesota is expected to grow twice as quickly as the number of white people. "Those are going to be your employees," she says. "If we can't retain them, how are we going to attract business here? You have to think about what equity means in your organization and take steps toward it. It's no longer enough to just have conversations about it."
Karanja is using her own skill sets to transform the workplace—at tech companies, in schools, and even in state government. Her solution: 26 Letters, a tech-based platform that Karanja co-founded in 2017. Named as a reminder of the power of language choices, 26 Letters provides tools to help organizations facilitate inclusion, diversity, equity, and awareness. Part of the platform focuses on an organizational assessment that provides inclusion and engagement scores, with feedback on current strengths and opportunities for growth. Each set of recommendations is tailored specifically to an organization's people, needs, and goals. Even departments and branches within one company may receive different recommendations: "What are the inclusion and equity gaps in your Toronto office? How can we address those? What does having a sense of belonging mean for someone in your IT team?" Karanja says.
In addition to the organizational assessment, 26 Letters conducts individual assessments that produce personal development plans to help employees build awareness about what kind of media they consume, where they build community, and how they can broaden their perspectives. Karanja's team is also testing a text-messaging consultation service.
Karanja's fascination with the intersection of culture and technology began to flourish at Mac, when the American studies major started to see technology as a way to level the playing field—the idea that if you can learn how to code, you can build solutions. She taught herself how to code, and her first job after graduation was as a corporate data analyst for Best Buy. Karanja later worked at a start-up, where she learned how to build both a product and a team—experience that came in handy when she launched
26 Letters.
Throughout those years, says Karanja, whose family moved from Kenya to Wisconsin when she was 10, she also experienced how women and people of color navigate work environments that don't represent them equitably. When she started wearing her hair naturally, for example, she didn't think much of it, until a coworker started squeezing her hair. "As a black woman, I'd heard stories about people touching your hair, but it had only happened to me with younger children," she says. "This was someone who was older than me, in a higher position, and I was new and in need of a job."
As she connected with more women and people of color in tech, she learned that she wasn't alone in her experiences. Karanja dug into research on diversity and inclusion in the workforce and started consulting.
In early 2016, she had another lightbulb moment. She found herself meeting for coffee with staff from a large corporation for the third time, in increasingly deep conversations—with Karanja essentially providing free consulting about how to improve the company's culture. "That's when I realized I wanted to do this full-time," she says. "Woman can't live on coffee alone."
Her clients now include the state of Minnesota, Minneapolis Public Schools, nonprofits, and tech companies from Minnesota to the Bay Area. Last summer 26 Letters joined the Lunar Startups accelerator, a St. Paul-based incubator designed to support a diverse group of entrepreneurs. Lunar was launched by American Public Media and supported in part by a $1 million investment from the Knight Foundation.
Splitting her time between her Lunar desk and Minneapolis apartment, Karanja often divides her workday into early morning and late night shifts ("peak productivity happens from 9 p.m. to 1 a.m.," she says). Her workload ranges from communicating with clients to building applications to fix bugs, a breadth of challenges that require the critical thinking skills that she credits to her American studies coursework at Mac.
As Karanja eyes expansion, she's thinking about her ideal
client—and realizing that it's not one type of company. She simply wants to partner with organizations that are ready to take action and effect change. That includes her work with Minneapolis Public Schools, as evidenced by recent conversations at a statewide educators conference. "People were approaching us to tell us they're putting together groups to discuss what they're learning," Karanja says. "It's exciting to see our platform changing how people view the world."
By Rebecca DeJarlais Ortiz '06