Kalala Kiwanuka-Woernle '22 (Dorchester Center, Mass.) and Hayley Hadges '22 (Richfield, Minn.)
How we met: At our work-study job in the Admissions Office, where we quickly became friends and are now inseparable

Favorite thing we do together: Movie nights with friends and ordering pizza 

Advice for new students on making friends: It's true that everyone during Orientation is in the same spot, all hoping to make friends; however, a lot of students become friends beyond Orientation in class, work-study, or student clubs. It's important to stay open to meeting new people and forming more connections. The foremost thing is to find friends that you can be yourself around.

Field trips taken together: Mall of America, Gay 90s, Holidazzle, Raising Cane's, Everyday People, Como Zoo, Mixed Blood Theatre, Nicollet Diner, Rosedale Mall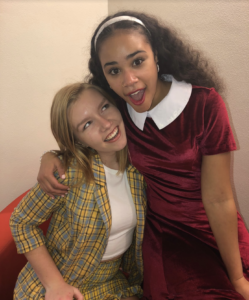 More about Kalala:
Student organizations: BLAC (Black Liberation Affairs Committee), AFRIKA, Musical Theatre Club
When I started the college process, I thought I wanted to escape winters in a place like Boston. But I decided to attend the Spring Sampler at Mac, and fell in love with the school—even though it snowed! (Everyone swore this was weird, even for Minnesota.) After spending three days on campus, I could not imagine going anywhere else, and went home with Mac gear for my parents and little sister even though I still hadn't officially committed. College is different than I had anticipated, but all my initial anxieties about professors and classes have quickly disappeared because they have all been super supportive and understanding.
More about Hayley:
Student organizations: Program Board, MacYarn, Macalester Investment Group (MIG)
Even though my family lives close by, I hadn't truly explored the Twin Cities before this year. Going to Macalester has given me the perfect opportunity to experience a new and exciting place without feeling too far from home. Before arriving at Mac, I was nervous about how I would compare to my new classmates. While they were just as bright and motivated as I had imagined, over time I've learned that I too have unique strengths. Macalester has been a great place to explore new things and push me out of my comfort zone.