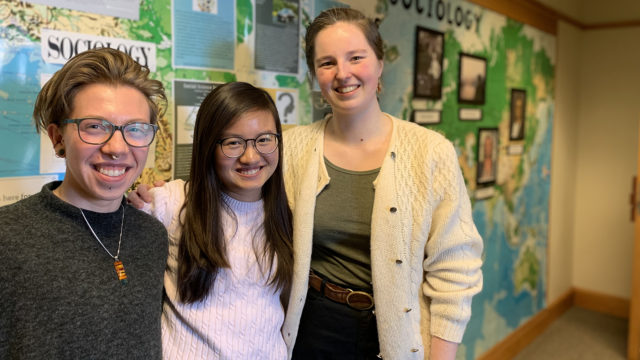 St. Paul, Minn. – Senior sociology majors KP Blake-Leibowitz (Madison Wis.), Olivia Chew (Singapore), and Margaret Hinson (Dundee, Ore.) have been awarded first, second, and third prize, respectively, in the 56th Annual Midwest Sociological Society Student Paper Competition.
In their first-prize paper "'Being Able to Breathe Publicly:' Trans and Gender Nonconforming People Healing through Embodied Activity," Blake-Leibowitz examined how transgender and gender nonconforming people can use movement activity for healing. Bridging research on organizational settings influence dominant ideas about gender and sex and research on healing from trauma, Blake-Leibowitz conducted in-depth interviews with transgender and gender nonconforming people to examine how participation in activities such as running, dance, and yoga can influence bodily awareness. Their research showed that participating in these activities can become a way in which people develop a new sense of their body as free, particularly when these activities develop a sense of community.
Chew's second-prize paper "Tampoco soy una chica que está perdida por allí': Class Disparities Embedded in the Tensions between Gender Discourses Navigated by Young Adults in Quito," examines how class disparities influence the way young adults in Ecuador approach and use progressive ideas and language about gender. Using in-depth interviews she conducted with participants of a project against gender-based violence in Quito, Chew analyzed how elements of social class (such as language, emotion, morality, and ideas of constraint and freedom) influence how easily people are able to use new ideas about gender discourses in their lives. Her paper concluded that feminist movements in the region should account for how gender and social class intersect in ways that make the progressive gender ideas accessible to certain groups of people.
In her third-prize paper "The Unrecognized Role of Parental Incarceration on In-School Suspension Rates," Hinson examined the consequences of parental incarceration for students' experience of school discipline. Using results of a statewide survey from Minnesota, Hinson found that students who currently have or previously had a parent incarcerated have a greater risk of suspension even after adjusting for differences in socioeconomic background, academic performance, and behavior. Her analysis showed that students who have a parent currently incarcerated who engage in the same behavior as other students whose parents were never incarcerated, are about 50 percent more likely to be suspended. Hinson's paper supplements these quantitative findings with interviews with school administrators, finding that schools may not be taking these students' needs and experiences into account.
The three students will receive their prizes and present their papers at the Annual Meeting of the Midwest Sociological Society (MSS) in Chicago in April. The Midwest Sociological Society, founded in 1936, is a professional organization of academic and applied sociologists as well as students of the discipline. While the MSS membership area formally includes nine states – Illinois, Missouri, Wisconsin, Iowa, Nebraska, Minnesota, Kansas, South Dakota and North Dakota – more than one-third of the members are from other parts of the nation and the world.
For further information, contact Erika Busse (busse@macalester.edu, 651-696-6518) or Erik Larson (larsone@macalester.edu, 651-696-6309).
Learn more about Macalester College at macalester.edu.