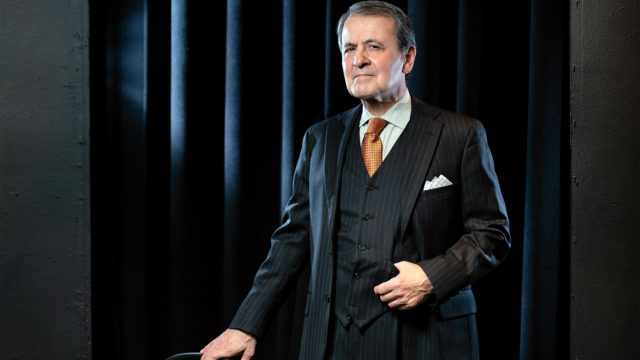 Stephen Fedo '72
juggles multiple roles: actor, director, playwright—and general counsel.
Six months before Piven Theatre Workshop was scheduled to premiere a new play about its hometown of Evanston, Ill., Piven's literary manager, Stephen Fedo '72, still didn't have a script. Piven's 2017–18 season was exploring the theme of "home," and in collaboration with Evanston's Fleetwood-Jourdain Theatre, a company whose focus is the African American community, Piven had commissioned a new play by a local playwright about housing and displacement in Evanston. The show had been announced for a four-week run beginning in April, but in December, the theaters and the writer parted ways. That's when Fedo and his collaborator, Tim Rhoze, Fleetwood-Jourdain's artistic director, decided to write the play themselves.
The timeline would be tight. Casting, designing, and rehearsing a new show usually took a couple of months—and that's with a finished script. Another complicating factor: Fedo's day job as general counsel at Neal Gerber Eisenberg in Chicago. "I've been a lawyer for 37 years, and I was an actor and playwright before that, and then really put theater aside for 18 years," Fedo says. "I went back to it in 1999, when I both decided that I couldn't stay away from it any longer, and I also had greater control of my working life and schedule." Lawyer by day, Fedo has also acted in 22 productions, directed five, and written or adapted eight productions in the Chicago area. In his part-time position as Piven's literary manager, Fedo reads and evaluates plays, provides advice about potential productions, drafts press releases, and leads post-performance talk-backs.
A Home on the Lake, the play that he and Rhoze wrote, was informed by older Evanston residents' oral histories, as well as by historical research Fedo conducted. He explains that in the early part of the last century, black homes in Evanston that "existed near white neighborhoods were picked up, put on flatbed trucks, and actually physically moved. It was a strong visual emblem of segregation." After several long conversations, Fedo and Rhoze decided to structure the play using parallel fictional stories that move back and forth between two time periods, the 1920s and the current day. "That way we could really explore what was done, which was the very conscious and deliberate segregating of a northern suburban city, and what the effects of that are in the present day through the current generation," Fedo says. The playwrights began to write scenes, and the play took shape.
At Macalester, Fedo—a dramatic arts/theater and English double major—studied with Peter Murray, then chair of the English department. "I read with him all of Shakespeare and probably 100 other plays," Fedo says. "I learned how to approach a text and really mine it not for one thing, but for the many things that the text can reveal. That has been important to me throughout my work as an actor and director."
Fedo then pursued a PhD in English at Stony Brook University in New York, where he met his wife, Ann Speltz '72, a Macalester graduate who was finishing her PhD in the same department. "The notion that both of us could find an academic job on the same continent just seemed kind of impossible, so I decided to try and do something else," Fedo says. "I thought, well, lawyers use words, and I do too, so maybe that would work. And I knew not much more about it than that." His wife got a job in Chicago, Fedo went to law school at the University of Chicago, and they stayed. Their daughter, Amelia Fedo '13, is finishing a PhD in French literature at New York University.
Both spheres of Fedo's life, he says, depend on paying close attention to what is being said, whether on stage or in a courtroom. "I've always thought that one thing I bring to my own practice of law is a willingness to listen and an ability to assess character and to assess what someone may really be saying, even if the words aren't saying that specifically," he says. "I think that has helped me as a counselor of clients. It has helped me understand adversaries better. It has helped me get to the heart of the matter more than I otherwise would."
Directed by Rhoze, A Home on the Lake premiered in April 2018. Talk-backs—often using community members as co-moderators—were held following many performances, and Fedo says the play accomplished what the two theater companies set out to do: bring people together to share an event about their community and provoke conversation about how it is today, and what might be involved in changing the shape of the community. Chicago Tribune theater critic Kerry Reid wrote that when the play "delves into the emotional resonance of what 'home' means for these characters, it soars."
In December, Fedo stepped aside from his general counsel position at Neal Gerber Eisenberg and will spend time advising other lawyers in smaller firms that don't have the benefit of a full-time general counsel. "I've been lucky to have two really satisfying careers for the last 20 years or so, simultaneously," he says. As his legal practice winds down, he expects to devote more time to his position at Piven and do more acting, directing, and writing.
"The liberal arts in general, and Macalester in particular, prepared me for all of the work I've chosen to do, but not by training me for any of it," Fedo says. "There's not much in the substance of what I do now as a lawyer, actor, or playwright that I'd trace back directly to Macalester, but I did learn the value of trying things and of sticking with them till they can be done reasonably well. And I also acquired the critical faculty of appreciating that 'reasonably well' isn't where you stop."
By Julie Hessler '85 / photo by Mariah Karson