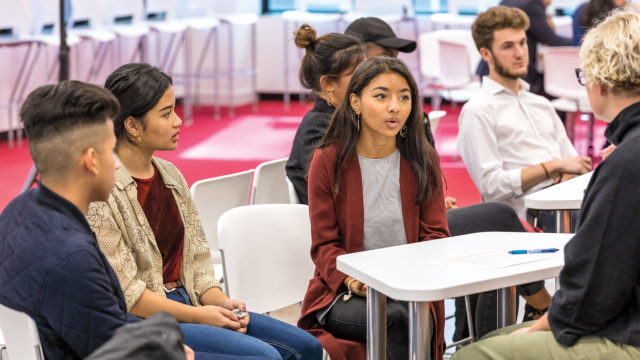 Last semester, Macalester classes met—as usual—in spots like Old Main and Olin-Rice. They also met all over the Twin Cities, in places ranging from a concert hall to City Hall. More than 60 courses in 17 departments now include assignments that send students around the metro area to explore, research, and collaborate. Whether those excursions are one-time guided field trips or semester-long partnerships with local organizations, holding class off campus adds new dimensions to the theory students learn in the classroom.
We tagged along with seven Mac classes as they took their education into the Twin Cities.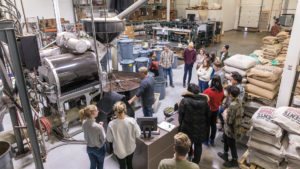 Touching Shoulders
On a Saturday afternoon in October, Ntozake Shange's for colored girls who have considered suicide / when the rainbow is enuf is playing at the Penumbra Theatre in St. Paul. It's a small space, and the 14 students in history professor Crystal Moten's Narrating Black Women's Resistance course are packed into their seats. The setting itself is one of community: the stage is close to the seating, actors move among and engage with the audience, and there's not much wiggle room between chairs.
That's part of Moten's philosophy. "Those chairs are really close—you're touching shoulders with someone in the audience," she says. "How does that impact what you think? How does being in community with other people teach you something? I really value the learning that happens within communities. I think about the ways in which our intellectual growth happens—not just in the classroom but in what's happening in our hearts, in how we interact with people who aren't like ourselves. To me that's just as important as sitting in the classroom and poring over a text."
All semester, the class is studying autobiographies and memoirs written by black women. For Maddie Schumacher '19 (Madison, Wis.), seeing stories presented through a different lens at Penumbra was powerful—and so was the theater company's multiracial casting, involving black, Latinx, and Asian American actors. "It just felt like this utopian vision of solidarity and shared power," Schumacher says. "I'm half Chinese, and I realized this was the first time I had seen an Asian woman on stage being honest and frank. Every line hit me. It made me think about my own identities. The following weekend I bought tickets to go see it again."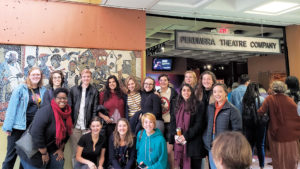 Ethnographic Legacies
One of the longest-running community-based courses at Mac is the anthropology department's Ethnographic Interviewing class, launched nearly 50 years ago using an approach pioneered by professors James Spradley and David McCurdy. Thousands of students have completed the course, which requires them to choose a microculture—and an informant in that microculture—and conduct seven hourlong interviews, then use that information to write a 30-page research paper. Although students aren't required to go off campus for their project, about half of them do—and Mac's urban location creates an especially rich variety of options, says professor Arjun Guneratne, who has been teaching the class for 15 years.
Over the years, his students have explored microcultures that range from firefighters to funeral home directors. To complete the assignment successfully, students must build good rapport with their informants.
For anthropology major Aberdeen McEvers '19 (Houston, Minn.), Guneratne's Ethnographic Interviewing course last fall marked her third (and most intensive) ethnographic project at Mac. Each assignment shaped her perspective beyond what she gleaned from the interviews. "Studying a microculture off campus strengthens my interpersonal communication—it pushes me because it's less comfortable to interview a stranger in a new place than someone you know in an environment you're familiar with," says McEvers, who focused her most recent project on what tools a public library uses to make all community members feel welcome. "I'm always surprised at the relationships I develop with my informants. They've always been very open and giving people, and this has had a profound impact on my confidence in interpersonal interactions with people outside academic research as well."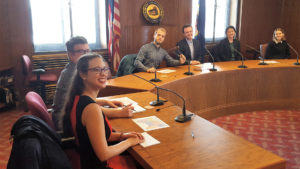 Live Performance
On a Sunday afternoon in early October, a group of Medieval to Mozart students clusters at the 63 bus stop at Grand and Snelling before heading into downtown St. Paul to the Ordway Concert Hall. The Mac students take their seats in the massive hall with a high ceiling above them and hundreds of audience members surrounding them. Along with their professor, Mark Mazullo, they're about to listen to the Saint Paul Chamber Orchestra perform Bach's St. John Passion. A harpsichord is positioned in the middle of the stage, and music major Karl Schuetzle '20 (Minneapolis) considers it for a little while before identifying it. "I don't see a lot of harpsichords," he says.
When the performance begins—an oratorio that Schuetzle likens to an opera in form and style—the students follow along with the lyrics in a program divided into two columns, one for the original German and one for the English translation. Some of the lyrics come directly from Martin Luther's translation of the Bible; others come from Lutheran hymnals and other sources.
This piece was meant to be played in front of a live crowd, Schuetzle explains, and after the concert, he understands it differently. "It's one thing to listen to a recording in your room—it's another to hear the music in a setting that's more in tune with the intention of the piece," he says. "It's easier to follow along and relate all the ideas we're talking about in class. Engaging with the music performed live brought a lot to the table that I wouldn't have gotten from listening to a couple of sections online."
Mapping Early Childhood
Education
Elizabeth Abramson '19 (West Newton, Mass.) and her classmates in geography professor Laura Smith's Urban GIS [geographic information systems] class spent the semester analyzing access to early-childhood education in St. Paul. Using GIS technology, the students examined three angles: the demographics and areas of highest need, current distributions of childcare programs, and the barriers families face in accessing programs. The project was a collaboration with St. Paul City Council member Rebecca Noecker, who is driving an initiative to implement universal childcare for all St. Paul three- and four-year-olds. The class visited City Hall twice to discuss the project and present their findings to an audience that included Noecker and her team, other council members, education consultants, and the St. Paul Public Schools superintendent.
"When we work with these community partners, we have to learn to balance their priorities with what we think is interesting," says Abramson. "Obviously, we take a GIS class because we want to improve our GIS skills. But it's not useful if we show our client a complex multilevel analysis that we think is really cool but isn't productive for them. We're taking into account what's going to be most useful for our client and then adjusting—even if that means changing what we originally thought we were going to do."
Midterms, Amplified
In late October, 12 Introduction to Social Entrepreneurship students are presenting midterm projects in downtown St. Paul's Osborn370, a new Twin Cities entrepreneurship hub. In a large open space with start-up employees working nearby, the students are in front of three judges with expertise in marketing, sales, and human resources. The judges' incisive questions keep teams on their toes.
In groups of three, the students identify a social problem and pitch their solution—beginning to navigate the challenge, as professor Kate Ryan Reiling '00 writes in her syllabus for the sociology and international studies course, of taking an idea and turning it into reality. Tori Gapuz '21 (Plainfield, Ill.), Juan Diaz '22 (Little Rock, Ark.), and Swopnil Shrestha '21 (Minneapolis) outline the problem they've identified: despite many student organizations and identity collectives on campus, there aren't individual outlets for students to showcase their hometowns and cultures to share with their Mac community what life looks like back home (and vice versa). They want to devise a visual platform: a social media campaign, perhaps, or a YouTube channel for vlogging.
Their goal: to build more connections for students—especially those from underrepresented cultural backgrounds or who are the first in their families to attend college. "There's power in bringing your college experience back home, and then your home back to Macalester," Gapuz says. "Students renegotiate their sense of self at Macalester, and they don't always have an opportunity to show where they grew up, how they were raised—and how that shapes you and your experience at Mac."
By semester's end, each group will have built a prototype, tested it, and presented what they've learned to Reiling, the rest of the class, and another group of judges. And this midterm check-in is intentionally structured to be a little bit daunting. "Coming to a space like this can make you feel more nervous," Reiling tells the students after the presentations are over. "That's part of the reason why we bring you here: to make you feel more uncomfortable. That way, when you're out in the professional world, you've had practice doing this in an unfamiliar setting."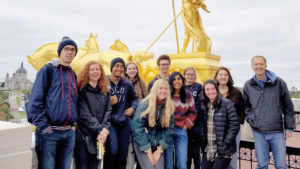 Experiencing Architecture
In his first semester at Macalester (and in the United States), Alexander Thomas '22 (Kerala, India) explored the Twin Cities through political science professor Patrick Schmidt's Politics of Architecture first-year course. On a Saturday in September, the class used the Green Line light rail to visit three St. Paul sites—the new MLS soccer stadium, the Neighborhood Development Center, and the State Capitol—with a break for lunch on University Avenue.
"Architecture is about more than what a building looks like—it's also about how it makes people feel," Thomas says. "When you look at pictures of buildings, you don't have a sense of scale or what it feels like. Minnesota's State Capitol has the second-largest freestanding dome in the world, and I can understand that without seeing it, but being there in person shows me how big the building feels and how light filters through the windows to fill the room. Being able to experience those spaces in person is crucial. Once you read about architectural elements in class and then see them in person, it's hard to forget them."
Actions of Hope
It's early December, temperatures are in the mid-20s, and finals start in under two weeks—so it's no surprise that the students gathered at Tiny Footprint Coffee gasp with delight when co-owner and co-founder Alan Krohnke welcomes the group and adds, "We've got coffee brewed!"
The coffee creates a cozy atmosphere at the Brooklyn Center, Minn., roasting facility, and right away, the conversation digs deep. Krohnke and his team field questions about coffee farming, fair trade logistics, farmer compensation, climate change, and sustainability. In the past 10 years, the company has dedicated itself to creating the world's first carbon-negative coffee by supporting reforestation efforts in Ecuador, where Tiny Footprint will fund the planting of its 100,000th tree this winter. Later in the visit, the group tours the warehouse, where giant burlap coffee bags are stacked on pallets and batches of beans churn through a rumbling roaster.
The Tiny Footprint visit is part of the syllabus for biology professor Devavani Chatterjea's first-year course Health in the Anthropocene, which examines the forces that shape the interconnected health of humans and our planet. The conversation with Krohnke touches on many of these issues, such as extreme weather, equity in the supply chain, and business challenges including how to distribute the coffee more broadly without increasing the carbon footprint. "We've grappled with this question of scale all semester: the efficiency of scaling anything up to support more humans and human activities also scales up the footprint in lockstep," Chatterjea says.
And though some of the ideas Krohnke mentions have come up in the classroom already, Chatterjea says it's important to bring her students out here because Tiny Footprint is taking action in the face of human-forced climate changes that can and do feel insurmountable. "What do you do in the face of great despair?" she says. "These forces feel so big, this process almost inevitable. But you want to get up in the morning and do something hopeful. This is an example of action. This is an action of hope."
By Rebecca DeJarlais Ortiz '06