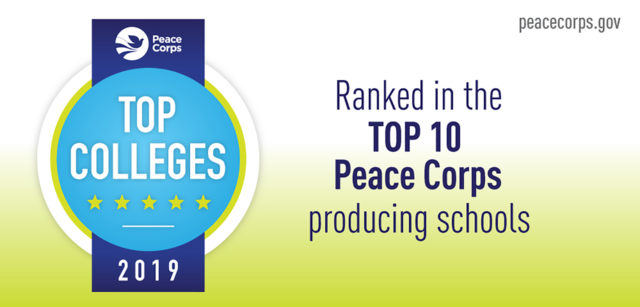 St. Paul, Minn. – For the second year in a row, Macalester College ranks No. 2 among small schools (fewer than 5,000 undergraduates) on the Peace Corps' list of top volunteer-producing colleges and universities in 2019.
There are 19 Macalester alumni currently volunteering in countries around the world.
Since the Peace Corps' founding in 1961, more than 380 alumni from the college have served abroad as volunteers. In 2018, Minnesota ranked No. 15 among states with the highest number of Peace Corps volunteers.
The Peace Corps ranks its top volunteer-producing colleges and universities annually according to the size of the student body. View the complete 2019 rankings of the top 25 schools in each category here and find an interactive map that shows where alumni from each college and university are serving here.
Since President John F. Kennedy established the Peace Corps in 1961, more than 235,000 Americans of all ages have served in 141 countries worldwide. For more information, visit peacecorps.gov.
Learn more about Macalester College at macalester.edu.