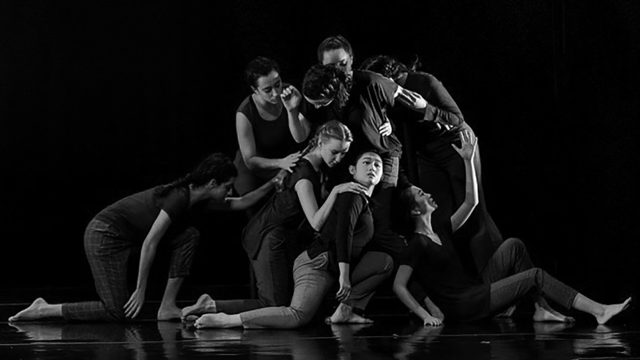 St. Paul, Minn. – The Macalester Theater and Dance Department presents its 2019 Spring Dance Concert, Open Despite, featuring original student choreography, Thu., April 11 at 7 p.m., Fri., April 12 at 7 p.m. and 9 p.m., and Sun., April 14 at 2 p.m. and 4 p.m. Performances will take place in the Huber-Seikaly Theater at Macalester College, 130 South Macalester Street, St. Paul. Admission is free, but reservations are highly recommended by visiting macalester.edu/box office, or call 651-696-6359. For general information email thda@macalester.edu.
As the first dance concert performed in the new Theater and Dance Building at Macalester, Open Despite invites the audience to meditate on the labor of creating and sustaining art. The concert features seven student-choreographed pieces on a range of vulnerable and joyous journeys. The concert presents Macalester dancers from across campus, working alongside this spring's Lighting Design students.
Ekaterina Hofrenning '21 (St. Paul, Minn.) presents Hent Me, a modern solo inspired by the poem lyrics in Yann Tiersen's Hent I, IV.
Rouge by Fiona Adams '20 (Madison, Wis.) is a tango-inspired ballet piece exploring power and attachment through sweeping skirts and daring lifts.
Midori Hasegawa '19 (Tokyo, Japan) explores childhood memories through modern and contemporary vocabulary in Soumatou, translated as "two-layered revolving lantern" in Japanese.
Breath Upending by Claire Grace '19 (Nashville, Tenn.) is a contemporary theatrical piece about taking care of oneself while caring for others, inspired by the choreographer's own feelings of taking care away from a loved one while learning to grow, change, and look inward.
Steady Revival by Megan Rae Maguire '19 (Eden Prairie, Minn.) is a modern/contemporary piece dedicated to those who have been impacted by addiction, those who struggle to ask for help, and those who have lost loved ones.
Influenced by the intersection of Hip Hop and Korean Pop dances, co-choreographers Xuemeng Yao '19 (Beijing, China) and Long Nguyen '21 (Ho Chi Minh City, Vietnam) present I'd Love to Change the World, an urban dance piece that expresses the pure passion of dancing shared by a group of young people.
Seenby Emma Harrison '21 (Missoula, Mont.) is a piece about the tenuous relationship between dance as a visual art to be watched, and a private practice for self-exploration, invention, and growth.
Learn more about Macalester College at macalester.edu.