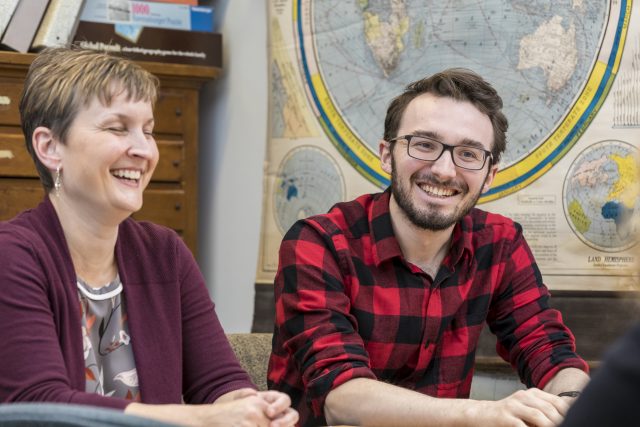 Student: Ben Trumble '20 (Weare, N.H.)
Majors: Geography and History
Honors Project: Collective Pasts and Present Community on the Iron Range 
Advisor: Professor Laura Smith '94, Geography Department
Research focus: Urban geography with a secondary research focus on Native American land acquisition. 
"That's the work of geography—reading the landscape and learning about place."
—Professor Laura Smith
Ben: I came across geography in Laura's class, Regional Geography of the U.S. and Canada. You have to do a big project—well, not too big, but mine ended up getting a lot bigger.
Laura: Ben's project was a lot bigger than the minimum requirements! (laughter) 
Ben: I was looking at the 2016 election, and I was really interested in the Iron Range region [of northern Minnesota] because we'd just gone there on a class trip. It used to be a staunch Democratic voting area, and I was interested in how there was such a big swing in the 2016 election toward Donald Trump. That kind of conservatism reminded me of my own hometown. Why would something like that happen? The question prompted my class project, and then snowballed into summer research last summer. I'm working on an honors project about the Iron Range, and the change that's going on there today.
Laura: Basically Ben had a hard time narrowing his 10-minute presentation to 10 minutes, and I could see how into this topic that he was. When he expressed interest in going further in geography, I said, "Ben, have you ever thought about doing an honors project because then you could really dig into this?"
Ben: I went into it with the idea that the politics of the region were the most interesting aspects, but now my thesis is that the political change is a symptom of larger problems that rural America as a whole faces; the election is just part of everything that's going on in northern Minnesota, but also in rural New Hampshire as well.
Laura: One of the coolest things is that Ben is drawing parallels with his background in his region to this other region. In geography we try to make connections among places and see if the same kind of process is at work in different places. I appreciate Ben's background and personal stake in this as well.
Ben: We applied for a student/faculty research grant. Last summer, I spent five weeks in northern Minnesota interviewing people, looking at public art, public history, and seeing what life is like for people living in the Iron Range. I would go up there for a week at a time, camp in the area, talk with people. Looking at and reading the landscape—that's a big part of it.
Laura: Yes. Ben was immersed. By camping there for a week at a time, he's become part of the community in terms of frequenting businesses and talking with people, and, as geographers say,  being in place. And that's the work of geography—reading the landscape and learning about place. 
More student/faculty research projects at Mac:  
Anthropology:

Voices of Veterans

. Gabriel Berman '21 (Berkeley) and Professor Ron Barrett 

Economics:

Identifying Price Trend: A Momentum Trading Strategy in the Stock Market

. Xilin Niu '21 (Wuhan, China) and Professor Liang Ding 

Philosophy:

Disappearing Ink: Early Modern Women Philosophers

. Katia Sievert '21 (Northbrook, Ill.) and Professor Geoffrey Gorham 

Physics:

Studying Magnetic Fields in Distant Galaxies Through Radio Waves

. Alex Li '22 (Zhangjiagang, China) and Professor Anna Williams 

Psychology:

Connecting the Dots: The Relationship Between Mental Well-Being and Sexual Well-Being for Black Women

. Deborah Pickford '20 (Denver) and Professor Morgan Jerald