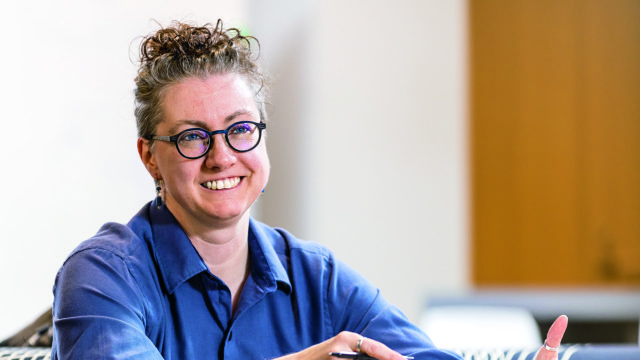 '"You want to be a woman? That's ridiculous. Look at you!
… Being a woman isn't going to solve anything,' she said to me. 'It's just going to make your life hell. Look at you, you'd make the ugliest woman I can imagine. You'd be a freak. You need to drop this bullshit right now, young man. I don't want to know what put this crazy idea in your head, but you are grounded until you come to your senses."'
Such was the reaction of Emily's mother when her "son" came out as transgender, a teenager who instinctively knew that, despite what the world saw, she was really Emily. The excerpt is from Being Emily by Rachel Gold '93.
"When Rachel Gold's novel Being Emily was published in 2012, it was the first time a young-adult novel put a transgender character at its center," wrote Kate Tuttle, president of the National Book Critics Circle, for the Boston Globe.
Gold grew up knowing the isolation of not fitting into familiar gender identity categories and she didn't want other kids to experience that isolation. As a young person in Ohio, Gold loved superheroes but hated dolls. She loved nail polish but hated playing house. She just didn't fit into either the conventional "boy box" or "girl box." By age 16, in 1980s suburban Ohio, she had come out as a lesbian.
"It was a very lonely experience," Gold says. "I knew no other lesbians. Thank God for the Worthington [Ohio] Library, which had two good books about lesbians." Like the characters in Being Emily, Gold found that video games and role-playing provided an opportunity to explore gender identity while having fun and making friends.
Gold's empathy isn't reserved for the transgender characters in her book. "I always need to understand my antagonist in order for the story to be real," Gold says. Emily's family members at first mourn the loss of their "son." Her father fears that their bond over restoring cars will be lost. Some community members find the idea of transitioning peculiar or worse. When Emily, dressed as a woman, dares to go shopping at a mall, a policeman finds her ambiguous gender identity threatening.
Being Emily soon garnered several awards—and the gratitude of trans kids and adults, who finally saw a version of their stories told with understanding and the assurance that gendernonconforming people can clear a path to a whole and happy future. Gold herself, in addition to earning a master of fine arts
degree and writing young adult books, has been a journalist, handled publicity for a tech company, and flipped houses, and for 15 years she's done public relations and marketing in areas including accounting, law, and engineering.
Harvard English professor and poet Stephanie Burt—who taught at Macalester (as Stephen Burt) from 2000 to 2007—says, "It's a very good young-adult novel about coming out as a trans girl. At the time it was published there were literally no such novels. There was an absolute crying need, [and] this is the first book to fill it." Burt also wrote a heartfelt introduction to the new edition of Being Emily.
While they didn't overlap at Macalester, Gold and Burt met during the Twin Cities Book Festival in 2012. They have since made joint appearances at the Harvard Book Store and elsewhere. Last fall, Gold also returned to Macalester to participate in a panel on trans representation in the media.
In 2018, Gold published a new anniversary edition of Being Emily with updated language—for example, replacing "transsexual" with "transgender," which recognizes the difference between anatomy (sex) and gender (social roles). It also references scientific research that in the intervening six years has revealed much more about the development of gender identity, for example, that gender identity and sex may develop at different stages of pregnancy.
In addition to Being Emily, Gold has published three other young-adult books—Just Girls (2014), My Year Zero (2016), and Nico & Tucker (2017)—and has a new title coming out this spring, In the Silences. The books deal with racism and mental health as well as genderfluidity and other issues. She also writes science fiction and fantasy.
"I don't like the 'man box' any more than the 'woman box,' [for gender identity]" says Gold, who is comfortable with the descriptors genderqueer, genderfluid, and nonbinary (not exclusively female or male) lesbian. She most commonly uses the pronouns she/her and they/them.
"Humanity has a long history," she says. "Over the millennia, there have been many valid systems of gender. Jewish law acknowledges six. Some cultures had no genders. So don't box people into the binary system that Western civilization says is the only way to be."
Jan Shaw-Flamm '76 is a freelance writer and editor and frequent contributor to Macalester Today.