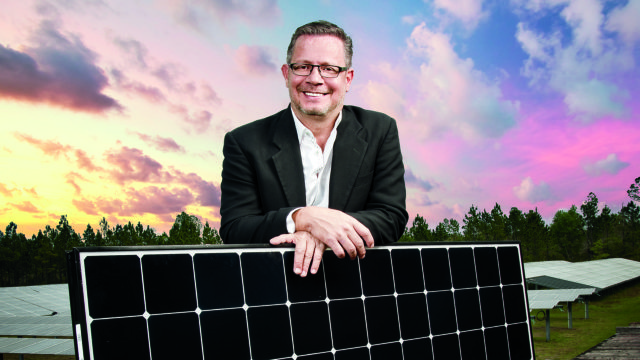 If it weren't for Macalester, Reynaldo Rodriguez '85 might never have gone into business at all.
Growing up in San Lorenzo, a rural town in Puerto Rico, Rodriguez excelled in the sciences from an early age. In high school, after winning an island-wide science fair, he competed in the International Science and Engineering Fair, and upon returning, he found his mailbox at home full of letters from colleges offering scholarships. Rodriguez chose Macalester because he was drawn to the culture, academic programs, and international profile. "The only thing I didn't take into consideration was the weather," he says. "The warmest thing I owned at the time was a sweatshirt."
Despite the cold, he fell in love with Mac, particularly the other students. They, in turn, exposed him to a wide variety of ideas and opinions, an experience he says he missed out on growing up in rural San Lorenzo. They even shaped his career path: until he got halfway through college, Rodriguez planned to pursue engineering. Many of his friends, however, happened to be economics majors. After hearing about their classes, he decided to try out a macroeconomics course. The next semester, he signed up for microeconomics. He was hooked.
He spent the next few semesters cramming to complete the degree requirements—and to learn all he could from legendary professor Vasant Sukhatme. "Sukhatme was my favorite professor, flat out," Rodriguez says. "He challenged my preconceived perspectives, broadened my viewpoint and totally changed my way of thinking."
After graduation, Rodriguez jumped into the business world, finding early success with a telecommunications company. Rising through the ranks to become vice president of international
sales, he absorbed what he could about running a business and discovered a passion for growing companies.
He took a leap in 1998 and formed his own company, Maya Telecom. The timing would turn out to be fortuitous, with the cellphone market about to explode. "All the towers that we installed were migrating from old flip phone technology to smart phone technology," he says. "We were some of the first to receive iPhones, because we had to test them to make sure they would talk to the cell sites."
Relying on his strong work ethic and the expectation of excellence he'd learned from Sukhatme, Rodriguez led the company to win contracts in three states, configuring some 16,000 cell towers in total: "There were 12 Bell companies at the time—AT&T, Bell South, Pac Bell…we worked with all 12, and the government, too." It was a point of pride, he says, when his small, family-like company won government contracts over major competitors.
A few years later, Maya Telecom was doing so well that one of those major competitors bought it. "They made me an offer I couldn't refuse," Rodriguez says, laughing, adding that while he was sorry to let the business go, the change allowed him to explore another emerging market: solar energy.
During his childhood in Puerto Rico, he says, energy had been pricey and unstable. Historically, the island has produced much of its electricity from old petroleum-burning generators. The price of energy can fluctuate wildly because it's tied to the price of petroleum, and production results in a lot of pollution. As an antidote, Rodriguez founded two solar companies in 2007: Blue Beetle Energy, which operates in Puerto Rico, and Red Toad, which conducts business in Central and North America.
From the beginning, Blue Beetle and Red Toad pursued contracts for utility-scale solar farms, projects large enough to power tens of thousands of homes. Between the two companies, he estimates their projects will produce enough electricity to power more than 43,000 homes in the next three years.
That includes the development of a 250-acre solar farm in Puerto Rico, part of an effort to help restore electrical infrastructure destroyed in Hurricane Maria. He estimates that it could power up to 7,500 homes and hopes it will add stability to the island's volatile utility market.
Two years ago, Rodriguez launched a project in partnership with the Spokane Tribe of Indians in Washington to build a 120-megawatt solar farm inside tribelands. The project is expected to power tens of thousands of homes in the region. "Tribes are sovereign nations, but they've been dependent on the grid," he explains. "This way, the tribe can generate its own power. All the jobs go to tribal people, and they control the rates."
Lately, he's turned his attention to his adopted home state of Florida, where utility companies are aggressively expanding their solar capabilities. As they do so, Red Toad has won contracts to produce some of its largest projects yet—totaling more than 1,000 acres of new solar farms in the state.
"I love this industry," Rodriguez says. In addition to growing a business, "I get to feel like I'm doing something good for the environment. Something for my children. Something where I can look back 20 years from now and say, 'I helped do that.'"
By Mike Vangel / Photo by Darin Back