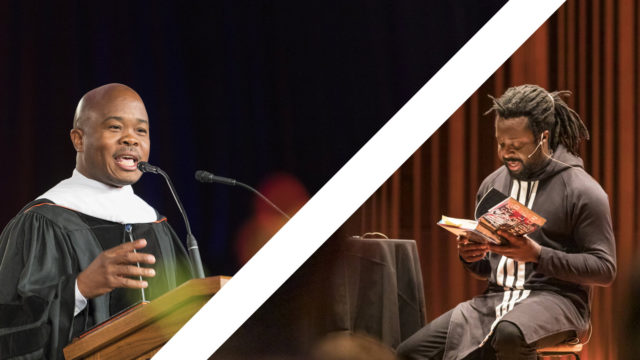 Through education and literature, their work has reached, shaped, and inspired people on campus and around the world. Now two members of the Macalester community—African Leadership University founder Fred Swaniker '99 and Macalester writer in residence Marlon James—have been named to the "TIME 100: Most Influential People of 2019" list.
By creating the African Leadership University (and its predecessor, the African Leadership Academy), Swaniker has dedicated his talents to educating Africa's next generation of leaders and entrepreneurs. Through the institutions he is building across Africa, Swaniker hopes to develop 3 million bold innovators and problem-solvers by 2060 to address Africa's greatest challenges and capture its greatest opportunities. "Fred has the passion, understanding and ability to take this great continent forward, through its young people," writes Mo Ibrahim, telecoms entrepreneur and chair of the Mo Ibrahim Foundation, in TIME. "I am filled with hope knowing that he is there to help the next generation of African leaders to blossom."
James joined Macalester's English department in 2007 and teaches Introduction to Creative Writing, American Literature, and advanced workshops. He has published four novels, including A Brief History of Seven Killings, which in 2015 won the Man Booker Prize, perhaps the most prestigious award in all of English literature. That book "turned Marlon into one of the most important voices of his literary generation, a role he has gleefully embraced on social media and elsewhere, speaking out on race, literature, gay rights and whatever else is on his mind," writes author Salman Rushdie in TIME. James's latest novel—Black Leopard, Red Wolf—was released in February and listed among the most anticipated works of 2019 in publications ranging from book blogs to the New York Times.
In 2018, Swaniker and James sat down with President Brian Rosenberg for conversations in the college's Big Questions series:
Fred Swaniker talks about the most common misconceptions people hold about Africa.
Marlon James talks about novels as political statements.