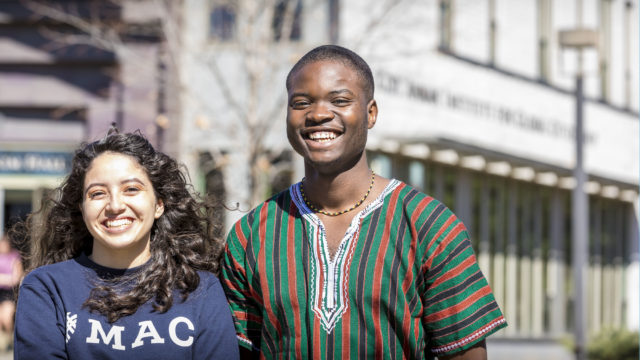 Macalester's commitment to internationalism dates all the way back to its earliest days. In the years since its founding, that tradition has expanded to include educating students from every corner of the world on campus, offering students the opportunity to visit or study away on every continent but Antarctica, and weaving an international outlook into every aspect of life at the college, so that when seniors graduate, they head out into the world truly equipped to make it a better place.
Each year, several students are presented with Global Citizenship Student Awards in recognition of their personal commitments to the ideals and practice of Mac's four pillars: high academic performance, internationalism, multiculturalism, and civic engagement.
Arnold Sanginga, Erika Aguiluz Ramirez, and Cuauhtemoc Cruz Herrera—two graduating seniors, and one alum who graduated in December 2018, respectively—were selected for the honor and invited to speak at the Kofi Annan Institute for Global Citizenship Spring Celebration, to be held on April 17.
Arnold Sanginga '19 (Bukavu, Democratic Republic of Congo) is a political science major, with a concentration in African studies, and minors in dance and environmental studies. While at Mac, Sanginga has served as an orientation leader, co-chaired the Black History Month Committee, and acted as the African studies student liaison to Afrika!, each for two years. As a senior, he conducted original research for a capstone thesis, in which he investigated post-conflict reconciliation methods used to heal countries including Sierra Leone, Uganda, and Mozambique. "Before Macalester, I understood the role of global citizen as a person who wears formal attire while negotiating peace deals in highly secure areas," Sanginga says. "Now I see that global citizenship is about focusing on communities that matter to me on a sensible scale. A global citizen is someone who understands their role in their community, and how it's connected to everyone else's—no matter how large or how simple."
Erika Aguiluz Ramirez '19 (Maywood, Calif.) is a chemistry major with an emphasis in biochemistry. In her four years at Mac, Aguiluz Ramirez was heavily involved in chemistry research with Professor Leah Witus. While actively contributing to chemical biology projects, exploring topics critical to medicine synthesis, Aguiluz Ramirez presented findings at conferences around the country and earned her first peer-reviewed journal publication. Her other main focus as a student was on activism, primarily advocating for undocumented students through a student organization she helped charter, Dare to Dream (which later became Undocumac). She's also been active in Macalester's Adelante! organization for Latinx students, serving as both a treasurer and co-chair of that group. "After Macalester I am enrolling in a chemistry PhD program," she says. "The field is not traditionally regarded as ground zero for social change, but through the lessons I have learned at Macalester I am going to change that. As a global citizen I know that my responsibility to equity and justice exists and is necessary in all contexts."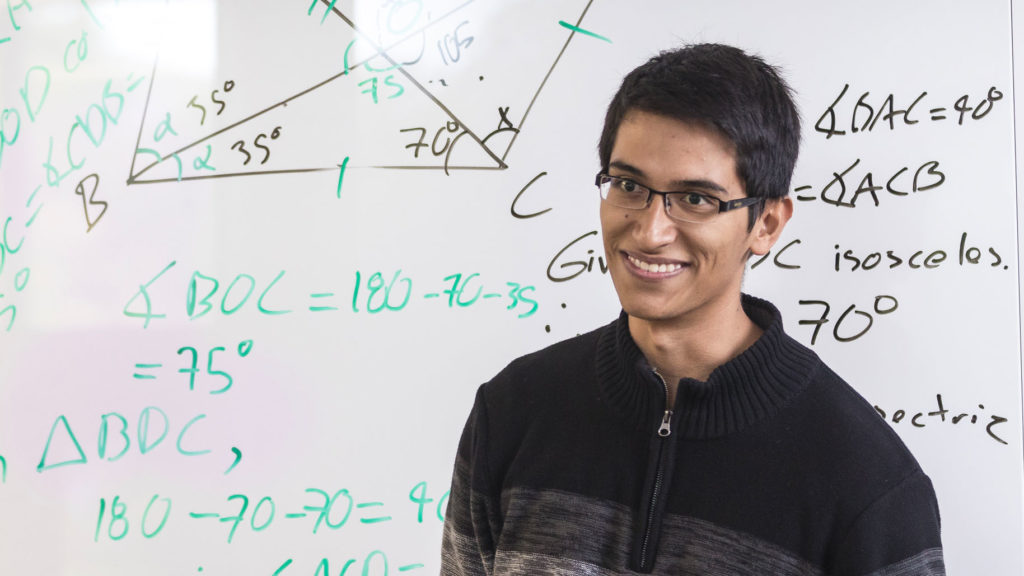 Cuauhtemoc Cruz Herrera '19 (Guadalajara, Mexico) is an economics major and statistics minor. Growing up in Guadalajara, he was acutely aware of the lack of resources for children like himself who were enrolled in public schools. So when he got to Mac, he quickly became involved with the Entrepreneurship Program, which offered him grants to jump-start a peer-to-peer math education program for talented students back in Mexico. Cruz Herrera incorporated the program as an NGO, Integración Matemática, which he ran from abroad, in addition to completing an internship with the Minneapolis Public Schools system. Last year, the Mexican government asked him to take a government role and expand Integración to the entire state of Jalisco; he completed his degree requirements last December to make the move. "Mac's four pillars mean an education that goes beyond the school," he says. "Being a global citizen simply means to be a part of humanity, and to love, care, and do things for others, no matter their race, economic status, religion, or nationality."