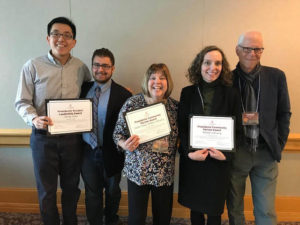 St. Paul, Minn. – Members of the Macalester community have received three Presidents' Awards from Minnesota Campus Compact. Each president or chancellor from a Minnesota Campus Compact member institution may recognize one honoree in each of the following three award categories:
The Presidents' Student Leadership Award is given to an individual student or a student organization that models a deep commitment to civic responsibility and leadership, evidenced by initiative, innovative and collaborative approaches to addressing public issues, effective community building, and integration of civic engagement into the college experience. This year the award went to Andy Han '19, from Northbrook, Ill., a campus leader who has also found a home at Expo Elementary volunteering there several days a week for four years. He has been an important bridge between Expo and Macalester, inspiring the engagement of his peers. Han is a Bonner Community Scholar and active with student government and Mac's Alumni Board.
Presidents' Civic Engagement Steward Award is given to a member of the faculty, administration, or staff or for a group that has significantly advanced their campus' distinctive civic mission by forming strong partnerships, supporting others' civic engagement, and working to institutionalize a culture and practice of engagement. This year the award went to Ted Rueff. Through his role as the Director of Counseling Services, Rueff helped students make the connection between human resilience and social change. He has brought incredible leadership to "Lives of Commitment" and co-founded and facilitated "Embody the Change," two civic leadership and reflection programs that will forever be shaped by his wisdom and commitments.
Presidents' Community Partner Award is given to a community-based organization that has enhanced the quality of life in the community in meaningful and measurable ways and has engaged in the development of sustained, reciprocal partnerships with the college or university, thus enriching educational as well as community outcomes. This year the award went to the Saint Paul Public Library. In the ever-busy, vibrant Rondo Library, numerous Macalester students work weekly as tutors, reading partners, teen specialists, homework center coordinators, and dialogue facilitators with English language learners. The incredible commitment and leadership of volunteer coordinator Wendy Neurer has brought consistency and depth to this multifaceted, long-term partnership.
Newman Civic Fellowship from National Campus Compact
Ryan Perez '20, a political science major from Chicago, Ill., has received the Newman Civic Fellow Award from Campus Compact. He was one of 262 students who will make up the organization's 2019–20 cohort of Newman Civic Fellows. Perez is a pivotal and effective leader on campus, organizing his peers around voting, public policy work and public engagement.  Read more.
Learn more about Macalester College at macalester.edu.