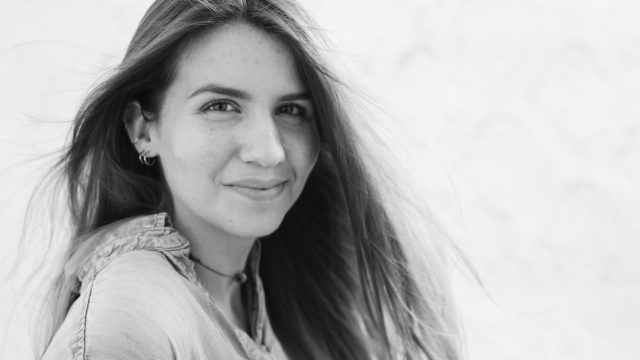 St. Paul, Minn. – Karinna Gerhardt '20, a junior from Seattle, Wash., majoring in Political Science with concentrations in Human Rights and Humanitarianism and Legal Studies, has been named a 2019 Truman Scholar, one of 62 who were selected in 2019. The Truman Scholarship, created by Congress in 1975 to be the nation's living memorial to President Harry S. Truman, has become one of the most prestigious national scholarships in the United States.
Each year hundreds of college juniors compete for roughly 60 awards. The rigorous selection process requires that good candidates have a strong record of public service, as well as a policy proposal that addresses a particular issue in society.
"It is an enormous privilege to represent Macalester on this national platform," said Gerhardt. "I appreciate the training and support I received from my professors, advisors, and mentors. I can't thank Macalester enough for believing in me."
She said her participation in Macalester's Ethics Bowl competition, part of the Forensics program, helped her excel when interviewed for the Truman.
Gerhardt acknowledged the benefits of the Truman, money towards a graduate degree geared to public service, a funded internship in Washington, D.C., for a summer, and lifelong career support, are "more than I could have dreamed for myself. But nothing surmounts the selection committee's belief that I have the skills and determination to make a positive change in my communities."
Annually, candidates for the Truman Scholarship go through a rigorous, multi-stage selection process. In 2019, there were 840 candidates for the award nominated by 346 colleges and universities, a record number of both applications and institutions.
After Gerhardt graduates from Macalester next year, she'd like to intern with a legal advocacy organization like the ACLU (American Civil Liberties Union) or the Brennan Center for Justice. But before she begins her graduate studies, she plans to take several years off from academia and enter the Peace Corps or AmeriCorps. She believes acquiring experience outside of academia clarifies her career plans before she begins graduate school.
Firmly rooted in President Truman's belief that education promotes the general welfare of our country, the Truman Scholarship remains committed to supporting and encouraging the future of public service leadership in the United States. Many of those chosen as scholars go on to serve in public office, as prosecutors and public defenders, as leaders of non-profit organizations, and as educators.
Although Gerhardt isn't sure where she might attend graduate school, "I genuinely can't imagine a career not based in the public interest," she said. "I want to advocate for ethical governance, democratic reforms, and the affirmation of civil and human rights, probably as a legal strategist."
Recipients of the Truman Scholarship receive a $30,000 scholarship toward graduate school and the opportunity to participate in professional development programming to help prepare them for careers in public service leadership.
Learn more about Macalester College at macalester.edu.