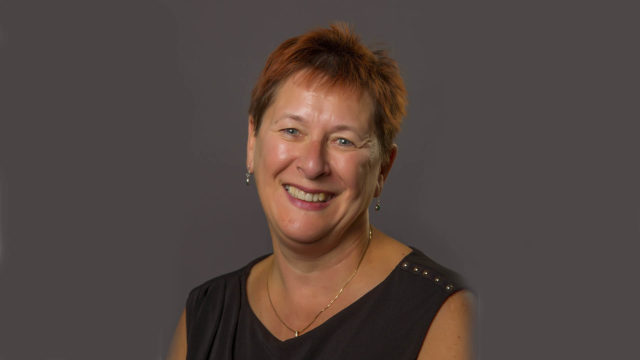 St. Paul, Minn. – Registrar Jayne Niemi has been awarded the 2019 Thomas Jefferson Award. The award was established in 1961 by the Robert Earll McConnell Foundation to honor members of the Macalester community who exemplify the principles and ideals of Thomas Jefferson. Niemi was selected by a committee of past Jefferson Award winners.
Macalester President Brian Rosenberg announced the award at the April faculty meeting and read the following:
The citation begins with several lines from a poem by Thich Nhat Hahn:
Please call me by my true names so I can wake up,
and so the door of my heart can be left open…                                                                           
Jayne Niemi. Twenty years ago, you fielded a straightforward yet challenging request: would you take on the task of reading the graduating seniors' names at Macalester's Commencement ceremony?
What happened next, as we all know, became part of your legacy. Enthusiastic and undaunted, you immersed yourself in the project, that spring and in every year since. It's no easy task: our students represent more than 50 countries and speak more than 40 languages at home. Your commitment to honoring our graduating seniors by pronouncing their names correctly is extraordinary. You imitate recordings, call students to clarify, and sometimes even consult the linguistics department for advice. And your practice pays off. Each May, you get it right, name after name. It's impossible to measure, or even to articulate, what your dedication has meant for countless Macalester alumni.
That immense care is at the heart of who you are and what you do—and not just when you're on stage at Commencement. We see it every day: in the registrar's office, in committee meetings, and in every interaction with students.
Three days after your own Macalester graduation ceremony in 1979, you began working in the Registrar's Office. Through your work, you have guided and shaped academic policy. You connect and collaborate with faculty members on curriculum questions and updates. In your wide-ranging and longstanding committee involvement (including most recently Education Policy and Governance), peers rely on you for nuanced, thoughtful insights and recommendations—always aimed at strengthening Macalester. You provide invaluable context and history for each group's discussions and decisions.
In all of your work, you are driven by a deep commitment to doing what's best for students. Colleagues all over campus reiterate this theme: you always put the students first. You honor the integrity of the rules and policies that shape Macalester's curricular structure. But you also follow your keen instincts when flexibility is necessary to open a door through which a struggling student can pass to experience the best possible outcome. That approach makes all the difference for our students.
Through your work, Jayne, you have touched nearly everyone on campus. Through your visits to first-year seminars, you're one of the first staff members our students meet, and you play a key role in sending them off four years later. Perhaps unsurprisingly, your Macalester community extends far beyond our campus boundaries. You form close connections with your work-study employees, and over the past four decades, you've maintained a comprehensive list of those alumni. You see them around the neighborhood, visit them while traveling, and have even attended some of their weddings. On campus, you cheerfully don reindeer antlers for the holiday luncheon, and you're known for being the first person to tear up at any gathering.
We can't imagine Macalester without you. Jayne Niemi, with deep gratitude, it is our honor to bestow upon you today the 2019 Thomas Jefferson Award. Congratulations, and thank you.