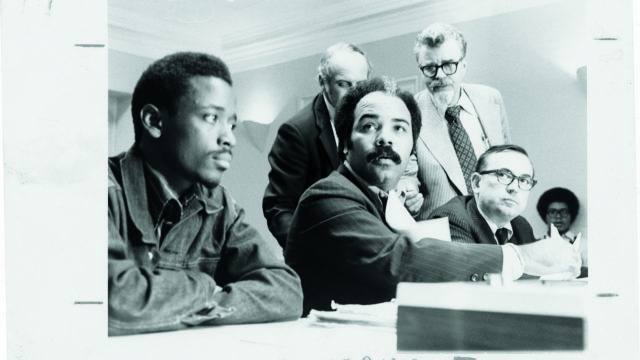 As a sought-after National Merit Scholar, high school valedictorian, and talented basketball player, James Bennett '69 had his pick of colleges. He was recruited by Macalester—with a lot of encouragement from head basketball coach Doug Bolstorff—and arrived in the fall of 1965 as one of only six black students in his first-year class.
"I was from Texas, and I'd graduated from an all-black high school—so yeah, there was a tremendous amount of culture shock," Bennett says. "If I'd gone home for Thanksgiving my freshman year, there's a great possibility I might not have returned."
But basketball season kept him in St. Paul, and he stayed at Macalester. "Focusing on basketball helped me to adjust," he says. He joined the Student Association for Human Rights and, as a sophomore, co-founded the Black Liberation Affairs Committee. "I was introduced to student activism, and before I knew it, I was knee deep in trying to change my environment," he says.
One effort Bennett joined—with a handful of other students of color who found themselves at an overwhelmingly white college— was a push toward increasing the racial, cultural, and socioeconomic diversity of Macalester's student body. "We wanted the college to fully commit to its stated ideals of internationalism, multiculturalism, and community service," Bennett says.
The student activists gained the support of President Arthur Flemming, who convinced the Board of Trustees to spend $900,000 in unrestricted funds on an ambitious Expanded Educational opportunities (EEO) program benefitting disadvantaged students previously underrepresented at Macalester. The college also committed to creating an office of minority programs, starting an African American studies program, and increasing its number of faculty and staff members of color.
In the fall of 1969, 75 mostly black students from lower socioeconomic backgrounds—as well as a handful of Native American and Hispanic students and one white student—arrived on campus as the first EEO cohort, bringing with them life experiences and perspectives that would benefit the entire community.
The EEO program was launched at a time when the United States was undergoing tremendous change and student activism was at an all-time high on college campuses. The Civil Rights Act and the Voting Rights Act were passed in 1964 and 1965, respectively, but integration on paper did not translate into full equality, leaving many communities of color disenfranchised. Rising racial tensions exploded in riots in Detroit and Newark during the summer of 1967. African Americans represented approximately 11 percent of the civilian population, yet in 1967—at the height of U.S. involvement in the Vietnam War—they represented more than 23 percent of all combat troops in that conflict.
At the same time, higher education institutions were failing to grant access to students of color. In 1960, only about 250,000 black students attended U.S. colleges and universities, many of them at historically black colleges. Even fewer Asian American, Native American, and Hispanic students were attending college.
At Macalester, students of color represented at most 2 percent of the student body until the advent of EEO, which raised the number of students of color in the incoming class of 1969 to 15 percent.
"EEO was about building leadership in the African American, Hispanic, and Native American communities," says former associate dean Thad Wilderson, who joined Macalester's counseling and psychological services office in 1969. "It was important to bring a significant number of students of color to campus so that they didn't feel isolated from their communities. We wanted them to develop a strong cultural identity and confidence in their ability to share their point of view in any setting."
The EEO program provided full scholarships, plus money for travel and books, for students from populations that historically had not been represented at Macalester. In what was seen as an unusual recruiting effort at the time, admissions representatives visited inner cities and high schools with high minority enrollments during the spring and summer of 1969, interviewing and accepting students with the potential to succeed at Macalester.
That fall, Bennett, who had recently graduated, became director of Macalester's newly established Black Education and Cultural Center, a role he filled until 1973. Black House, as it was known, became a home away from home for many EEO students, as would cultural centers for Native American and Hispanic students. Students were free to "be themselves in a familiar environment," Bennett says, away from the stress of having to explain themselves to curious white classmates. Black House's library offered books about black history and culture, and the center sponsored activities that included visits from nationally known speakers, artists, and cultural contributors to the black community.
While some viewed the cultural centers as a missed opportunity for the college to encourage fuller interaction between white students and students of color, Wilderson maintains that a strong support system was essential to EEO students' success. "Many of the students came from segregated school systems, so we had to have a place for them to be able to kick back, listen to their music, and talk," he says.
The EEO program changed Macalester from a predominantly white institution to one with a student body that more closely reflected the racial makeup of the country, but it struggled with funding throughout its 15-year run. In its first two years, EEO offered 75 full scholarships, but in its third year, it offered only 40, and that number eventually dropped to 25. In the fall of 1975, only 22 EEO students entered Macalester with partial scholarships.
One notable struggle over funding occurred in 1974, when President James Robinson announced significant cuts to EEO's budget. Student protestors staged Macalester's most well-known act of civil disobedience, occupying the business office for 12 days. The students initially won a compromise, but throughout the late 1970s and early 1980s, funding cuts continued, evolving the program out of existence in 1984.
Without dedicated college access programs in place, Macalester enrolled fewer students of color during the '80s and '90s. The numbers began to climb again in the late 1990s, when Macalester recommitted to fostering a diverse campus community. Today, the practice of recruiting students of color is "an art, not a science," says Sedric McClure, assistant dean for college access. "EEO alumni are helping to shape our conversations about who has access to a Macalester education as we continually develop relationships and rapport within communities of color." In 2018–19, students of color represent 31 percent of Macalester's domestic student body.
"Change of the magnitude that EEO initiated is difficult," Bennett says. "Some people thought it was the craziest thing that Macalester could do. They thought we were lowering our standards. But if you look at EEO alumni, who hold leadership positions in the arts, education, government, and business, I'd say EEO was an incredibly successful effort that's worth celebrating."
We asked four alumni—the enduring legacy of the Expanded Educational Opportunities program—to reflect on their experiences at Macalester.
Rochelle Williams '73
St. Paul
Rochelle Williams, a St. Paul native, attended Upward Bound, a six-week summer academic program at Macalester that was designed to introduce students not traditionally represented on college campuses to higher education.
The program opened her eyes to the opportunities awaiting her at Macalester, and she enrolled in the fall of 1969 as a member of the first cohort of EEO students. She earned a degree in sociology and worked as a computer software specialist before retiring two years ago.
"I thought Macalester was a fine college, period. Getting an EEO scholarship was part of my decision, but above all, it was an excellent college. That's why I chose it.
It was wonderful to see so many people that looked like me on campus. There were good intentions for interaction between black and white students, but truthfully, there wasn't much. Everybody had their own baggage. The college had opened the door for us. My feelings were that if you're not ready for me to be here, I'm sorry, but it's not up to me to fix that for you.
Those were really informative and educational times. We were living in the hippie era. There was a lot of craziness going on, the Vietnam War protests, the civil rights struggles. Sometimes protesting those issues brought us closer together, creating camaraderie at Macalester in the face of what was happening in our country.
EEO students were supported in giving back to the commu-nity. Many of us tutored kids. I invited black elementary-school girls who were having trouble in school to spend the weekend with me at my room in the stadium residence hall. We'd go to basketball games, have dinner at the commons, go to the library. I was trying to show these girls what college was like, and Macalester allowed me to do that.
I never felt pressured to represent my race at Macalester, but I did feel obligated to speak up without being confrontational about it. Hearing other people's perspectives has always been, to me, a key to learning. I wanted everyone to have the opportunity to grow and learn from each other.
I believe EEO students opened a window and let some new air in at Macalester. We changed the way black people were viewed. We were smart and we were there—on our merits—to get an excellent education, just like all the other students.
Macalester was far ahead in its thinking in establishing a program like EEO. It opened the eyes of some white students who may not ever have had an opportunity to study and live among black students. It did the same for us. We learned that we're all human, no matter our race. Our classes, especially, were a safe space to discuss issues and perspectives, and the resulting dialogue was like a budding bloom."
Broderick Grubb '73
New Orleans
Macalester impressed Rick Grubb, a National Merit Scholar from Port Arthur, Texas, with a mailing that included a publication from the Black Liberation Affairs Committee detailing a new scholarship program for students of color. The leaflet welcomed students not historically represented at Mac, noting that "black students now have a chance to make an indelible mark." Grubb earned a degree in political science and economics. He heads his own insurance brokerage firm, BRK Insurance Group, LLC.
"I missed simple things from home, like food. You couldn't find grits or good barbecue in Minnesota. The good news was that there were so many EEO students who came at the same time with the same fears, economic anxieties, and growth issues. I became good friends with local students of color, and they welcomed me into their homes. That was a very important part of adapting—I never felt alone. There were people with similar experiences who I could relate to and talk with.
We were friendly with our white neighbors in the dorms, but there wasn't as much social interaction as there could have been. A lot of artificial barriers came between us, like a perception that it was them versus us. Most of us grew up in a segregated society in which white people were against us getting the same treatment they received, so we—the black students— felt that our success would happen through self-determination and working together.
It was hard work to build trust with our white classmates. In the classroom, science was science, math was math, and race didn't come into it. But you get into the social sciences, and black students were expected to comment on every topic or issue as a representative of the entire black race. That didn't happen all the time, but it happened enough to be bothersome.
The EEO program existed before diversity was a buzzword. We didn't know we were being diverse. I never thought I was part of some major social experiment; I simply and perhaps naively believed that I received a scholarship based on my abilities and being economically disadvantaged. Nevertheless, this influx of students of color changed the college. An EEO student became one of the first female student body presidents while other students took on positions of authority and power and became involved at all levels of the college.
EEO was Macalester's commitment to change, but change hurts. Change has conflict. EEO wasn't perfect. Students in this program were often stereotyped and placed into boxes without others taking time to know them as people with the same problems, concerns, and fears as majority students. However, 50 years later, we can see clearly how EEO helped to change the lives of so many students of color. It helped to create outstanding alumni and successful people in all fields: law, business, medicine, art, music, education, politics, etc. These students are now giving back to the college and their local communities in so many positive ways. EEO was a good investment that paid off for Macalester and for society."
Anne Thomas '73
New York City
Anne Thomas had what she calls a "normal upbringing" in a small, quiet neighborhood in Harlem. Her cousin was the director of the Upward Bound program at Macalester, and through him she learned about EEO. She didn't visit campus until she arrived in summer 1969 for orientation as part of the inaugural group of EEO students. She earned a degree in sociology, with a minor in Spanish, and worked for 29 years as a flight attendant.
"I enjoyed my classes at Macalester and getting to meet and interact with people from all over the country and the world, although it was unusual to have more than one or two black faces in class. Oftentimes I was the only one. One of my favorite professors was Doris Wilkinson in sociology. Macalester made a big push to hire more black teachers at the same time as the EEO program started, and she came to Macalester with tenure. She was no-nonsense, really smart, and thoughtful.
I've dealt with being the 'only' my whole life: the only woman, the only person of color in the room. At Macalester, I was often looked to as though I could speak for all black people. Once, in an education class, everyone turned to me for an opinion on the state of urban education and its impact on blacks. People had a stereotypical view of what it was like to grow up black in Harlem, and assumed that everyone's experience was the same. I'd gone to parochial schools, and all of my friends who went to public school—all good schools at the time—were in college and doing well.
Macalester taught me how to interact with everybody, including curious students who didn't know a lot about who we were, other than how media portrayed black people, which was as boogeymen. There were students at Mac with these ill-formed ideas, and as a group, the EEO students weren't ready to deal with that. We were there to get an education just like everyone else, so we did segregate ourselves to a degree because of our commonality in who we were at the time.
By our sheer numbers, we changed the complexion of Macalester. The college has carried on that tradition of change to a great degree, but it still deals with the issues we dealt with back then. That's because institutional racism isn't endemic to Macalester. It's an ongoing issue that's hard to dissect. It's not like we'll reach a point where we can say, 'We're done with the work on that.'"
Melvin Collins '75
West St. Paul, Minn.
Melvin Collins grew up in St. Louis, Missouri. He learned of Macalester's academic reputation through an after-school enrichment program for college-bound African American boys. The EEO program and the college's commitment to communities of color sparked his interest. At Mac, he ran track and field and was on the Student Program Board, the Community Council, and the Black Liberation Affairs Committee. He earned a degree in psychology and political science and currently works in talent
acquisition for Ecolab.
"EEO had been operating for a year or so when I visited Macalester. I was impressed with the number of students of color on campus and the emphasis on the culture of those individuals— things like the Black House, the Hispanic House, Black Arts Midwest, and the Sounds of Blackness, which was called the Macalester College Black Choir at the time.
Once I was on campus, it felt really good to be among people who were like me and could understand where I came from. But I also noticed fairly quickly that there seemed to be a little tension with students who didn't feel like you really belonged at Mac. Sometimes you even got that feeling from some of the professors. That caused some angst.
We were more comfortable doing things with the other students of color. There was engagement with other students, no question, but it wasn't as free and open. Sometimes it seemed as though there was a mindset of, 'EEO is over there and the rest of the college is over here.'
People assumed that every student of color was a part of the EEO program, and that wasn't true. But I was, and I was proud of it. I was willing to debate that yes, we do, in fact, belong at Macalester.
I read an article recently in which a couple of professors were talking about EEO, and one of them said that in order to get enough students to be in this program, Macalester just went out on the streets in Chicago and New York and pulled in folks. That hurt me to no end, because comments like that diminished what EEO students brought to Macalester. We were students who were prepared and had potential, and we rose to the occasion.
EEO was Macalester's first step toward change. It helped students experience difference to find sameness. To find our commonalities. We came together in activism—the Vietnam War, voting rights, the college's divestiture from South Africa. Those were broader issues that were bigger than all of us. But change takes generations. It's incremental and ongoing. EEO was just the start of it."
C-House Celebrates 50 Years
Last fall, Mac's Cultural House hosted its annual block party, with a larger-than-usual guest list: alumni, staff, and faculty joined students to commemorate the C-House's own 50th anniversary. Now overseen by Residential Life and the Department of Multicultural Life, the space was known by several names (including the Black House, the American Indian Center, and Hispanic House) before becoming the Cultural House in the late '80s. Today 11 students live in the C-House, but it's more than solely a residence hall. Cristina Martin '20 (Round Lake, Ill.), who works as the C-House's manager, coordinates groups that gather in the building's spaces—especially the kitchen, which is bustling throughout the year thanks to events ranging from a Hawaiian student dinner to the Adelante! student organization's traditional Carne Asada celebration for the campus community. The house's most popular program, In The Kitchen With, takes place nearly every week during the academic year: student groups—including most of the college's 17 cultural organizations—and even some academic departments take turns hosting a meal that everyone helps prepare, so everyone learns about the dish's significance. Martin also helps coordinate opportunities for students of color to talk about their experiences at Mac—away from the academic classroom environment. "By being an intentional space for people—especially other students of color—to gather, share, and live in the community, the Cultural House provides support and opportunities for growth," Martin says. "The C-House and the Department of Multicultural Life in general are so integral as symbols of multiculturalism and anti-racism as well as a healing space for students of color."
Marla Holt is a freelance writer based in Owatonna, Minn.