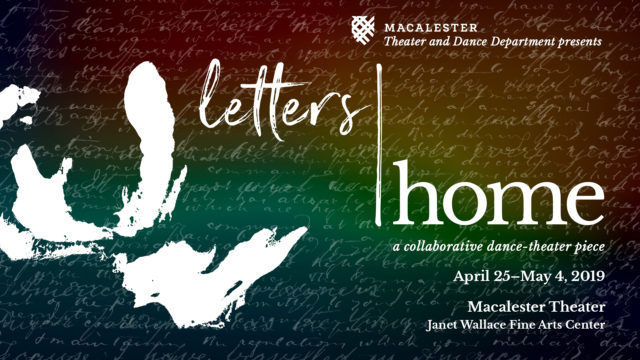 St. Paul, Minn. – The Macalester Theater and Dance Department presents Letters|Home, the inaugural performance in its new Theater and Dance facility. The production runs Thursday – Saturday, April 25 – 27, and Thursday – Saturday, May 2 – 4 all at 7:30pm, and Sunday, April 28 at 2pm. The April 28 program is ASL interpreted. Performances will take place in Macalester's new flexible theater in the Janet Wallace Fine Arts Center, 130 South Macalester Street, St. Paul.
Admission is free with a nonperishable food donation for Second Harvest Heartland. Reservations are highly recommended by visiting macalester.edu/box office, or calling 651-696-6359. For general information email thda@macalester.edu.
The inaugural performance in the new Macalester Theater of Letters|Home is a devised dance-theater performance celebrating the various ways in which human beings relate to the notion of "home." Led by Wynn Fricke, Cláudia Tatinge Nascimento, Tom Barrett, and Eliot Gray Fisher, the creative team of Macalester students playfully investigate the act of homemaking, the pains of displacement from lost or stolen land, immigration and the history of our ancestors, the feeling of community at gay bars and other safe spaces, spiritual life, and the body as our very first home.
"This spring semester my colleague Wynn Fricke and I are co-directing a devised piece that hopes to approach and generate discussion on local experiences about the meanings of home, more specifically in the Macalester campus and St. Paul area," said Tatinge Nascimento, part of the creative team and chair of the Theater and Dance Department.
The cast includes: Jesse Claire '20, Sacramento, Calif.; Zack Dizdar '20, Kyrenia, Cyprus; Asher de Forest '21, Kirkland, Wash.; Pierce Hastings '22, Chesterfield, Mo.; Elinor Jones '21, Fort Collins, Colo.; Kalala Kiwanuka-Woernle '22, Dorchester Center, Mass.; Yucai Li '19, Chongqing, People's Republic of China; Megan Rae Maguire '19, Eden Prairie, Minn.; Marc Mutka Jr. '22, Tomah, Wis.; Maya Reddy '22, Bangalore, India; Dominic Rodgers '19, Hadley, Mass.; Katia Sievert '20, Northbrook, Ill.; and Zixuan Zheng '22, Beijing, People's Republic of China.
Stage Manager: Max Danielewicz '20, Macomb, Mich.; Assistant Stage Managers: Alta Connors '19, Madison, Wis.; Kay Lee '20, New York, N.Y.; Assistant Lighting Designer: Trevor Zapiecki '19, Grand Rapids, Ohio; Assistant Object and Space Design: Jesse Claire '20, Sacramento, Calif.; Assistant Projection Designer: Richard Graham '20, Ann Arbor, Mich.; Dramaturgs: Emma Breslow '19, Londonderry, N.H.; Marley Higbee '20, Ypsilanti, Mich.; Jennings Mergenthal '21, Tacoma, Wash.; Kira Schukar '22, Fitchburg, Wis.
During the run of the play, there will be four talkbacks to engage the audience in conversation about local issues. Talkbacks are free and open to all, and begin immediately following the performance, around 8:45 p.m. Those dates and topics are:
Thursday, April 25: Native land with Martin Case (author of The Relentless Business of Treaties: How Indigenous Land Became U.S. Property) moderated by Assistant Professor of History Katrina Phillips.
Saturday, April 27: Rondo with Debbie Montgomery, Saint Paul's first female police officer, moderated by Assistant Professor of History Crystal Moten.
Thursday, May 2: Gay bars as safe spaces in the late 1940s with Stewart Van Cleve (author of Land of 10,000 Loves), moderated by Visiting Assistant Professor of American Studies Nathan Titman.
Saturday, May 4: Homelessness in the Twin Cities with Rinal Ray, Associate Executive Director at People Helping People, moderated by Professor of Anthropology and Associate Dean of the Kofi Annan Institute for Global Citizenship Dianna Shandy.
Learn more about Macalester College at macalester.edu.