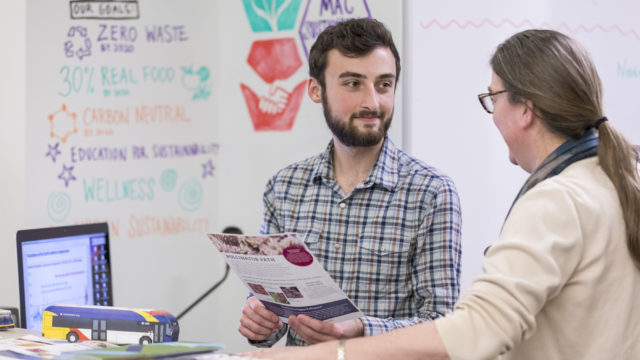 By Livvie Avrick '19
More than half of Mac students receive a student employment opportunity as part of their financial aid packages. With over 35 different positions, these opportunities not only offer financial assistance to students, but they also often enhance students' learning and provide career exploration opportunities.
For most, student employment positions are 8–11 hours per week, and students fit them in along with their courses, athletics, student orgs, and internships.
Seniors

Alex Harrington

and

Jen Katz

share their student employment experiences in the English newsletter

The Words

.
For Collin Dobie '19 (Saint Paul, Minn.), working as the Sustainability Student Network (SSN) coordinator in the sustainability office allows him to expand on his involvement in various environmental and food justice orgs at Mac.
The SSN brings together students in sustainability-related student employment positions and student orgs to help facilitate collaboration and communication among everyone working on sustainability-focused projects or efforts.
"The hope is that if we can increase communication or find some projects that we can work on together, not only can we get more done, but it can be more cohesive," says Dobie.

The network consists of student workers in the sustainability office, facility services, the library, the Leonard Center, information technology services, and student orgs—Fossil Free Mac, Mac Share, and Mac Cares, in particular. Dobie is also working on integrating the student network and the staff sustainability network. "My assumption is that the more we can coordinate all of these disparate efforts the more efficiently we can get work done," says Dobie.
As the SSN coordinator, one of Dobie's biggest projects is planning Earth Week, as different student orgs and staff host panels and events around campus.
In a more behind-the-scenes position, Elizabeth DuPree '20 (Marietta, Ga.) learns about and helps to preserve the college's history in the library's Archives and Special Collections department as a student research aide.
The archive contains an array of oral histories, images, texts, and records from meetings. Anyone can donate or send Mac-related items to the archive, and people will often send in research questions or images they are searching for as well. DuPree's job is to catalogue and preserve these donated items, and to assist people with their research.
"We had a question about the history of Mac the Scot as our mascot, and I got to delve into what the Macalester mascot history was," says Dupree. They (Dupree prefers they/them pronouns) discovered that the mascot went through quite a few iterations, including a pig, whose term as mascot ended when it was consumed at a community barbeque. "It was very early in the college's history."
Besides being an interesting way to earn financial aid, Dupree's position has also helped them think about their future: "I had never considered myself as somebody who was going to try to work in a library in any capacity, but I have definitely fallen in love with archives and rare books collections."
Student employment positions are not limited to the Mac campus. Through the Civic Engagement Center, students can apply to the off-campus student employment (OCSE) program and earn their financial award while working with organizations in the community.
Brigid Freed '19 (Oak Park, Ill.), now in her third year with the OCSE program, taught English language classes for two years at Hmong American Partnership. This year, she decided to try something new. Beginning over the summer through an internship grant, and continuing during the school year through OCSE, Freed has been working at Rondo Avenue, Inc.
As a community outreach and program coordinator, Freed develops programs and content for the nonprofit. Their goal is to celebrate and remember the history of the Rondo, a predominantly African American community along Rondo Avenue in St. Paul that was destroyed by the construction of Interstate 94.
Over the summer, Freed assisted with the opening of the Rondo Commemorative Plaza, a public park and outdoor exhibit that tells the story of the community. Currently, Freed is developing programming—open mic nights, art classes, and concerts—for the indoor space, the Rondo Center for Diverse Expression.
"It is super rewarding, and I've found it's really nice to get away from campus," says Freed. "That's one of my favorite things about [OCSE]; it's so separate from my life at Macalester."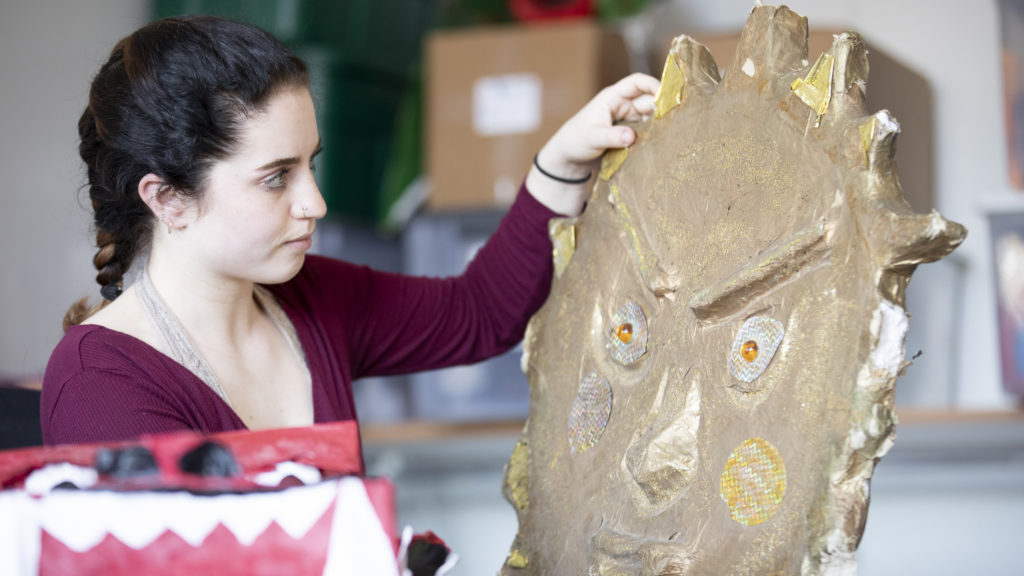 Mina Kianovsky '21 (Columbus, Wis.) takes a short bus ride from campus to Linwood Monroe Arts School, an arts-based public elementary school.
Kianovsky works as a teacher's aide and paraprofessional with pre-K through fourth-graders in the theater and dance classroom. With young kids, it is difficult to predict what class will look like day-to-day, and Kianovsky has learned how to be ready for anything and think on her feet to create a good learning experience.
"My favorite part of the job is the bonds that I have created with my students," says Kianovsky. "I have some kids who are really affectionate and it is really amazing to see my second- and third-graders come into class and be happy to see me. It makes me feel like I really do enhance their educations, which is the goal."