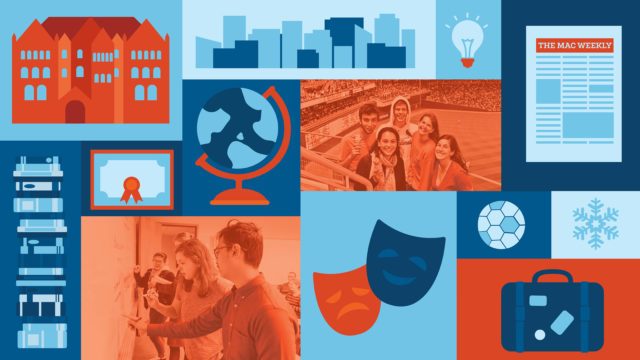 By Livvie Avrick '19
Founded in 1874 with core beliefs in internationalism, multiculturalism, and service to society, Macalester's student body today consists of students from 97 countries, including all 50 of the United States, D.C., Puerto Rico, Guam, and the Northern Mariana Islands.

With downtown St. Paul and Minneapolis just a short bus or light-rail ride away, Mac students have an abundance of opportunities to engage in the Twin Cities—home to 16 Fortune 500 companies,

the Mayo Clinic, and all areas of government, including the governor's office and state agencies.

Kofi Annan '61 (Secretary-General of the United Nations from 1997 to 2006), Danai Gurira '01 (actress and playwright), Esther Torii Suzuki '46 (first Japanese-American student at Macalester; her admittance freed her from a WWII-era internment camp) , and Walter Mondale '50 (42nd Vice President of the United States) are among Mac's most notable alumni.

A few times a week, you might find Kevin, Leo, or Bubba—Mac's therapy dogs—around campus for students, staff, and faculty to play with and pet. Their "paw-ffice hours" are sponsored by PAWS@Mac (Pet Away Worry and Stress), a program created by the Health and Wellness Center.

Within five minutes of campus are multiple coffee shops frequently populated by Mac students, such as Dunn Bros, Caribou, Sencha Tea Bar, and Roots Roasting. (We have a ton of dining options nearby.)
There are over 800 course offerings each year across 39 majors. The Food, Agriculture, and Society concentration is a recent new addition to the diverse curriculum offerings, featuring courses on subjects like food chemistry and the economics of food and hunger.

60 percent of students study away during their time at Mac, and with 90 approved programs across six continents, students' study away experience can take many shapes. Students often immerse themselves in a new language, complete an independent study, live with a homestay, or try new extracurricular activities at a local university.  

With five on-campus dining options, students can choose from sub sandwiches, Mexican-style burritos and tacos, Mediterranean and Middle Eastern food, burgers and salads, and the all-you-can eat dining hall. Mac's food is locally sourced, humane, and organic—and any leftovers go to feed pigs at a local farm.

WMCN on 91.7 FM, Mac's student-run radio station, hosts 55 original shows per semester, featuring student DJs on topics of their choosing.

Have you ever wanted to become a vegetarian or improve your language skills? Mac has specialty residence halls, such as the Veggie Co-op and language houses, where students can immerse themselves in intentional communities.

With Mac's commitment to service to society, students are supported in volunteering and securing internships in the Twin Cities and beyond. Mac has an internship grant program and an entrepreneurial fund to assist students in expanding their experiences outside of the classroom.  

Many notable speakers have come to Macalester over the years, including the Dalai Lama, Angela Davis,

Claudia Rankine, and more.

Nearly every student passes the notorious rock in front of Old Main on their way to classes or the campus center. The 700-pound rock—once rumored to be stolen by a rival college and mailed back to campus—is always changing appearances as students paint creative messages on it.

With comfy chairs and freshly popped popcorn from the Loch, the campus center is a popular weeknight destination. Late into the night, there are always students working on group projects, studying, or just hanging out.

At the end of every fall semester to kick off finals week, faculty and staff host Midnight Breakfast in the dining hall for students. The dining hall is overcrowded with students celebrating the end of classes, and the president always makes an appearance to serve students cheesy eggs and potatoes.

Students show off their journalism, creative writing, and graphic design skills on one of Mac's many student-run publications—

The Mac Weekly

(newspaper established in 1914),

Chanter

(literary and arts magazine established in 1958), the

Hegemonocle

(humor magazine established in 2009), and

The Words

(English Department student newsletter established in 2009).

Every October, the campus and the community come together for the Macalester International Roundtable. A three-day forum consisting of student panels, academics, speakers, and performers, the Roundtable offers the Mac community a chance to explore and discuss broad, timely topics such as migration, sustainability, empathy, and race and racism.

The Mall of America is only about a 15-minute drive from campus. It is a perfect place for rainy weekends to go shopping and even ride a few roller coasters.

The Idea Lab, located on the second floor of the library, is an innovative space for student collaboration and creative projects. Students have access to cutting edge technology such as 3D printers as well as crafts and art supplies for class and personal projects.

To connect to Macalester's Scottish roots—or to just try something completely new—students can take free bagpipe lessons from director of piping and pipe major Mike Breidenbach '96. (Be warned: bagpipes inaugurate nearly every major Mac event and are sometimes just randomly heard on the weekends.)

Macalester finished construction on a new theater and dance building in 2019. It features state-of-the-art dance studios, costume design and scene shops, and 11 new classrooms with enhanced technology.

Sustainability is important to Macalester. The campus has made commitments to be zero waste and to have 30% Real Food (local, organic, humane, or fair trade) by 2020, and to be carbon neutral by 2025.

Macalester has 21 Division III varsity athletic teams, and at home games, students can be found cheering their friends on, dressed head to toe in orange and blue.

Many memories are made at the popular Kagins, on-campus parties in the Kagin Commons ballroom, hosted by student groups and featuring student DJs. Perennial favorites are the Beyonce Kagin, Drag Kagin, and Last Chance Kagin—as the name implies, a last hurrah for seniors during Senior Week.

The Loch is the place to be during the week for a quick lunch, a few games of pool, or a cozy study session. On the weekend, the Loch frequently transforms into a performance space, with open mic nights, concerts, and student org events.

All year round, students enjoy the weather—from snowball fights and cross-country skiing around campus in the winter, to Frisbee games, lying in hammocks, and picnicking on the lawns in the fall and spring.

On week nights, many students take advantage of the free student-led activity classes in the Leonard Center, including yoga, Zumba, and strength and conditioning.

Around campus in the afternoons and into the night, many computer labs and classrooms transform into spaces for study sessions or office hours with course preceptors.

Stop by a department lounge during the day and you'll find students meeting with professors, drinking coffee and tea, and hanging out in between classes.  

There is no such thing as a typical day for a Mac student! With the variety of opportunities, one day can consist of courses, student employment shifts, internships, sports practices, and field trips around the Twin Cities.