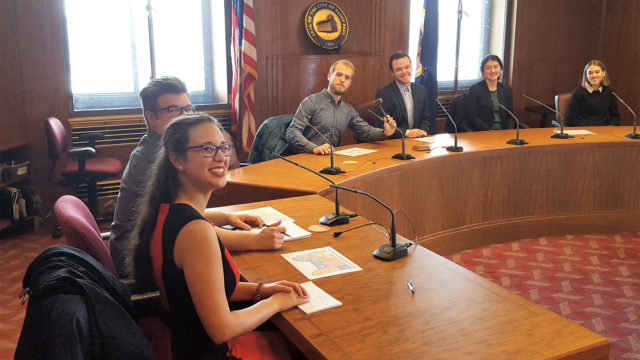 Last semester, Macalester classes met—as usual—in spots like Old Main and Olin-Rice. They also met all over the Twin Cities, in places ranging from a concert hall to City Hall. More than 60 courses in 17 departments now include assignments that send students around the metro area to explore, research, and collaborate. Whether those excursions are one-time guided field trips or semester-long partnerships with local organizations, holding class off campus adds new dimensions to the theory students learn in the classroom.
One of the longest-running community-based courses at Mac is the anthropology department's Ethnographic Interviewing class, launched nearly 50 years ago using an approach pioneered by professors James Spradley and David McCurdy. Thousands of students have completed the course, which requires them to choose a microculture—and an informant in that microculture—and conduct seven hourlong interviews, then use that information to write a 30-page research paper. Although students aren't required to go off campus for their project, about half of them do—and Mac's urban location creates an especially rich variety of options, says professor Arjun Guneratne, who has been teaching the class for 15 years.
Over the years, his students have explored microcultures that range from firefighters to funeral home directors. To complete the assignment successfully, students must build good rapport with their informants.
For anthropology major Aberdeen McEvers '19 (Houston, Minn.), Guneratne's Ethnographic Interviewing course last fall marked her third (and most intensive) ethnographic project at Mac. Each assignment shaped her perspective beyond what she gleaned from the interviews. "Studying a microculture off campus strengthens my interpersonal communication—it pushes me because it's less comfortable to interview a stranger in a new place than someone you know in an environment you're familiar with," says McEvers, who focused her most recent project on what tools a public library uses to make all community members feel welcome. "I'm always surprised at the relationships I develop with my informants. They've always been very open and giving people, and this has had a profound impact on my confidence in interpersonal interactions with people outside academic research as well."