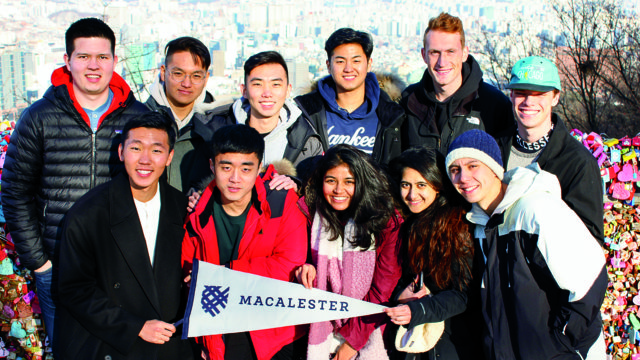 After 11 Mac friends dispersed around the world during junior year, they wanted to honor their friendships with a special reunion—and January was their chance. "We realized there might not ever be a time when we could take two weeks to travel together after we graduate," says trip organizer Brian Yu '19 (St. Louis Park, Minn.). Their destinations: Seoul, South Korea; Singapore; and Beijing, China. Each city is home for one of the travelers, and the group's reunion included three students who took a leave of absence after sophomore year to complete mandatory military service in Korea. We asked a few of the travelers about the experience.
Trip highlights
Eric Frost: In Korea, we saw an amazing sunset over Gyeongpo Lake and the surrounding mountains. I loved going to the Ihwa Mural Village in Seoul, which combined my two big interests: art and hiking. Also, eating kimchi in Seoul was amazing. I had it at every meal."
Brian Yu: In Beijing, we made dumplings with Tianyou's mother and climbed the Great Wall of China. We celebrated Nikhita's birthday with her parents and grandparents in Singapore.
Nikhita Jain: Celebrating my 22nd birthday with everybody. They made me feel so special. I'm a vegetarian, and we went to a tofu restaurant to ensure that I could eat a hearty meal.
Taneeya Rele: Karaoke in Korea. Pretty sure I lost my voice after that night.
Sightseeing with friends
Yu: We got to see each city through a friend's eyes. We experienced amazing hospitality in each city from our friends' parents, who had never met their children's college friends.
Rele: The others definitely forced me to be more adventurous. Because three of them are Korean, they made us try all these authentic Korean dishes I would never have had, had it not been for them.
Memorable meals
Yu: In Beijing, Tianyou's mother took us out for Peking duck at the famous Da Dong restaurant. We had traditional Chinese dishes and Peking duck which was carved at our table by a trained chef.
Frost: In Gangneung, Korea, we went for dinner at a two-story building right on the coast. On the first floor, you'd point out which fish you wanted to eat—all of it caught that day—then go upstairs while they prepared the food. Jackson told us that eating this dinner was reserved for special occasions, and people were celebrating around us.
Rele: For dessert at the tofu house in Korea I had matcha tofu gelato. It was the best thing I've ever had.
Trip takeaways
Yu: Macalester provided an amazing environment for us to cultivate friendships that will last a lifetime. Our global network will definitely provide fun opportunities for future reunions.
Jain: I hope that 20 years down the line, we can all sit together with our children and laugh about the memories we made on this trip.