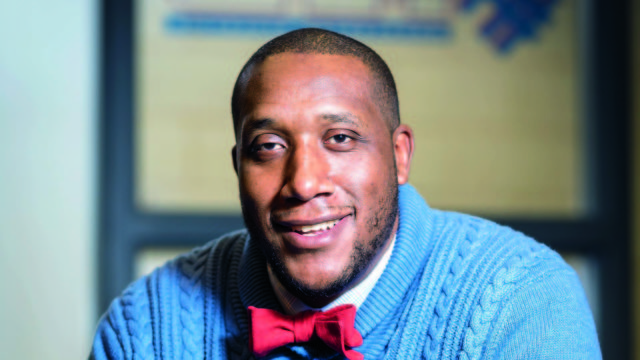 Macalester's new director of athletics, Donald (Donnie) Brooks, arrived on campus in January—but the college has been on his radar since growing up in Texas in the '90s, when he learned that his best friend's parents were Mac alumni. "I respected them a great deal, and so I always respected Macalester," he says. Brooks previously served as director of athletics and recreation at Millsaps College in Jackson, Miss.
Favorite Leonard Center spot: I start my morning in the Deno Fitness Center, on the first treadmill, closest to the door. I get to see students and community members—this is a community space for healthy living and wellness.
Leadership style: I'm a student-centered leader. I want to know what students are listening to, what they're reading, what classes they like. My second favorite spot in the building is just outside the fitness center at midday, when there are lots of students around. If I want to get a read on how students are feeling, I go over there.
Favorite sport: I like to watch football from the sidelines, but I enjoy playing hoops. I'm a serviceable noon hoops basketball player.
Go Division III: Division III is one of the last few pure places in high-level athletics. These athletes care just as much and put in as many hours as some of their Division I counterparts, but they're doing it for the love of the game. There's a motivation that's so different—I wish more people could see it.
Goals: We're trying to build something uniquely Macalester. It starts with us identifying our culture, celebrating our culture, and recruiting to our culture. Right now, we're challenging our coaches in recruiting. We're going to be out across the country finding as many students who want to be successful in this environment as we can. We don't have to become something we're not in order to win championships.