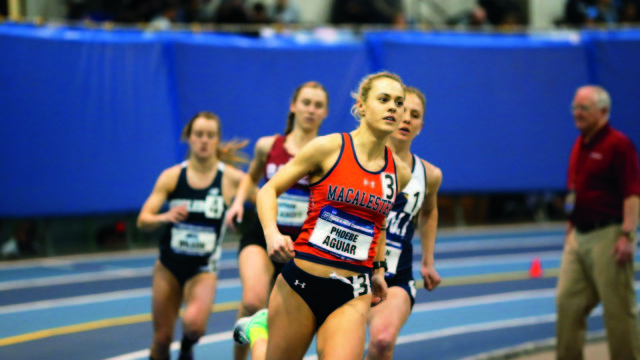 When Phoebe Aguiar '19 (Prairie Village, Kan.) races 800 meters, she wants to get out in front right away—and stay there. "I go out really fast and hard and then hang on for that last bit," she says. "That's just the way I race: all or nothing."
That aggressive strategy has paid off. In February, the environmental studies major ran 2:07.50 to win the 800 by more than 3.5 seconds at the NCAA Division III indoor track and field championships in Boston. Aguiar's run was the fourth-fastest performance of all time at the Division III level for the indoor 800, and it's the first national championship for a Mac track and field athlete since the late Janis Raatz Rider '88 won in the javelin in 1988.
Aguiar only started racing the 800 in her senior year of high school and has trimmed 13 seconds off her personal best time since then. Because she's relatively new to the distance, she's eager to see how much progress she can make this spring and beyond. She'll compete with Mac's outdoor track and field team but also mix in larger meets nationwide to improve and get exposure for a possible professional running career after she graduates.
Next year, Aguiar will pursue a master's of public policy and administration at Syracuse University to prepare for a career in government policy focused on fighting climate change. Because she still has one year of athletic eligibility (she missed track in her sophomore year to have surgery to repair a torn labrum in her hip), she'll run outdoor track at Syracuse, competing at the Division I level.
But first things first: Aguiar is thinking about spring and excited about graduation—and aiming for another championship at outdoor nationals.