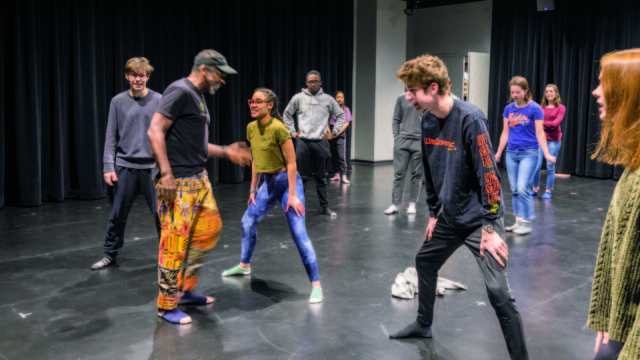 It's 8:10 a.m. on a Thursday in February, and Macalester's new theater and dance building is just beginning to stir. Professors are arriving to prepare for morning classes, a few students are setting up their laptops and coffee cups in the second floor's study spaces, and technical director Tom Barrett is already racing in all directions to tackle work on the main stage, the last space still under construction.
With the building almost complete, students and faculty can't stop imagining what's now possible in the performing arts at Macalester. The energy is palpable: in studios filled with natural light, in a green room where students and faculty gather, and in 270 new classroom seats that serve students from all disciplines.
"All of us are saying, 'This is amazing'—that's the continuous refrain," says theater professor Beth Cleary, whose "Oral Histories in Performance" students are interviewing the people who worked on the building's construction for an archive that will evolve into a script. "We're pinching ourselves."
The $32 million project, funded in part by The Macalester Moment campaign and designed by HGA Architects and Engineers, adds 20,000 square feet to the building.
Every room—including the main stage, the black-box Huber-Seikaly Theater, and Fox Dance Studio—serves multiple functions. And every decision was made with the daily teaching and learning environment in mind, says department chair Cláudia Tatinge Nascimento, who came to Macalester two years ago in part because of this investment in the arts.
We couldn't cover everything that happened this semester in the building vice president of administration and finance David Wheaton calls "a transformative space for the college." Instead, we spent a single day exploring its classrooms and studios. Here's how it unfolded.
9:40 A.M.
In the black-box Huber-Seikaly Theater, 14 students in "Acting I" spread out across the floor, doing lunges, pushups, and vocalization exercises as Whitney Houston's "I Wanna Dance With Somebody" pulses from the sound system.
Kicking off class with an active warm-up is nonnegotiable, theater professor Harry Waters Jr. says: "It's natural to wake your body up, so you can be fully present. Students aren't just talking heads. In what we do, they're relating to one another with their whole body."
Most of the students are first-years. Some already plan to major in theater; others have never acted before. Regardless of their experience, the lessons of this course will stay with them. "Students learn about successes and struggles, and they get to experience themselves as a fuller person," Waters says. "After a theater class, our students are more human."
10:30 A.M.
In Fox Studio, seven students in Bob Rosen's "Physical Approaches" class are devising three-minute wordless performances inspired by the clay work exhibited in Law Warschaw Art Gallery across the hall. Kneeling and barefoot, Rosen watches as the students rehearse. The room, which moments before had been filled with laughter and conversation, falls silent save for intermittent thumps and footfalls as they jump, stomp, and roll across the wood floor.
In "Physical Approaches," Rosen teaches his students—just two of the seven are theater majors—to express themselves without scripts. "It's a combination of writing things in a notebook to track thoughts and ideas and getting up on their feet to work," says Rosen, an actor and director who was a founding member of the internationally acclaimed Theatre de la Jeune Lune company in Paris and Minneapolis. "They'll try things out, talk a little bit, and then try things out again."
It's a vastly different kind of learning than Andy Han '19 has ever encountered. Han, a computer science and philosophy double major from Northbrook, Ill., promised himself as a first-year student that he'd take a theater class before graduation. He decided to wait until his last semester, when he knew the new building would open. A month in, Han already has an appreciation for the rigors—and rewards—of physical theater. "This class made me think about audience," he says. "When you write software, you do that with the users in mind. In philosophy, you're trying to persuade readers through a paper. But in theater, I can't hide behind software or words. It's just me, a human body."
1:20 P.M.
Costumer Lynn Farrington likens her shop to a laboratory—one of the places where students test out what they learn in class. And this costume shop, two and a half times larger than her old workspace, provides more room to do just that. "I can have three times as many students in the room stitching," Farrington says.
The additional square footage also creates a safer work environment by allowing students to spread out. The room has five large work tables and sewing machines, as well as an industrial serger and sewing machine. In one corner, a fitting area's lighting is designed to match what an audience sees on stage. An adjacent room with improved ventilation features washing machines, a dye vat, and a large table that will allow Farrington and her students to experiment with batik, painting, and other techniques that the old shop simply couldn't support.
That's what thrills Farrington about this space, and it's a recurring theme in the building: "Now we can encourage the arc of completion, from imagined idea to a two- or three-dimensional project that forms a springboard to the next idea," Farrington says. "Students can exercise their imagination to the next level, and we can give them the skills to do it."
1:40 P.M.
Back in Fox Studio, a mix of theater and sociology students are moving through the room, responding to direction from theater and dance department chair Cláudia Tatinge Nascimento. For the first time, she and sociology professor Erika Busse-Cárdenas are co-teaching "Festival of Nations: Sociology of (Multi)Cultural Performance." The course explores performance as an expression of culture and culminates in an intensive study of the Festival of Nations, an annual Twin Cities event that showcases the cultural heritage of nearly 100 ethnic groups.
Tatinge Nascimento guides the students through an active theater training exercise, her voice the only one in the room. She's gently heckling, hooting, praising, chastising, playing with nicknames. "See each other. Don't look at the floor!" Tatinge Nascimento implores, and the students are running diagonally across the room, their breathing getting more audible. Then they're sprinting, then dancing—and finally they segue smoothly into their current assignment: writing and performing a short piece about their heritage.
This isn't the kind of classroom rhythm that Busse-Cárdenas and her sociology students are used to—but that's the point. Early in the semester, she met with plenty of sociology students wondering what to expect. "I heard 'Erika, I've never done this before in my life!'" says Busse-Cárdenas, who performed in theater as an undergrad and continues to study and practice dance. "And then I see them now, doing what they were scared to even try before. In this class, I've learned to help students with not only their ideas, as we do in a traditional classroom setting, but also how to use their own bodies to communicate the idea—and then connect that movement to what they're studying."
That includes using dance as a way to think about nationality, ethnicity, and multiculturalism. The class is meeting several times in the Fox Studio to prepare this assignment, and Busse-Cárdenas says those sessions enhance the classroom learning. "You're not sitting around a table; you're walking on that floor, with all the light and mirrors," she says. "It allows students to try other things. It opens our own minds as people from other disciplines."
2:15 P.M.
Midway through theater professor Cheryl Brinkley's "Voice and Speech" class, students move from warm-up exercises in Berg Studio to the adjacent classroom and take a seat in front of table mirrors. Today Brinkley is guiding the group through a lesson on vowels. Their discussion dives into minute details—with breaks to practice in front of the mirrors—but also fits into a broad foundation that stays with students. Though many of her students are theater majors who will employ their new skill sets on stage, the class has also generated buzz over the years among non-majors who have heard it's excellent preparation for job interviews and presentations. And after they graduate, Brinkley says, often it's her turn to hear from them: the strategy pays off.
3 P.M.
Downstairs in the design studio, a dozen "Lighting Design" students sit at computers, navigating design software that's new to almost all of them. By semester's end, says professor Kathy Maxwell, they'll be able to turn in a working light plot for the black-box theater.
Theater major Jesse Claire '20 (Sacramento, Calif.) works in technical director Tom Barrett's scene shop and is also minoring in performance design and technologies. They plan to go into scenery design and are taking Maxwell's class to gain experience in lighting design—and they're in the right place. In the state-of-the-art design studio, 12 large work tables hold brushes, painting tools, cutting mats, and razor blades. A fully equipped lighting grid hangs from the ceiling. That means students can take ideas from concept to execution in the same room: they can sit at a drafting table, sketch out an idea on tracing paper and then actually hang lights and see what the finished product looks like. "I can make revisions as I go and have a better relationship between concept and practice," Claire says. "The ability to learn by doing is crucial, and we didn't have that in the same way in the old space."
4 P.M.
"Palms up means sincerity from your heart!" Dance professor Patricia Brown shouts direction and encouragement to her "African-based Movement" students as they move, three at a time, across Fox Studio's sprung wood floor. Building on the wide range of her students' experience, Brown teaches traditional West African dance, as well as dance inspired by West Africa, other African regions, the Caribbean, and the Americas.
4:45 P.M.
When Brown's class ends, several students stay in the studio for her African-based movement ensemble. Late-afternoon light streams in through the full-length windows, which allow passersby outside the building and in the arts commons to watch the dancers as they move. It's a dramatic change from the windowless basement studio in the old building—one the students say took some getting used to. Now they find the location encouraging. "It's nice to dance in public—you are seen as part of campus, and being visible is so important," Toan Doan '19 (Quang Ngai and Ho Chi Minh City, Vietnam) says.
And classes like Brown's are meant to push students out of their comfort zone, Xuemeng Yao '19 (Beijing, China) adds. Her words ring true for Chris Reece '19 (Clementon, N.J.). "I'd never done any formal dancing before my junior year at Mac," Reece says. "I'm learning new things about myself every day."
5:30 P.M.
After serving as a classroom all day, the Huber-Seikaly Theater is transforming into a performance space: it's opening night for its inaugural production, currently untitled, a show created entirely by students. Stage manager Em Friedman '21 (Chapel Hill, N.C.) and their crew are setting up the chairs that finally arrived yesterday. Yet they're already imagining the sense of accomplishment the group will feel after tonight's show. Through this experience, Friedman says, "I've become much more interested in the process than the product."
That process started last spring, when the idea for the show popped into theater major Gretta Marston-Lari's head. Marston-Lari then developed the concept in professor Sarah Bellamy's "Performance and Social Change" class last fall. The goal for Marston-Lari—a sophomore from Lima, Peru—and the friends who joined the project: to create a platform for students of color and transgender students to tell their own stories on stage. Mentored by Bellamy, each student wrote and directed a scene for what started as a monologue showcase and evolved into an ensemble, with nine actors on stage the whole time.
Later, the lights will go up and the show will begin. An hour later, the audience (including Bellamy and department chair Tatinge Nascimento in the front row) will rise for an ovation. "We're all excited to see this really happen," Friedman says. "This started as a whim. We found out we could really do it."
BY REBECCA DEJARLAIS ORTIZ '06