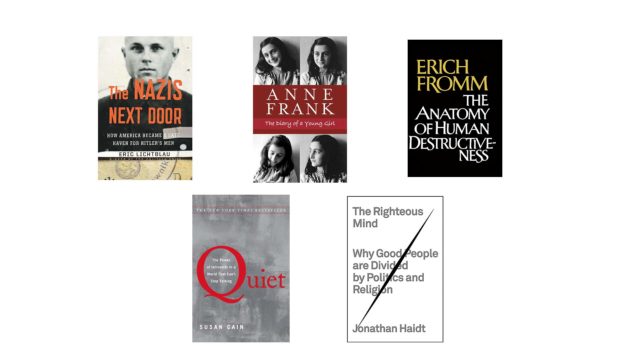 Ever wonder about all those books lining professors' offices? We're with you.
International studies chair Nadya Nedelsky teaches courses on human rights, ethnicity and nationalism, and the origins of global hate movements.
Any stand-out books you've read recently?
Last summer I read The Nazis Next Door by Eric Lichtblau. It was really illuminating, and it relates to a research project I'm doing about an S.S. man who lived down the street from my parents, in South Dakota. It gave me a good background on how Nazis were let into America in the post-World War II period.
What's one of your all-time favorite reads?
The Diary of a Young Girl by Anne Frank. I still have my original copy. I read it on a family trip to Germany in 1981. My grandfather was a Nazi—he was a German judge in occupied France. We were going to visit those grandparents, and I was reading Anne Frank's diary. It became really pivotal in my entire life course.
What book is crucial to understanding your academic niche?
There are five books I generally teach in my senior seminar, but I've found Erich Fromm's The Anatomy of Human Destructiveness the most useful. It's a psychoanalytic study of what motivates cruel, human aggression—aggression that is hard to explain and seems kind of pointless, in a way. And every year, someone from the class will contact me later to say how relevant it's been to their life. Even one guy who went on to teach grade school.
Any guilty pleasure reads?
It won't surprise you that I like crime fiction. I also like advice books—a favorite is Quiet by Susan Cain. It was totally liberating and empowering. It changed how I teach. Another is books about hygge, that Danish "cozy" trend. I've got at least four books on it.
What one book would you recommend to everyone at Macalester?
The Righteous Mind by Jonathan Haidt. It's a great book for our times.