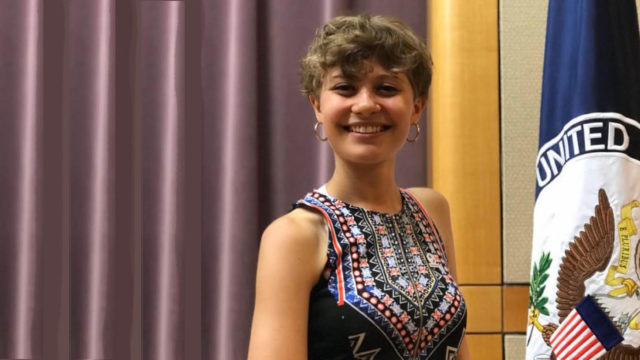 By Katie Herrick '21
Programs & Volunteer Management intern
Atlas Corps in Washington, DC. 
Although often described as a "reverse Peace Corps," Atlas Corps is not opposed to peace; rather, it reverses the flow of experience, ideas, and passion. Instead of American citizens traveling to other parts of the world, Atlas Corps recruits young nonprofit leaders from across the globe and partners them with U.S.-based organizations for a 12-month fellowship. 
Our fellows are mind-bogglingly spectacular. Many have founded their own organizations in their home countries, tackling such universal issues as women's rights, climate change, youth empowerment, public health, and much more. 
I aid in recruitment by interviewing potential candidates and help facilitate special events such as Orientation and our Global Leadership Lab. Atlas Corps has a lot of fellows and a lot of programming, but not a lot of full-time staff. For this reason, we depend on an extensive and dedicated network of volunteers. I am responsible for managing these Atlas Corps champions, data tracking, interviewing, answering questions, and providing support in any way necessary. 
I'm living with six fellows from Nigeria and Pakistan for the summer. It is an unbelievably inspiring experience, and I have learned so much from these remarkable individuals, as well as the volunteers I talk to and the prospective fellows I interview. They all possess experience and knowledge beyond my wildest imaginings and are more than happy to pass on some wisdom. Much of what I have learned this summer stems not from tasks in my job description, but from organic conversation with the leaders I serve. 
Here are five of my favorite bits of advice, shared with love from the Atlas Corps fellows:
On positivity: The only thing you need to succeed is a positive attitude. However, you won't truly know if you have one until you confront difficult people and difficult situations. Remain positive in the face of these and you can do anything!

On compliments: Compliments are not your property; they belong to the person they are about, so never keep them to yourself!

On solutions: All of the world's most pressing problems are a result of humans. Because we caused them, we have not only the responsibility, but the capability to solve them. The source of the problem is also the source of the solution.

On diversity: Why is everyone so concerned about tolerating and respecting differences? Those are pretty low bars. We should not merely seek to tolerate or respect our differences, but to celebrate them!

On uncertainty: It's okay to not know what you are doing or where you are going in life. Your passion will manifest in everything you do. The most important thing to remember is to be open to new experiences and learning opportunities as long as you live; flexibility and adaptability will guide you better than any map ever will.