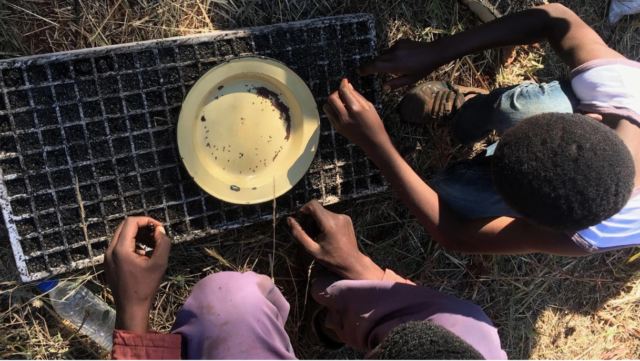 Earlier this year, as part of an independent study course, then-sophomore Katia Sievert (Northbrook, Ill.) launched an original blog to chronicle and share the stories of other innovators at Mac. Below is her profile of classmate Likhwa Ndlovu '21 (Bulawayo, Zimbabwe), reprinted with permission from her blog, Stories at Mac.
---
Likhwa Ndlovu hated going to his family's farm when he was growing up in Zimbabwe. In the beginning it was an adventure for him and his siblings, but it soon became a reminder that he wasn't spending Christmas or New Year's with friends, or watching fireworks. "When we were younger we didn't really learn that much from being on the farm," said Ndlovu.
And then Ndlovu got to college. After his first year he hadn't lined anything up for his summer. Then-first-year student Mphatso Simbao reached out to see if Ndlovu wanted to apply for the Live It fund with him to do an agriculture project in Zimbabwe. Ndlovu said yes.
—
Ndlovu, a sophomore geography and geology double-major, has a calm charisma and a low, warm voice. He seems to always know what he's about to say before he says it. He's recently dyed his hair platinum blonde; he's likely to change it again soon. You can often find him with a pair of black headphones around his neck, when he's not somewhere singing or writing his own music.
He can seem, in short, like any other student at a liberal arts school like Macalester. It's only once you start talking to him that you learn that working with agriculture is more than your average project for Ndlovu.
Everything started with his grandfather. He was a farmer who worked his way up to owning his own farm, selling beans until he had enough money to buy land from some white farmers. After Ndlovu's mom was born, the family moved from house to house; but for his mother, the farm was a constant. She studied animal science and worked with livestock. Ndlovu's father, meanwhile, helped commercialize the goat industry in Zimbabwe, promoting the animals as a source of quicker cash flow for famers than traditional cattle herding.
Ndlovu, in other words, has a bit of a legacy on his shoulders.
—
Ndlovu and Simbao got the grant for the summer. Their big plan? Biodigesters. Large metal containers filled with microbes would digest food waste and manure, and out would come methane gas and a ready-made fertilizer for farmers.
Kate Ryan Reiling from Macalester's Entrepreneurship Program helped advise them on the project. At one point, Reiling asked what they would do if biodigesters weren't what the local farmers needed. "We were like, 'Don't worry, Kate. They want this,'" said Ndlovu.
But the farmers didn't. Simbao flew to Zimbabwe first, and reported back that the main issue for farmers wasn't a lack of methane or fertilizer. It was a lack of water.
Ndlovu and Simbao scrapped their original idea, and started over.
—
From high school on, Ndlovu attended school away from home. Coming back to Zimbabwe for this project was, for him, a time he could reconnect with his culture. "Initially I felt very disconnected," he said of his experience. "I [hadn't] been home—at least, I haven't been working on the farm in so long, so I felt disconnected from the problems that people were facing."
But Ndlovu said that Reiling's advice helped them focus on how to adapt what he had learned to create something that farmers would want to work on themselves.
Overall, being away at college made returning feel more meaningful for Ndlovu. "It made me appreciate [being home] much more," he said. "It was an opportunity to go back and work with people."
—
With biodigesters out of the picture, Ndlovu and Simbao's new plan was hydroponics, a method of growing plants by floating them on water. Simbao had grown strawberries using hydroponics, and Ndlovu's aunt gave them more information and connections. One day when we met for lunch, Ndlovu patiently walked me through the method: they first mixed together water and essential nutrients and poured the mix into a sealed bed with raised sides. Styrofoam trays of artificial soil and seedlings would then float on the water and soak up the essentials as the plants grew. "It does sound counterintuitive that something that uses so much water is actually using less water," he said.
But it does. Because it's a closed environment, all the water and nutrients go directly into the plants instead of getting leeched into the soil, collecting into puddles, or getting lost through runoff as it would when watering traditional fields. Instead of constantly watering their fields, farmers growing hydroponic seedlings must refill water only when it has been absorbed by the plants or evaporated. Hydroponics also requires none of the topsoil fertilizer or pesticides that would be used in more traditional farming, and far less maintenance overall.
Ndlovu and Simbao visited a hydroponics plant in Zimbabwe that grows tobacco to get advice. "[The people there] were surprised by the fact that we were so young and interested in this stuff," said Ndlovu. "They were like, 'Most children your age aren't looking towards agriculture as the future.'"
Ndlovu and Simbao started experimenting with different trays to float plants on and different materials to use for the artificial soil. Instead of letting the plants grow to maturity, they grew seedlings as tall as salt shakers before transplanting them in the fields. In their own experiments, Ndlovu and Simbao were only able to grow about five to seven seedlings.
A family friend, however, was willing to let them use his farm as a prototype. They collaborated with him to find ways to adapt the hydroponics techniques they'd tried to best work with his farm. They tried digging holes, they tried raising the sides with bricks. They built a tent around the hydroponics system to keep it contained. After some more trial and error, all they could do was wait to see whether it worked.
—
It was winter in Zimbabwe. Using traditional methods, it would normally take as long as eight to ten weeks for seedlings to grow. Ndlovu's hydroponic seedlings grew in around five weeks. "[It] really grew," said Ndlovu. "It went really well, way better than we expected it to."
Ndlovu and Simbao told the farmer to bring other farmers to see the results. "Farmers, they're really product-based," said Ndlovu. "They like to see an output they can invest in."
They came from all around. Soon, Ndlovu was driving from farm to farm, showing other farmers the method with two of his close friends from home (Simbao went home to work on his own project). As he got more experience, he was able to work with three farms per day with a system of 200 seedlings each, usually planting seeds for leafy vegetables. Farmers began wanting more. They began asking for 1,000 seedlings; one man asked for 2,000. In the end, Ndlovu started a company selling hydroponic seedlings after his project was done, with the help of his two home friends.
The overall experience was also a profound one for Ndlovu. "The real thing I enjoyed was being appreciated in my community," he said. "Feeling like I'm actually, tangibly giving back. … People were like 'Wow, your mom must be so proud of you.' They were like, 'You're definitely your grandfather's child.'"
As he thought more about it, Ndlovu's usual eloquence disappeared for a moment. He paused.
"Yeah," he said. "It was really good to hear."
---
Likhwa Ndlovu '21 is a Macalester Davis United World College Scholar.