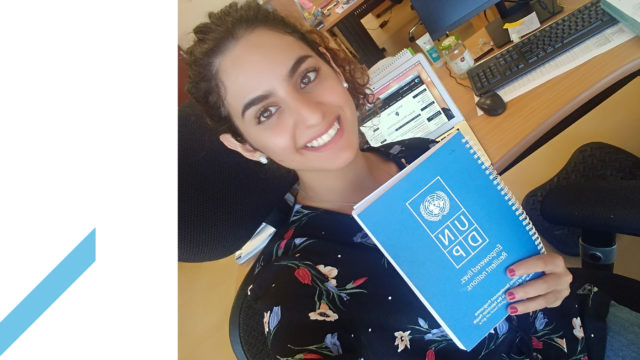 We're continuing our series checking in with students completing internships around the world. This week Donia Khraishi '21 shares her experience based in Ramallah, Palestine:
I am doing my summer internship with the United Nations Development Programme in Ramallah, Palestine. I am working on two projects.
The first project is about encouraging women athletes in different cities in Palestine to be more involved in sports at the local and international levels. The proposal of this project is being drafted now, and we are currently working on creating a survey to better understand the situation of women athletes in Palestine, and the reasons why they don't usually participate in sports as much as men do. A significant part of my work will be doing data analysis, but I will also partake in the events organized by the UNDP to bring Palestinian women together to play sports, such as soccer and basketball. By the end of my work on this project, I am expected to come up with some long-term strategies to increase the participation of Palestinian women in sports. 
The second project aims to show the importance that Palestinian women might play in a reconciliation between the two rival political parties, Fatah and Hamas. In past years, women were way less involved than men in the reconciliation process—but that process has also been unsuccessful so far. This project is offering a new approach of reaching reconciliation through women's participation in the process.
Editor's note: Donia's summer experience is being supported through a Macalester Summer Internship Grant.