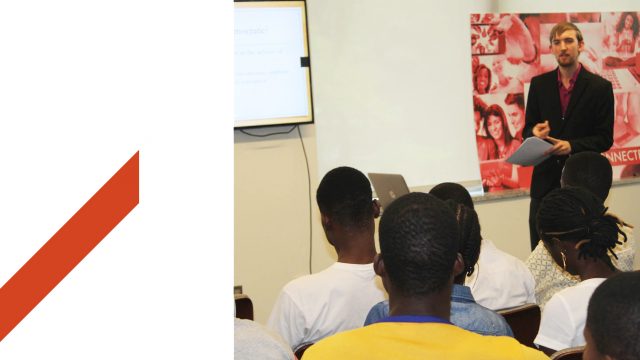 Alexander Young Williams '20, an international studies major from Arlington, Va.,  shares his summer internship experience:
I am currently interning at the U.S. Embassy in Cotonou, Benin, in the Regional Security Office. Some of my responsibilities have included:
redesigning the RSO website
preparing the embassy for inspection by the Office of the Inspector General
transporting food and water from the embassy compound to various safe havens
being partly responsible for security during the biggest event of the year at the embassy (the July 4th party)
being the official photographer of the ambassador (temporarily)
making accurate inventories of ammunition
conducting informational interviews with many of the officers at post
giving multiple presentations to Beninese students who come to study at the embassy library
In the photo above, I am giving a presentation about the rise of democracy in Somalia in the 1960s. I have learned many things about how an American embassy functions, too many to list here. I have a greater appreciation for the work of security officers in particular and for Foreign Service officers in general who have to continuously move from place to place every two years. I've learned generally what responsibilities individual officers have here, and the differences between here and a larger embassy. I've also learned tips for the Foreign Service exam and what skills and qualities are useful for many positions. Finally, I've learned how much bureaucracy is present in everyday operations.
Alexander's summer experience is being supported through a Macalester Summer Internship Grant.