Through the Live It fund, Macalester student entrepreneurs identify an opportunity or a problem and propose an innovative solution. With grants from the Entrepreneurship program and the Center for Global Citizenship, students carry out projects around the globe during J-Term and summer. 
We caught up with some of the recipients to learn more about their projects. 
Project: Suchana Sewing Corner
At Macalester, Malini Basu '21 (Kolkata, India) works in the Idea Lab. Her speciality is sewing, and she helps students with projects. "The sewing machines are really popular and there's a huge interest in mending clothes," she says. This work inspired her Live It sewing literacy project in India. "I thought back to this village that I worked with in the past, a couple hours outside of where I lived in India," she says. "They do a lot of hand-sewing, but they didn't really have access to sewing machines. I thought it would be really cool to create a space similar to the Idea Lab with sewing machines in the community center." 
Basu provided sewing workshops for youth ages 13 to 20 at the Suchana Community Center in Uttar Chandipur, India. "I did a lot of preparation, just talking to people and seeing what they would want to learn," says Basu. "We started with some little pouches, just to get the basics, and then we made totes." Students progressed to skirts, pants, and pillows. Basu says she was surprised by how quickly her students learned and were able to troubleshoot problems on their own. 
A key element of planning Basu's project was ensuring that the program would remain sustainable and continue after her departure. Working with the community center, Basu was able to identify a local woman to keep the program going, and she's already received texts with updates and photos of students sewing. 
While Basu hasn't heard of any student getting a tailoring job yet, she says her students now have a good grasp of the sewing machines and know how to use them. Her lone male student made a circus costume out of bright red and pink fabric, and his excitement, says Basu, "made me really happy and excited, too." 
Basu intends to return to the center to provide students with more sewing inspiration and skills. "This project has given me a new perspective on entrepreneurship in that it doesn't necessarily have to be a business model," she says. "It can be more like sharing skills people to people."
Project: Para Chuparse Los Dedos: Finger-licking Good 
Friends and former roommates Gianna Brassil '20 (San Francisco) and Susanna Morales '20 (Minneapolis) both hold Central American identities in which, as Morales put it, "food is always in the picture." Working together, they developed a project to highlight the often overlooked culinary consciousness of Central America, and the stories of people with Central American identities. 
"We want to challenge ideas of where knowledge can be found," says Brassil. "Food and domestic spaces are really female-centered spaces. Feminine spaces are just really valuable places to learn about politically charged concepts like immigration, war, and border crossings." 
The duo conducted 12 interviews in San Francisco, which has a significant population of Central Americans, including Brassil's own family. Each meeting included preparing and cooking a Central American meal in a home kitchen, eating the meal together, followed by an interview. 
In one kitchen, after interviewing Brassil's high-school friend and her mother, the friend's Guatemalan father joined the conversation. "He became very interested in the project and shared a lot about his identity as a Guatemalan, and what it was like to grow up in Guatemala, and memories he has of eating food with his mother," says Morales. "All these people were connected because they were family, but they also had connections with food in different ways…and food kind of maintains those relationships as well." 
Both Brassil and Morales mention a meal of nacatamales—Nicaraguan tamales—that they made with Brassil's family, friends, and relatives, as their most memorable meal during the project. The three-day process involved intense prep time, and once the ingredients were ready, an assembly line of women gathered to put the tamales together.  
This summer, while Brassil is studying abroad in Azerbaijan, Morales is continuing their project. She's been holding cooking workshops and is collecting more recipes and stories that they will publish in a magazine/cookbook. 
"We want to include the stories so people can learn where these foods are coming from and not just make the dish, eat it, and not really know the story behind it, or who is making this food," said Morales. Learn more on the Para Chuparse Los Dedos Facebook page.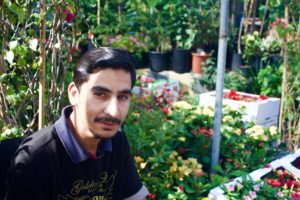 Project: Expressions of Diaspora 
While Shireen Zaineb '20 (Wellesley Hills, Mass.) was growing up, some of her family members in Pakistan worked as migrant laborers in the United Arab Emirates (UAE). Because work contracts are often only a couple years long, Zaineb says "there's not a lot of settling down that happens, especially of Pakistanis." She became intrigued with capturing Pakistani tradition and culture within the UAE, as well as Pakistanis' presence and importance to the UAE's infrastructure, economy, and general society. Her Live It project documents Pakistanis in the UAE through photographs. 
Zaineb's project took place in the capital of Abu Dhabi. She found connections through her Pakistani host family, and also on her own. "I spent my days walking around and talking to people going to markets, and just seeing how insanely influential Pakistanis have been in Abu Dhabi in all these different ways like flower markets, fish markets, vegetable markets," she said. "So many of these things were majority run by Pakistanis or by  South Asians which makes sense because almost 90 percent of the UAE is made up of migrants." 
When Zaineb started her project, she focused exclusively on portraits. A flower vendor whom she befriended changed her mind. "He told me to photograph the flowers he was selling," she recalls. "He said, 'This is also a part of me, these plants that I put in the pots the other day.' You can see traces of people and their impact in whatever community they are in—not just in their physical person, but in all of the things they do, the food they make, the clothes they are selling, the flowers, or the fish they just caught…there's just so much to capture beyond the portrait." 
Zaineb also worked with the Akkasah Center for Photography at New York University Abu Dhabi, an archive devoted to the photographic heritage of the Middle East and North Africa. 
"This was one of the first times that I had almost full free reign over something that I created myself," says Zaineb. "At first, I was really frustrated with myself every time I did anything wrong or anything that might not be perceived as successful…As time has passed, it's become a lot easier for me to look back and say, these are the things that I did right, these are the things that I could have done better. Going forward, that's what I keep in mind."