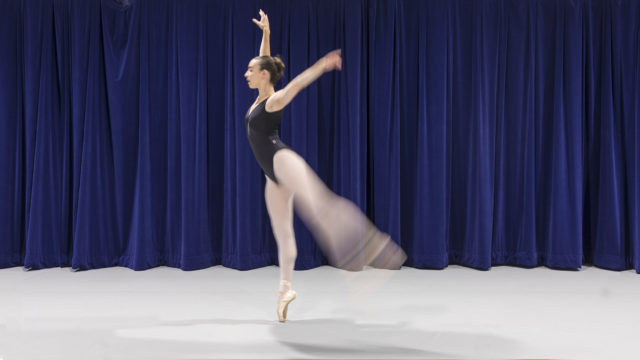 During her New York Summer Intensive with the American Ballet Theatre (ABT) Ekaterina Hofrenning '21 (St. Paul) used a lot of ice. "I had not ever danced that intensely before in my life," she says. "Every day I would have to buy a 10-pound bag of ice because my feet were so swollen."
After auditioning last spring, Hofrenning, a Macalester dance minor, was accepted into the prestigious summer program. She spent five weeks living in New York City, attending classes at the ABT eight hours a day. "We had a daily technical class each morning, and then a pointe class," she says. After lunch, students would have two more blocks of classes, which might include yoga, pilates, jazz, modern, or learning the prelude for Sleeping Beauty. "It was a lot for my body," she says, "but being in New York was so cool." She spent weekends watching dance performances, viewing the Whitney Biennial, and sightseeing in Brooklyn.
Hofrenning started dancing with the St. Paul City Ballet when she was nine years old. "I was a little bit late [to ballet], but I worked hard at it," she says. At Macalester, the economics major has applied that same work ethic to academics. Last semester, she took Professor Vittorio Addona's probability class, which she describes as "the hardest class I've ever taken." She credits Addona for believing in her and motivating her to work hard every day. By the end of the class, she had decided to major in applied math as well as economics.
With minors in both dance and classics, Hofrenning is taking full advantage of her broad liberal arts education. Last year, she and five other dance minors performed at festivals at the John F. Kennedy Center for the Performing Arts and at Jacob's Pillow with the Theater and Dance Department. Hofrenning was also the 2018-19 recipient of The David Wick Endowed Prize for Performance and The David Wick Endowed Prize for Choreography. This fall, she is one of the student choreographers for the Fall 2019 Dance Concert.
"Part of the reason I like dance is that when a teacher gives you a correction, you can work on it immediately, and you both see the change," she says. "There is definitely that in academics. When you're putting in the work, you can literally see your improvement happening."