At Macalester, professors don't just teach—nearly all are also actively contributing to their fields through original research, scholarship, and other work, just like they would be at a larger research university. Collaborating side-by-side with their undergraduate students (and in some cases, even alumni!), they're contributing to our knowledge in fields ranging from biology to foreign languages. We recently caught up with a few to learn more.
Illustrating History
When Britt Abel, associate professor of German and Russian studies, embarked on a project to create a new, open-access German language textbook online, Megan Vossler offered to contribute her expertise as an assistant professor of art and art history.
That's because the visuals in the online textbook needed to be copyright free. At first, Abel and her co-author Amy Young, of Central College, were filling the book with their own photographs, many from a research trip to Vienna funded by the National Endowment for the Humanities. Vossler thought her illustration students could contribute another layer of engaging visuals. Abel successfully received Mellon Foundation funding for one of Vossler's students to begin illustrating the curriculum in the summer of 2017, and over the past two summers Vossler has received funding to work with a total of four students, guiding them through the process of completing more than 170 illustrations. "The text has been collaboratively written with a lot of different voices, and the illustrations have their own voices, too," says Vossler. Beyond being open-access, the teaching tool is intentionally inclusive in other ways, some uncommon for language texts. For example, the curriculum highlights the diversity of people found in German speaking countries, and minimizes heteronormative gender roles and family structures.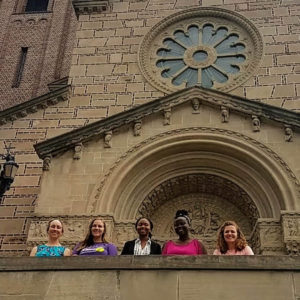 The Future of Schools
Three years ago, an article in a local newspaper about Saint Paul Public Schools' (SPPS) declining enrollment caught Lesley Lavery's attention. Lavery, an associate professor of political science at Macalester, along with Kristine West '01, associate professor of economics at St. Catherine University, approached SPPS to see how they could help provide the school district some context about the declines. 
Over several years, with the help of students at both Macalester and St. Catherine, their research has focused on class size limits, special programs and pathways, and school demographics and location. As each section of research is completed, Lavery and West have supported their students in presentations to school district officials. "One of the most rewarding things is meeting district officials," says Lavery of the research process. "The officials have been so impressed with what is largely students' work." As of late, the team has been working to publish an article about class size limits based on research involving split classrooms in St. Paul. 
Seeing Green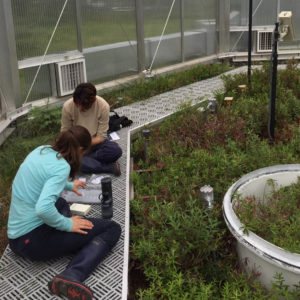 "A lot of questions I think about have to do with how plants currently, and will continue to, respond to impacts of climate change: warming, altered precipitation, elevated CO2, and changes in season lengths," says Mary Heskel, assistant professor of biology. 
This past summer, Heskel, with fellow Biology Department members Jerald Dosch and Mike Anderson, led a group of students based at Macalester's Ordway Field Station to examine the rates of metabolic efficiency and carbon uptake in two understory tree species, and how these rates relate to the plants' age and whether or not they're native species to Minnesota. Recently, Heskel and the students also traveled to the Spruce and Peatland Responses Under Changing Environments (SPRUCE) experimental site, located in the Marcell Experimental Forest north of Grand Rapids, Minn. At this site, run by Oak Ridge National Laboratory, the team of students collected data on photosynthesis rates and stomatal density on blueberry, a common boreal forest shrub. Heskel's students will present their findings at the Student Research Poster Session in September.
Two of Professor Heskel's student researchers are receiving support through endowed funds: Jean Pengra '20 is supported by the Paul A. Anderson Interdisciplinary Summer Research Fund, and Ally Kruper '21 is supported by the Class of 1950 Summer Research Fund.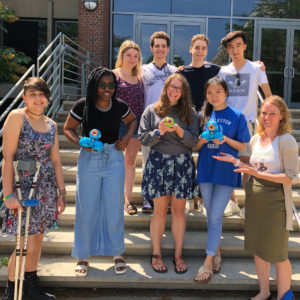 Open Access
"Block-based programming languages are the new 'it' way to teach programming, with code linked together like puzzle pieces," says Lauren Milne, assistant professor of mathematics, statistics, and computer science. "It's a very visual process." But while that may be a useful method for teaching many students, it occurred to Milne that this visual method also presents an obstacle for blind students who want to learn programming.
Leading a group of eight student researchers on two projects this summer, Milne worked to make block-based programming software more accessible to screen readers and other assistive technology. With three students, Milne oversaw the creation of an interface to allow screen readers to interact with the Blockly language, which supports popular programming software such as Scratch and MIT App Inventor. Five other students worked with Milne to further develop an app she invented called Blocks4All, which is currently the only block-based programming app accessible to people with vision and motor impairments. This app will be used by a team from a school for the visually impaired to compete in the Wonder League Robotics Competition. In conjunction with their research, Milne's students also submitted two work-in-progress papers to the Association for Computing Machinery's International SIGACCESS Conference on Computers and Accessibility.