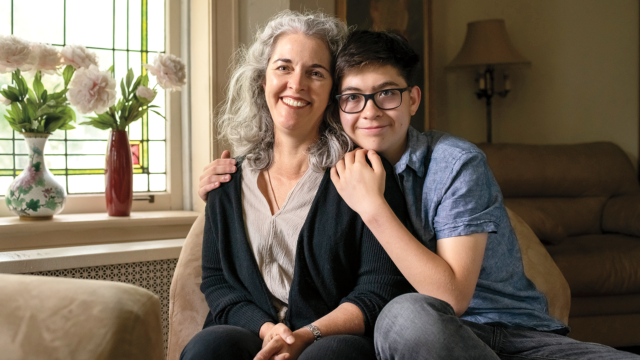 We've all heard the story about the mother who, in an unbelievable feat of love and strength, lifted up a car to save a child who had been pinned underneath.
While Lara Pullen '88 hasn't lifted a two-ton vehicle, she's close to accomplishing the scientific equivalent. When her youngest child, Kian, now 15, was diagnosed at birth with Prader-Willi Syndrome (PWS), a rare and complex genetic disorder, Pullen combined the forces of her love for her son and her scientific acumen to uncover a treatment that may forever change the way the disease is understood.
At Macalester, Pullen excelled at science. She studied biology under the mentorship of Kathy Parson and the late Jan Serie and won both a prestigious National Science Foundation undergraduate research fellowship to study neuroscience and later a Fulbright to study immunology in Germany in the lab of Dolores Schendel '69. Pullen earned a PhD in immunology at Northwestern University, where she met her future husband, fellow grad student L.J. Tan. Both Pullen and Tan did post-doctoral work at the University of Chicago.
Though she loved her work and was captivated by the then-new field of immunology, Pullen also always had dreamed of being a mother. After she and Tan married, Pullen quickly realized that raising children and maintaining a high-powered academic career seemed nearly impossible. "The expectation was that you spent 12 hours a day in the lab," she says. "In my mind it was incompatible with raising children the way I wanted to raise children."
And when she observed the field's standouts, the message was clear: "Most of the people who were working at the level I wanted to work at had a stay-at-home wife," she says. "I knew I was unlikely to get one of those."
Pullen stepped back from academia and took a job at the Environmental Protection Agency, where she worked as an environmental scientist and a risk assessor and could leave the office at 5 p.m. When her daughter, Jerica, was born, she began working as a freelance science writer. Tan also eventually left academia for many of the same reasons as Pullen, taking a less time-consuming job at the American Medical Association.
The next few years brought daughter Shira and son Kian. Kian's birth was uneventful, but within hours doctors noticed that the baby boy seemed listless. Then his blood sugar crashed.
During Kian's two-week NICU stay, the family's healthcare team diagnosed Kian with PWS. The news was devastating for Pullen and Tan—children with the disorder have weak muscle tone, feeding difficulties, poor growth, and delayed development. Many children with PWS also experience chronic episodes of insatiable hunger, leading in some cases to life-threatening obesity. There is no cure.
"No one should have to process what that's like," Pullen says of Kian's diagnosis. "It is one of those things that is so extraordinarily painful that you shouldn't have to go there mentally."
But Pullen says her sorrow quickly turned to determination. "On the drive home from the hospital I said to my husband, 'I will know every piece of science about this rare disease. I will know every researcher doing research. I will know everything about this as soon as the doctors do.' I vowed against hope that I would find a treatment that was far ahead of the curve."
Playing possum?
Thanks to his parents' focus on his care and help from a team of pediatric physical, occupational, developmental, and speech therapists, Kian became a healthy, happy boy. But when he was 11, the family's life took a sudden turn.
One day while Kian was attending a summer theater camp in a town near his family's hometown of Oak Park, Ill., Pullen's phone rang. Camp staff had found Kian sprawled on the ground in the bathroom, and couldn't wake him.
Though the EMTs weren't able to get Kian to respond either, in the ambulance Pullen was convinced that he was aware of what was happening. She talked to him, encouraging him to move a finger or toe to show he understood what she was saying. By the time they got to the hospital, she recalls, he could move his little toe.
Pullen sat with her son until he could move the rest of his body. Doctors sent him home that day with no diagnosis. A couple of days later, Kian was at home when he froze again. His parents drove him to the hospital, and again, he eventually regained the ability to move.
Pullen dove into the medical literature. She decided that Kian was likely experiencing a phenomenon called "tonic immobility," a fight-or-flight reaction somewhat like "playing possum"—where an individual freezes in response to stress and can't move. Eventually she uncovered research that linked the condition in humans to sleep disturbances.
Through online support networks, Pullen connected with other PWS parents who described their children's own periods of tonic immobility, though many had chalked them up to behavioral problems. Pullen dug deeper into the research and eventually learned that this "freezing" is called cataplexy. "It's another rare condition associated with narcolepsy," she explains.
It felt like an important discovery, but Pullen couldn't get anyone to pay attention. Only one person in the PWS community was beginning to study sleep, she explains: "Even though our kids are born sleepy and even though they are sleepy throughout their lives," the focus had always been on the insatiable hunger that was a PWS hallmark. She approached the major advocacy groups for support, but the response was muted.
Pullen arranged for her son to do a full sleep study at Boston Children's Hospital. The results were revealing. "Kian didn't have the typical profile of narcolepsy with cataplexy," she says. But the study did find that his sleep cycle was seriously impaired. An average person is supposed to have 22 percent REM sleep. Kian had just 4 percent REM sleep.
With more information in hand, Pullen discovered pitolisant, a promising drug developed to help people with narcolepsy reduce feelings of excessive daytime sleepiness. It had been recommended for approval in Europe. "It was still experimental," Pullen says, "but it had an excellent safety profile."
Once she identified a drug that might help her son, Pullen turned her focus to getting some for him. Thanks to serious campaigning on her part—and help from a few well-connected Macalester friends—she eventually got pitolisant for Kian.
When Kian started taking the drug, the changes were significant. "It not only got rid of the cataplexy, it addressed so many other symptoms of PWS that I never thought possible," Pullen says. "It was mind-blowing."
Strong foundation
Pullen's next step was to help other children with PWS—not just kids with cataplexy—access pitolisant. She collaborated with Maria Picone, another PWS parent, who created software for a clinical trial. With Tan, Pullen and Picone launched the Chion Foundation, a nonprofit committed to improving the lives of families touched by PWS and other rare diseases.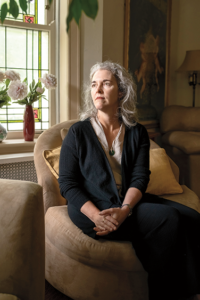 Picone adapted the software so families could crowd-source their PWS experience, Pullen says. Under the Chion Foundation umbrella, the group convinced the FDA to agree to allow for personal importation of pitolisant so 10 test families could give it to their children. "We each have our own doctor who prescribes it," Pullen says. "We report our experiences in a systematic fashion online."
So far, the test group reports largely positive experiences with pitolisant. To make sure more families know about this option for their children with PWS, Pullen, Picone, and Tan published a set of patient-experience data this spring in the Journal of Pediatric Pharmacology and Therapeutics.
"That's a big deal," she says. "As far as I know, that's the first time a patient group has gotten together to repurpose a drug and published the results in peer-reviewed medical literature."
And the news keeps getting better: Pending FDA approval, pitolisant will likely be brought to market in the United States this year, Pullen says.
She's thrilled that her efforts and commitment are paying off. "I shifted the way we think about a rare disease from an endocrinology perspective to a neurology perspective," she says. "People are starting to make the shift to think that the actual cause of PWS might be different from what we've always thought it was."
It's a remarkable achievement—but Pullen likes to put it in perspective.
"This was something I had to do for my son," she says. "All parents would move mountains for their children. I just happen to have the background that was needed to get us this far."
BY ANDY STEINER '90, PHOTOS BY MARIAH KARSON