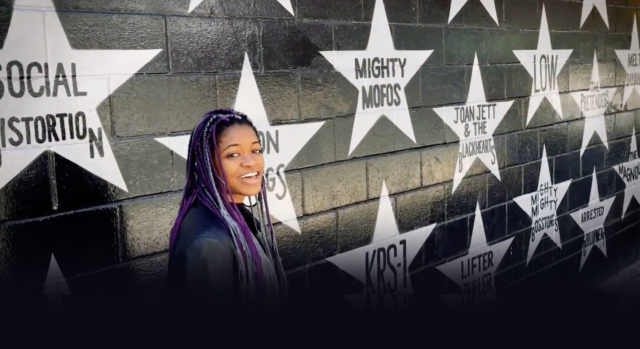 Riding the beats. "This beat is not easy," says Stephannie Lewis to her class gathered in Carnegie Hall 05. It's Freestyle Friday and students in Lewis's "The Evolution of Black Entrepreneurship" course are getting ready to participate in a weekly round-robin hip-hop battle covering topics from the week's readings and discussions. Lewis "drops the beat" for today's competition: music from "Quiet Storm" by Mobb Deep. While students have time before class to compose up to 16 bars of lyrics, they don't know what the beat will be until Lewis reveals it each Friday afternoon.
She gives the students a few minutes to absorb the beat's cadence and vibe, and then the competition begins. Reading from phones or hand-written notes, pairs of students face off in the center of the classroom, covering topics such as bias in algorithms, or the lack of access to capital for black women entrepreneurs ("When it comes to funding/there's an abundance/except for black women…"). Applause determines who moves on, and students who don't advance help classmates write new lyrics on the spot for the next round. At the end, Ethan Moskal '20 (Chicago), an economics and theater double major, is crowned champion. He'll keep the class trophy until next Friday.
Performance and context. Moskal says he's learned that for entrepreneurs, "and especially with underestimated entrepreneurs, performance is such a big thing…and to build that confidence in all aspects of life is just invaluable."
Cross-listed in both sociology and economics, the course also covers the origins of black (Lewis uses "black" deliberately as her class covers the diaspora from Africa to America) entrepreneurship; financing and access (or lack thereof) to capital; hip hop and entrepreneurship; and black women entrepreneurs—an astonishing economic force. Lewis cites data from the 2018 State of Women-Owned Businesses Report, commissioned by American Express: from 2007-2018, the number of businesses owned by African American women grew by 164 percent, three times the rate of women-owned businesses. But, as Lewis points out, black women often go into business for themselves due to lack of opportunities in corporate America, as well as gender and race wage inequalities.
Entrepreneurship in the cities. Lewis, a visiting assistant professor of sociology at Macalester, is also strategic partnerships manager at Social Impact Strategies Group, a St. Paul-based B-corp certified social enterprise that aims to power wealth creation for underserved entrepreneurs. Throughout the class, she's made a point of introducing students to "businesses that people don't see," locally owned businesses often just a few miles from campus.
One class took place at Heritage Tea House, owned by an entrepreneurial-minded mother and daughter team, on University Avenue in St. Paul. A course lecture covered Village Financial Cooperative, which will be the first black-operated and black-led financial institution in Minnesota.
Stretching creative muscles. For their final projects, students created hip hop videos incorporating themes learned throughout the course. "This is a way for [students] to really stretch themselves," says Lewis. "I've worked with Macalester students as interns before and they have this idea that they need to be perfect in everything. This is the age where you try everything, and it's OK to fail at a lot of different things." Lewis assigned student teams. Hawa Turay '22 (Philadelphia) says she learned new skills in spite of herself. "I'm not a group person," she says. "So I had to learn how to interact with people that I don't usually interact with on the daily, and be on schedule with everyone else."
For the videos Lewis partnered with St. Paul's High School for Recording Arts (HSRA). They provided professional recording studios, and advised students on their videos. When Mac students presented and shared their videos during a The Voice-like competition, Lewis and a team of HSRA staff and students served as judges.
Lasting lessons. "If I could put all my lessons into a rap and have every teacher do this, I think I would retain so much more," says Turay. "That's not what I expected." Moskal says Lewis's creative and welcoming classroom helped him learn how to be an "accomplice" in promoting underestimated entrepreneurs," and how to "explore…how I can fit into a more diverse entrepreneurship community."