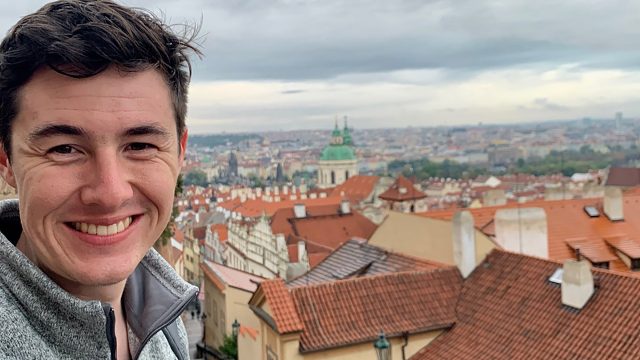 St. Paul, Minn. – Aidan Toner-Rodgers '21, from Sebastopol, Calif., has received a $30,000 scholarship from the Harold S. Geneen Charitable Trust.
Toner-Rodgers considers receiving the Harold S. Geneen scholarship to be a huge honor, "especially considering how many smart, thoughtful students we have at Macalester," he said. "I really appreciate the long-term thinking inherent in this scholarship; the positive effects of incentivizing good corporate governance are diffuse and will manifest years from now, unlike other more obvious and fashionable causes."
He chose to major in Applied Math & Stats and Economics and minor in Computer Science because, "studying mathematics and economics helps me build models of the world, become comfortable with complexity and nuance, and consider 2nd and 3rd order effects."
To be eligible, students had to (a) be a rising junior or senior, (b) have documented financial need, (c) be current majors in economics or political science, and (d) demonstrate a strong interest in promoting responsible corporate management and leadership ability.
Sarah West, G. Theodore Mitau Professor and Chair of the Economics Department, was part of the selection committee. "We awarded the scholarship to Aidan for two main reasons," West said. "One, he is an exceptionally good student, having been chosen to precept Intermediate Microeconomic Analysis, an honor reserved for the most astute and accomplished students in economics; and secondly, he wrote elegantly and incisively about his personal dedication to corporate governance and his abiding interest in the academic study of the topic."
What will Toner-Rodgers do after he graduates from Macalester? "We'll see. I want to be part of companies that are building the future, and try to make sure we get it right."
Harold S. Geneen was the former chairman of ITT from 1959 to 1977. When he stepped down as chief executive at the end of 1977, ITT was the 11th-largest industrial company in the United States with more than 375,000 employees and $16.7 billion in revenue. According to the New York Times, Geneen's management style and practices were widely imitated.