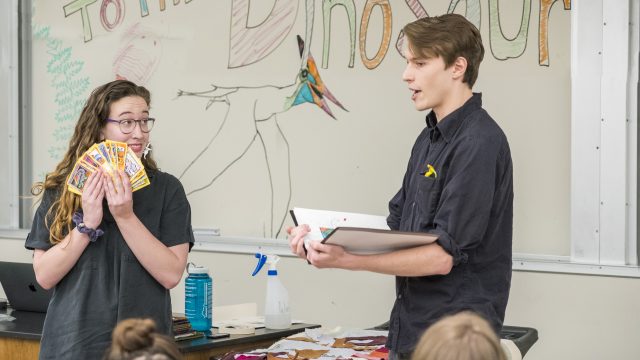 By Rebecca Edwards '21
On a wintry night in mid-November, a large crowd gathers in a lecture hall in the Olin-Rice Science Center for the event of the season. It has all the makings of a great party: disco lights, glitter, pizza—and, naturally, dinosaurs.
"Art and science are so tightly connected throughout the history of dinosaur discovery that it just makes a lot of sense for an artistic component to be an option for the class project."
Professor Curry Rogers
It's called the Dino Extravaganza, and it's an opportunity for the students in Professor Kristi Curry Rogers' "Dinosaurs" class to showcase what they've learned throughout the semester in a creative project of their choosing. "In a class that includes students from all across campus, each bringing their own unique perspectives, experiences, and skills, I wanted to give students an opportunity to engage with dinosaur science in a way that made the most sense, on a more personal level," Curry Rogers says.
The result: a vibrant collection of projects that include magazine articles, documentary-style stop motion videos, interpretive dances, live performances of original songs, costumes, a deck of dino-themed Pokemon cards, performance art, sculptures, light shows, and more.
Theo Caskey '20 (Barrington, R.I.) read "Ode to the Sauropod," one of a series of poems celebrating different dinosaurs (written in the style of Pablo Neruda) to the class.
"Oh, what would it have been," Caskey read,
"To have walked the earth with giants
With whales out of water
Their tracks on the sand
The space of the sky for their lungs to expand
With supersized giraffes
Sixty feet in the sky
"I'm content," they'd announce with a rorqual sigh
Warning off predators
Just taking up room
Staking their claim with a sonic boom."
The students in "Dinosaurs" represent all four class years and a great variety of academic interests. Caskey, a German studies major, thinks the class is particularly popular among students who find STEM classes intimidating, because it allows them to showcase their other skills while engaging with a topic essential to their childhoods.
Ema Erikson '20 (The Dalles, Ore.)—a studio arts major and a lifelong dinosaur enthusiast—agrees. When tasked with the final project, she saw an opportunity to correct an injustice.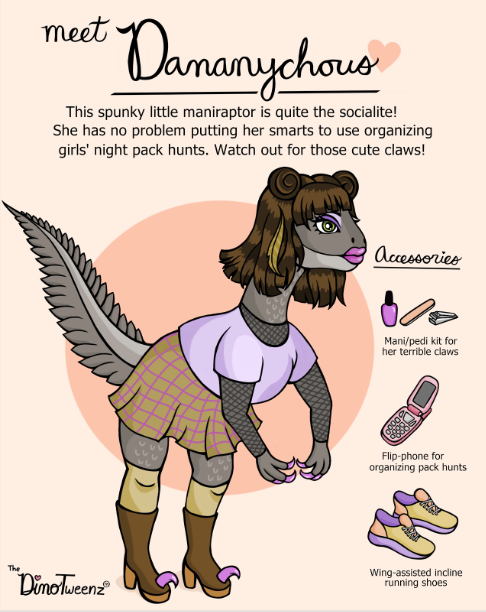 "I think toys are really interesting, and with dinosaur toys, they're always firmly in the 'green' aisle and not the 'pink aisle,'" Erikson says. "They're all hyper-masculine, like with a dude on a motorcycle shooting a gun that shoots dinosaurs or something crazy like that. And I thought it'd be really fun to do an ironic reimagining of that, where the dino toys are super-feminine."
Erikson used her digital illustration skills to create mockups of a new dinosaur toy: The DinoTweenz. Each doll is designed in the image of a different dinosaur, with corresponding traits. Dana-nychous, for instance, enjoys "organizing girl's night pack hunts" and comes with a mani-pedi kit for her claws.
The extravaganza isn't the only opportunity for the "Dinosaurs" students to get creative—and the link between art and paleontology isn't as unusual as you might think: "Paleontologists rely on collaborations with artists to bring fossil animals to life," Curry Rogers says. "Art and science are so tightly connected throughout the history of dinosaur discovery that it just makes a lot of sense for an artistic component to be an option for the class project."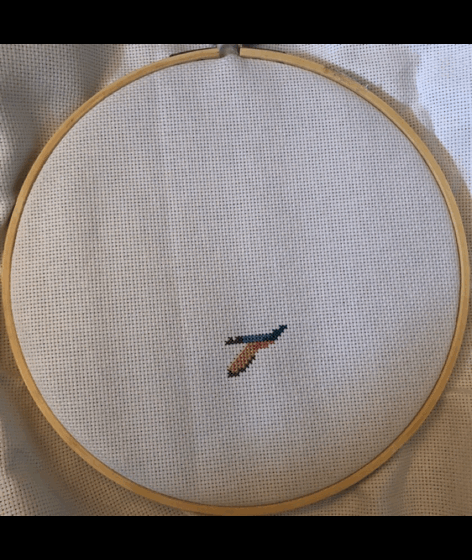 Some students approach the class with an artistic lens; others come to "Dinosaurs" with a STEM background. For others, both perspectives are a step out of their comfort zone. "I was so nervous, but I really ended up caring so much," says Caitie Walter '20 (Green Bay, Wis.), a psychology major with limited experience in both natural sciences and studio art. "The information is so interesting and Kristi's such a great professor."
At the extravaganza, Walter served a meal from her dino cookbook, which features recipes for eating dinosaur descendants—not to be confused with another cookbook presented at the extravaganza by Kendra Roedl '20 (Minneapolis), which featured recipes dinosaurs might have enjoyed themselves. "Birds are technically modern dinosaurs, so there were a lot of recipes about eating chicken, turkey, duck, and incorporating fun facts about how birds and dinosaurs are related," Walter says. "There was even one for emu, though that's probably not available at the grocery store."
The best part of the extravaganza, in Walter's opinion, was discovering the hidden talents of her classmates. "It's cliche, but just watching everyone present was amazing," Walter says. "I think it really brought the class closer together."