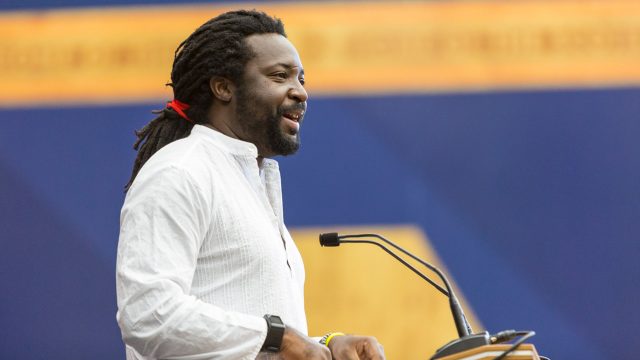 St. Paul, Minn. – Marlon James, award-winning novelist and English professor and writer in residence at Macalester College, will be the 2020 commencement speaker at Macalester College's graduation ceremony.
Commencement will be held at 1:30 p.m., Saturday, May 16, at the college.
James spoke to this year's graduates as Macalester's First Thursday speaker in September 2016 when they began at Macalester, and he will speak to them once again as they graduate in May.
"Marlon James is not only one of our finest contemporary novelists, he has become a prominent public intellectual and an important voice in defense of the arts, social justice, and education," said Macalester President Brian Rosenberg. "He also has a great sense of humor, which is not a bad thing in a commencement speaker."
James' book Black Leopard, Red Wolf was one of five novels nominated for the 2019 National Book Award in fiction. It was also a New York Times bestseller, and was named a Best Book of 2019 by The Wall Street Journal, TIME, NPR, GQ, Vogue, and The Washington Post. 
The fantasy novel is the first of James' planned Dark Star trilogy. Drawing on African history and mythology, the story focuses on a mercenary who has been hired to find a slave trader's missing child. Shape-shifters and other fantastical and supernatural characters poke at the truth with competing narratives told in shifting, non-linear time. 
In 2015, James won the Man Booker Prize for Fiction for his book A Brief History of Seven Killings. In it, James confronts the untold history of Jamaica in the late 1970s: the assassination attempt on Bob Marley, and the country's own clandestine battles of the cold war. The novel employs multiple genres: the political thriller, the oral biography, and the classic whodunit. James was the first writer from Jamaica to win in the prize's 47-year history.
James' second novel, The Book of Night Women, won the 2010 Dayton Literary Peace Prize and the Minnesota Book Award, and was a finalist for the 2010 National Book Critics Circle Award in fiction and an NAACP Image Award. His first novel, John Crow's Devil, was a finalist for the Los Angeles Times Book Prize and the Commonwealth Writers Prize, and was a New York Times Editor's Choice.
James joined Macalester's English Department in 2007 and teaches classes in creative writing. He is on leave for the 2019–2020 academic year.
He graduated from the University of the West Indies in 1991 with a degree in language and literature, and from Wilkes University in 2006 with a master's in creative writing.
Learn more about Macalester College at macalester.edu.