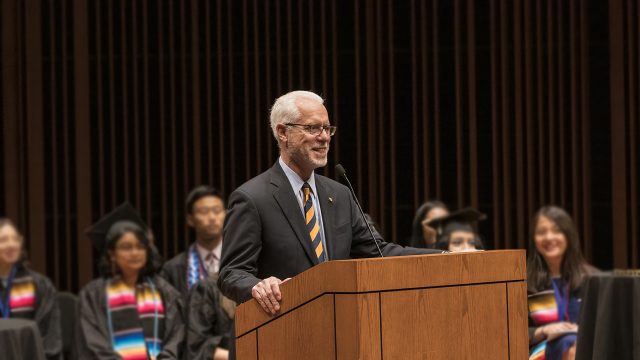 St. Paul, Minn. (Feb. 10, 2020) – Macalester College President Brian Rosenberg, who will leave the college at the end of May after 17 years of service, has been selected to serve as the fall 2020 president-in-residence in the Higher Education Program at the Harvard Graduate School of Education (HGSE).
"We are delighted that Brian Rosenberg is joining us at HGSE this fall. His impressive leadership experience, broad-ranging national service, and influential analyses covering a range of the most pressing contemporary issues in higher education make him an excellent resource for our students," said Francesca Purcell, Senior Lecturer and Faculty Director, Higher Education Program, Harvard Graduate School of Education.
The President-in-Residence Program was established in 2001 by the Higher Education Program at the Harvard Graduate School of Education. Every year, the program brings a distinguished former college or university president to attend classes alongside students and to anchor academic discussions with real-world experience. Outside of class, the president-in-residence meets with students one-on-one as well as in group sessions, including meals, and advises students on important academic and career decisions.
"I'm excited to be working with the Harvard Graduate School of Education in the fall and am grateful to Francesca Purcell and the faculty of HGSE for this appointment," said President Rosenberg. "The opportunity to help prepare future leaders within higher education and to return to working directly with students feels perfect to me at this moment in my career."
President Rosenberg has nearly two decades of experience as a college president. Prior to holding Macalester's highest office, he was dean of the faculty and an English professor at Lawrence University in Appleton, Wisconsin. He also served as an English professor and chair of the English department at Allegheny College in Meadville, Pennsylvania, from 1983 to 1998.
During President Rosenberg's 17-year tenure, enrollment of U.S. students of color at Macalester has increased significantly. He has been, and continues to be, a vocal champion of the liberal arts college, and has written about and been quoted in the press on a variety of issues including higher education access and quality, tuition costs, and college rankings. Under his leadership, the college has grown and prospered during a challenging economic period, delivering balanced budgets, expanded student counts, and several major additions to the campus infrastructure. He also led the college in two significant and successful fundraising campaigns; the first concluded in December 2011, the second will conclude in May 2020.
"Through his service to Macalester, Brian has made the college stronger in virtually every way, from its deep commitment to access and excellence to its financial health to serving a national voice advocating for the power and importance of a liberal arts education," said Jerry Crawford '71, Chair of the Macalester College Board of Trustees. "We have benefited greatly from his vision and leadership, and are proud to have him share his expertise with students at Harvard."
President Rosenberg is active nationally, serving as a member of the Leadership Circle of the Presidents' Climate Commitment, the Council on Foreign Relations' Higher Education Working Group, the Presidents' Trust of the Association of American Colleges and Universities, and as a board member of the Teagle Foundation. He is a past chair of the board of the Associated Colleges of the Midwest, the American Council on Education's Commission on International Initiatives, and of the Presidents' Council of Project Pericles. In Minnesota, he is a member of the Allina Health Board of Directors, and a member of the Itasca Project.
A Charles Dickens scholar, he has written numerous articles on the Victorian author and other subjects as well as two books: Mary Lee Settle's Beulah Quintet: The Price of Freedom and Little Dorrit's Shadows: Character and Contradiction in Dickens. President Rosenberg served as a trustee of the Dickens Society from 2000 to 2004.