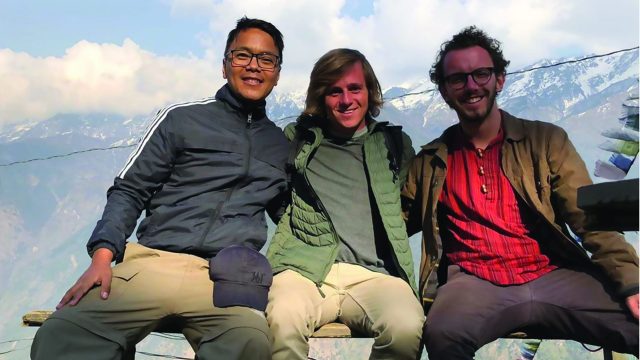 Name: Sam Ryckaert '20 (Auckland, New Zealand)
Majors: Religious Studies & International Studies
Program: SIT Study Abroad—Nepal: Tibetan and Himalayan Peoples 
What was a typical school day like?
We would start off with language class and from then on we would have modules with speakers from different fields—academics, journalists—folks with different areas of expertise that provided a holistic view of religion and social change and Tibetan diaspora issues. 
Breakfast and dinner were usually with our host families, and lunches at school. I would meet friends at a cafe and get some work done, or just sight-see in the city. In Kathmandu there were a lot of temples and historical sites and great neighborhoods to walk around in during the afternoon if we didn't have classes or papers to write. 
Advice
If you get the opportunity to live with a host family, take advantage of it. I lived with a really lovely older couple who have been hosting for 20 years on and off, and they were such pros. It was just such a natural way to connect with the neighborhood, city, and culture. Being able to make food or participate in or observe religious practices, or just the act of spending time together is such an avenue into so many different aspects of the culture. I think some of the most valuable and important time I spent there was just hanging out with my family and celebrating the Tibetan New Year, day-to-day meals, and walks. 
Research
I was looking at religious education in the Indian Tibetan diaspora, or Tibetan exile community. I spent two weeks in a monastery in a little village called Dolanji. I split my time between the monastery and the school there, looking at how Buddhism and a tradition called Bon, which is kind of a sister tradition of Buddhism, are represented: how they're taught, and what we can glean from looking at their place in the school system—how does that represent what people think of them, and how [those traditions] are practiced in the larger community. I spent two weeks there, and two weeks in Dharamsala where the Dalai Lama is settled for the time being. 
Has this experience made an impact on you?
It's given me new areas and avenues of study. I did research over the summer in the Twin Cities that was asking very similar questions to my research there, and just allowed me to expand my academic horizons. But I also think once you live somewhere new—even if it's only for a little bit—the people in the place really never leave you. I have a whole new group of friends, and a new place that I can go back to that feels a lot closer to home than 99 percent of the world that I haven't seen yet does. In fact, now I'm applying for a Fulbright to go back.