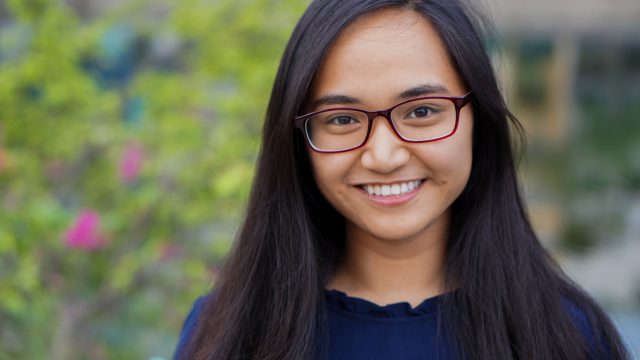 By Rebecca Edwards '21
Each year, the Kofi Annan Institute for Global Citizenship (IGC) solicits nominations from faculty and staff for Macalester's Global Citizenship Student Award (GCSA), a highly selective honor that aims to affirm Macalester's commitment to global values. For each winner, the award is recognition of their personal commitments to the ideals and practice of Mac's four pillars: high academic performance, internationalism, multiculturalism, and civic engagement.
Phuong Nguyen '20, Nahla Almbaid '20, and Ikran Sheikh-Mursal '20 are the 2020 GCSA recipients. In lieu of the traditional invitation to speak at the IGC's spring celebration, each winner will record a speech remotely and will be honored on a website developed by the IGC to account for coronavirus concerns.
Phuong Nguyen '20 (Ha Noi, Vietnam) is a biology and environmental studies major with a passion for conservation ecology. Over the course of her time at Macalester, she worked with several conservation and research programs in Minnesota, Vietnam, and South Africa, and was involved with Macalester's Vietnamese Cultural Organization (VCO). A highlight of that experience, she says, was interning with Urban Roots MN, an organization dedicated to empowering young people through "nature, healthy foods, and community." As a conservation intern, Nguyen helped educate students from around the Twin Cities on the importance of preserving and protecting the natural world. "It was great to be able to inspire those students to learn about conservation, even in high school," Nguyen says. "And to show them that you can do conservation research from your own backyard." After graduation, Nguyen will be moving back to Vietnam to work as a researcher for the Center for Biodiversity Conservation and Endangered Species.
Nahla Almbaid '20 (Ramallah, Palestine) is an economics and mathematics major who has been a leader in the student Committee for Refugee Student Access (CRSA) for all four years of her time at Macalester. In that role, she led a Ted Talk on the impact of the Syrian refugee crisis in higher education, created resources for the admissions office to answer the questions of displaced prospective students, and developed a proposal to provide a scholarship for students impacted by displacement in the Middle East. Almbaid was also selected as the student representative for Macalester's Presidential Search Committee. "To me, global citizenship means taking care of people who may have very different backgrounds to you," Almbaid says. "But it has to be more than just interceding carelessly. It's about hearing their needs and listening, and increasing your awareness."
Ikran Sheikh-Mursal '20 (Shakopee, Minn.) is an international studies and classics major with a community and global health concentration and a statistics minor. At Macalester, she has participated in the Bonner Community Scholars four-year civic engagement program, the Muslim Student Alliance (MSA), Afrika!, and was a recipient of the Mellon Mays Undergraduate Fellowship for underrepresented undergraduate students intending to pursue doctoral degrees. With the support of the Mellon Mays grant, Sheikh-Mursal conducted research examining the global progression of the poliovirus. Sheikh-Mursal plans to work for a couple of years following her graduation before continuing her studies, which she hopes will result in a PhD in public health and, someday, a professorship. As a public health student, she noted that the context of the coronavirus pandemic has made this an interesting moment to receive a GCSA. "The experiences and opportunities I've had at Mac have helped me understand what global citizenship means to me—but I think now, more than ever, we all need to be global citizens," she says. "We need to be mindful of our positionality within our communities and acknowledge how the current issues of today's world impact us differently."