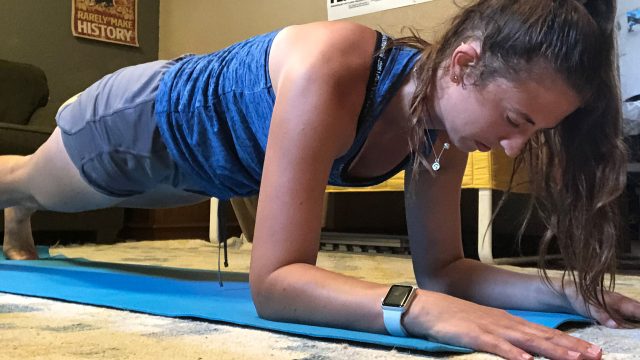 For Kayla Togneri '21 (Ventura, Calif.), calling spring and summer her off-season feels almost like a misnomer: though she's not in competition, those months are a pivotal time for putting in the hard work that will prepare her for success on the soccer field in the fall and the basketball court come winter. She relies on her teammates, practices, and Leonard Center resources to support her in taking those important strides.
This year, the COVID-19 pandemic closed the Leonard Center and every athletics space on campus, leaving student-athletes scrambling to figure out how to build fitness on their own while also adjusting to remote learning and physical distancing. For Togneri, that meant browsing YouTube workout videos and scouting out where she could practice soccer drills with safe distance from others. It was a shock for Togneri, who has been playing team sports and working out with teammates for as long as she can remember.
She didn't have to improvise for long. The Athletics Department quickly launched a virtual wellness series (archived at macalester.edu/athletics) with more than 30 Zoom sessions led by Mac sport performance staff on topics including yoga, sport performance workouts, sports psychology, and nutrition.
It's all part of Thriving in Place, an initiative the department designed to support student-athletes in a time when teams can't gather. "We want to provide them with the resources to get bigger, faster, stronger, smarter and to engage while they're away, even during these hard times," athletic director Donnie Brooks told KARE-11 in a recent feature on the program.
For Togneri, the sessions provided much-needed connection. "Twice a week, I got to connect with people I know, faces I'd normally see around the LC, and do the workouts the staff recommended for us, at the level we were supposed to be," she says. "I didn't realize how much that meant to me at first."
The virtual performance sessions wrapped up at semester's end, but training continues, and so do the remote connections. After seeing two friends in the online sessions, Togneri started working out with them three or four times per week—all via Zoom.
By late summer, Kayla Togneri and her fellow student-athletes learned that the pandemic would require more pivots in college sports. The Minnesota Intercollegiate Athletic Conference (MIAC) Presidents' Council announced in July that tennis and golf programs may attempt some form of competition this fall but that football, soccer, cross country, and volleyball would postpone their schedules, with the MIAC working to create opportunities for those sports to compete in the spring. (The Mac football program's Midwest Conference also announced that it will suspend league competition through 2020.) As of early August, Macalester had not committed to compete in tennis and golf, awaiting further guidance about health and safety precautions.
Instead of a busy competition season this fall, the Athletics Department will focus on reducing risks for team training through physical distancing and other safety measures. "While this fall will not provide the opportunities to compete that we normally look forward to, we will continue our quest to build toward excellence," athletic director Donnie Brooks wrote in a message to current students and families. "We will train, we will support each other, and we will keep our focus on a successful future."