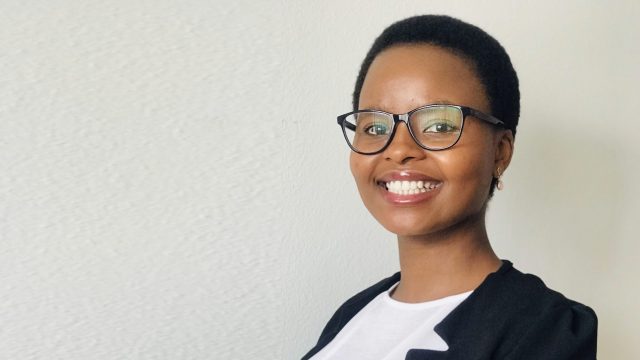 By Rebecca Edwards '21
Halfway through her summer internship, Precious Dlamini '21 (Manzini, Kingdom of Eswatini) knows everything there is to know about toilet paper. She's doing data analysis for local startup Bim Bam Boo, an eco-friendly personal hygiene company known best for their tree-free bamboo toilet rolls. 
"I've learned that when you're working for a startup, every decision, no matter how small, is really important. I had no idea it would be so exciting!"
—Precious Dlamini
Dlamini is one of 10 students participating in MacNest, a program that pairs interested students with emerging companies in need of interns, then funds their internships. Through Macalester's entrepreneurship office, the students have access to unique mentorship opportunities, often working side-by-side with the CEOs and upper leadership of up-and-coming organizations. 
"I wanted to get an idea of what entrepreneurship was like, because I plan to pursue that path at some point," Dlamini says. "And I wanted experience with data analysis—my latest project is researching toilet paper theft." 
While many MacNest participants work with data or coding, each student is able to mold their experience to fit their interests. Take Alex Thomas '22 (Kerala, India), a studio art major who had secured a position as a studio assistant for a local arts organization before the MacNest program ever crossed his mind.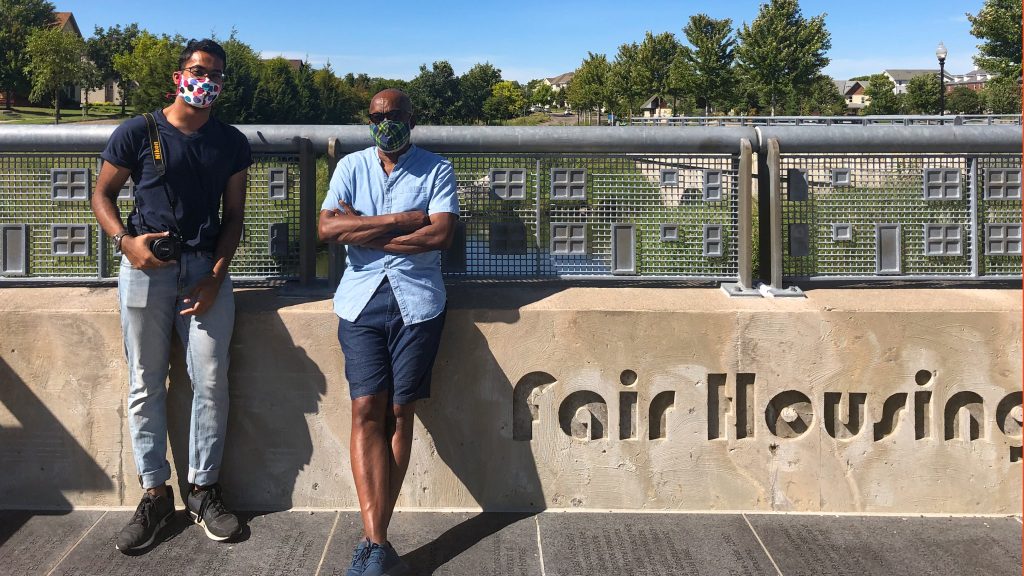 "Then COVID-19 happened," Thomas says. "It's already hard to find funded opportunities in a creative field. I put two and two together and realized that MacNest might be able to help me hold on to the opportunity, since the organization I'm working with is still a startup." 
All summer, Thomas has been working with Office of Cultural Work, an organization whose mission is to support local artists and small businesses. Much of his work has been as an assistant to Seitu Jones, a Minnesota-based artist and muralist known best for his large-scale public artworks. 
Since George Floyd's killing by a Minneapolis police officer, that work has been even more significant to the Twin Cities community. Thomas has been an integral part of Jones's #Blues4George project, in which he and Jones developed a free downloadable stencil of Floyd's face that can be used by community members to help memorialize his legacy throughout the Twin Cities.
"He looks at pervasive societal issues, highlighting the need for reform in things like food security and criminal justice," Thomas says.  "I admire his ability to channel opinions and feelings through an expressive medium and allow people to engage with art and society at the same time. That is a level of engagement I want to tap into in my creative practice as well."
Thomas hopes to pursue architecture and urban planning within a social justice framework. This experience, he says, has been key to learning how to communicate his ideals and values through his work. 
For Dlamini, Bim Bam Boo has been a way to explore a new type of career path. 
"Literally every day is different," Dlamini says. "It's corny, but it's true. And I've learned that when you're working for a startup, every decision, no matter how small, is really important. I had no idea it would be so exciting!"
More MacNest experiences:
Kaitlyn Brown '22 is a political science and international studies major who partnered with local startup UR Turn, a progress-tracking application for high school students and educators to monitor college-readiness. "I think as a political science student, it's important to learn how to problem-solve creatively," Brown says. "I never thought I would be an entrepreneur, but everyone can gain something from an entrepreneurial perspective." Brown has spent the summer doing UR Turn's marketing and outreach, connecting with school districts across the country. "In addition to everything else, I've learned a lot about public education in a really tangible way."
Niketh Gamage '21 is a physics and applied mathematics major who partnered with Litty Solar, an energy technology company dedicated to the acceleration of renewable energy. 
Keegan Greaney '21 is a political science major who partnered with Imagine Deliver, an organization that works to redesign workplace structures to better serve employees with diverse identities. 
Abby Hinds '21 is an economics and Russian studies major who pursued an internship through MacNest to learn firsthand how young businesses grow. She has worked this summer with Weathervane Labs, a company that provides weather reports tailored to the individual. "It takes into consideration your age, your gender—all things that impact how you perceive the weather," she says. "My job has been to help justify to investors that there is a place in the market for this service, and potential for growth." It's her first internship, and Hinds says she lucked out. "I really couldn't have asked for anything better: it's been a hugely supportive environment." 
Radu Lungu '22 is an economics and computer science major who partnered with Brightfox, an online platform that simplifies the staffing process for hospitals and clinics. In his time with the company, he had the opportunity to work directly with the organization's CEO and COO. "It helped the environment to be a lot less formal—it's more of a friendly atmosphere where we are all working toward a common goal," he says. Whie he was scraping job postings for Brightfox's database, he was also learning about startup culture more generally. "The thing about startups is they're really driven on ideas and passion," he says. "It's a great opportunity to pick up new skills."
Tate Munnich '21 is a mathematics major who partnered with BetterYou, a digital fitness coach. 
Sivhuo Prak '22 is a computer science major who spent her summer with WeSparkle, a public benefit corporation working to equip small businesses with technology to maximise efficiency and sales. She worked with the software development team to help prototype and develop new features, and enjoyed having the opportunity to check in with other MacNest participants throughout the program. "It's very helpful meeting with the other students working for startups in the Twin Cities," she says. "At each week's meeting, we share our experiences and discuss any problems that we can solve together. I'm very grateful to have had this opportunity."
Vichearith Meas '22 worked with startup Otrafy, a farm-to-table supply chain management platform. There, he was able to refine his coding skills and try his hand at front-end web development. "I'm more confident in JavaScript, and I learned how to really read a code," he says. "That's a skill that won't just be helpful when I'm back to classes, but also for the rest of the time I'm in this field." He got involved in MacNest to watch in real-time the day to day operations of a business in its early stages. "This is an amazing program," he says. "It encouraged me to explore the possibilities of my future career path and enhanced my confidence to communicate with the people I work with and ask questions."
Precious Dlamini '21 is a Macalester Davis United World College Scholar.