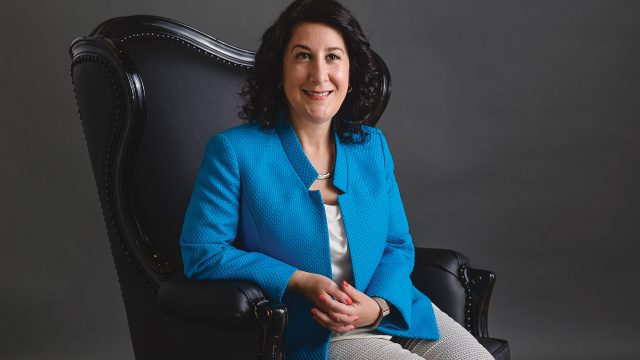 When Dr. Suzanne Rivera was named Macalester's 17th president in January, she knew she wouldn't shed her bioethicist training in her new role, but didn't expect to employ that perspective directly and daily. And yet on an August morning, she's drinking coffee in a Schitt's Creek mug on her front porch, reflecting energetically on the principle of non-maleficence.
It's a concept that comes up more in health care and tech settings than in conversations with college presidents, but you'll recognize it in practice: It describes the process of facing and evaluating two or more less-than-ideal choices, with a goal of minimizing harm and maximizing benefit. As Rivera pointed out in a Zoom town hall for alumni in July, the COVID-19 pandemic has turned all of us into bioethicists as we weigh decisions and risks about work, school, travel, and interactions with family and friends.
Back in January, the Macalester community expected 2020 to represent a historic new chapter: Rivera is the first woman and first Latinx person in the college's history to serve as president. Quickly, though, the year also took on historic challenges, on campus and worldwide.
As COVID-19 concerns accelerated in March, Rivera—still serving then as Case Western Reserve University's vice president for research and technology management—moved her graduate-level research ethics seminar to remote instruction. She canceled visits to Macalester this spring but joined daily senior-staff Zoom meetings beginning in April—a divergence from a typical presidential transition plan but a crucial chance to start building relationships and delve into pandemic-related decisions. Her first day as Macalester's president was June 1, a week after George Floyd's killing by a Minneapolis police officer ignited a global uprising.
Instead of gathering for community meet-and-greets and building trust gradually and face-to-face, Rivera is leading the college through a pandemic and a civil rights crisis. In her first week, she received messages from hundreds of alumni asking Macalester to take a stronger stand against structural racism. She began launching early steps in her plans for elevated racial justice work on campus, while constructing plans for a safer return for students in the fall.
Rivera's senior staff team has continued meeting nearly every weekday, with discussions sometimes extending into the weekends. "None of us has felt like we could completely disconnect, because the work is moving at such a velocity that even a day or two makes a big difference in terms of our need to make decisions," she says.
She moved into the President's House in July with her husband, Michael Householder, an American literature scholar. The two met as undergrads at Brown University—more on that later—and have two adult children: their son is out of college, but their 20-year-old daughter is navigating her own university's plans and pivots.
On Sunday mornings, Rivera goes for a run around the neighborhood, as much to ground herself for the week ahead as for fitness. She snaps a picture on campus and gives a Twitter shoutout to the music she's listening to that day: in August, the playlist featured Beyoncé, Celia Cruz, the Hamilton soundtrack, Stevie Wonder, and Bill Withers.
Other than that, the summer held little routine as she acclimated to her new role and new home. "The one thing I can rely on is that each day will present challenges that are different than the ones I thought I'd face that day," she says. "I knew this was going to be a big job when it was offered to me in January, but I had no idea how big it would actually become."
Rivera sat down for her first Macalester Today interview a few days after she announced the college's decision to scale back its initial reopening plans, limiting on-campus housing for at least the first part of the semester to primarily new first-year students, international students with housing contracts, and students who petitioned to reside on campus.
It's an immense series of challenges, in a season filled with anxiety and fear and uncertainty, and Rivera does not take it lightly. With COVID-19 case counts and trends evolving in Minnesota and nationwide, she knows the difficult decisions are not over. Every message she sends to the Mac community emphasizes the need to be flexible and responsive. Rivera will continue to draw on the principle of non-maleficence, driven by an abiding commitment to keeping her community safe and creating a stronger, brighter future in which everyone can thrive. Ask her what brings her hope, and we could dedicate another interview to all of the topics she lists. "I could go on and on," she says.
We asked President Rivera about some of the experiences that shaped her path and perspective—and what inspires her in 2020.
---
How does your bioethics training guide your work?
It's helping me analyze problems during this pandemic. People have asked me for months, for example, about why we're not going to use nasopharyngeal swab testing to screen asymptomatic people. I've been really firm: I think the Minnesota Department of Health is right in asking us to not gobble up those scarce resources. It would be wasteful and unethical to use them solely to reassure ourselves that we don't have as much virus on campus as we worry we might. I was driven to find a solution that would allow us to do asymptomatic testing without using the state's precious health care resources. We are members of a larger community, and we owe it to that community to be responsible.
You've fielded many questions about Macalester's reopening plans, including some asking you to provide answers with certainty. How do you respond?
I believe that if we let science guide our policies, we will come up with some solutions. We don't have the luxury to wait until things get easier to start making decisions. We're working really hard to preserve the parts of the Macalester experience that we believe we can manage this year. When people ask for certainty, I think behind that they're really saying, "Can you reassure me that, when this is all over, this is all going to be okay? Are we going to be okay?"
I do have a sense of optimism that we're going to get through this. When I was in school, I don't remember anybody telling me that the Roaring '20s followed a global pandemic during which people had to wear masks and children stayed home from school. I'm learning about that now. But what I know is that, by the time I was born, people were hugging and shaking hands and using buffets and going to concerts. The world did recover.
This won't be exactly like the flu pandemic. We're already learning about how it's different. But I do have a sense of optimism that we are going to get to a new normal that doesn't require all of these safety precautions, because we'll get a vaccine or a therapeutic that works.
You weren't always on this path—you went right into a master of social work program after majoring in American civilization. Did you want to be a social worker?
I think I started trying to become a social worker because I thought that would be the most direct way to have an impact, to help make the world more compassionate and a fairer place. But I found that working one-on-one with individual clients was frustrating for me. It was an insight into my own personality: I grew impatient because I felt like I wasn't making change quickly enough. I can see now in hindsight that the problems my clients were facing were so complex, so much bigger than them in many cases: structural, intergenerational. I was naïve. I met with my mentor, Dean Harry Specht, and told him that circumstances were not changing quickly enough to make me feel as though I was making progress.
He said a couple of helpful things, beginning with, "First of all, it's not really about you and how you feel." But he also saw something in me that I couldn't see in myself. He suggested that perhaps my skills were better matched to make change at the level of policy and not individual patients. After he recommended me for the federal government's senior executive training program, I went to work for the U.S. Department of Health and Human Services. It was immensely satisfying. If I had a parallel life, I would probably work in anti-poverty programs and government, still trying to achieve the same goals that Macalester aspires to: making a more just and peaceful world.
What was another lightbulb moment in your career?
I worked for seven years at University of California–Irvine while my husband earned his PhD, but I didn't start imagining that I could be a scholar and leader in the academy until much later. We moved to Dallas, and I got a job at University of Texas Southwestern Medical Center. My boss, Nobel laureate Al Gilman, became like a father figure to me, and he encouraged me to go back to school. He said, "You're fantastic, but I can't promote you until you go to medical school or get a PhD."
I was a 35-year-old mother of two school-age kids and working full time, and I think I took his words as a personal challenge. And when I finished my PhD [in public affairs with an emphasis on health policy], Dr. Gilman not only promoted me, but he invited me to co-author a chapter of The Pharmacological Basis of Therapeutics, which is sort of the pharmacology bible for medical students. He wanted me to have a publication under my belt, and I will forever be linked to him through our joint scholarship together. It was an incredibly generous thing for him to do, but it also instilled in me a desire to contribute to my field for the benefit of other people. I really got into my role then as a faculty member and started doing original research projects and writing.
What did you learn about change and risk from the pivots in your career path?
For me, those pivots are evidence of a liberal arts education's value. We expect to gain certain skills from a liberal arts education: critical thinking, effective communication, problem-solving. Check, check, check. But my education also gave me a broader confidence to try new things and take intellectual risks. The belief that our actions matter and make a difference. A sense of responsibility to be engaged in the world. All of those things contributed to my sense that these pivots were possible and were worth trying, despite the possibility that they wouldn't work out.
When did you start thinking about becoming a college president?
I didn't have the audacity to imagine that I would be qualified to be a college president until relatively recently. Five or six years ago, I was at lunch one day with Case Western Reserve's president, Barbara Snyder, and she asked me what I eventually wanted to be. No one had ever really asked me that. It surprised me, and I sputtered an answer about just wanting to do my job the best way I could. And she pressed me: "When you're retiring, what do you want people to say?"
That was the first inkling I had about aspiring to be a college president. In the intervening time, I watched, I listened, I volunteered for leadership roles. I developed a national reputation in my field through speaking and writing. I took on responsibility in nonprofit board management, started learning the back end of how an institution of higher education works. Last year, President Snyder nominated me for the Hispanic Association of Colleges and Universities' academy for Latinx higher education leaders who aspired to become presidents. That program started in August, the same month I applied for this job.
What drew you to Mac?
Macalester's specific values resonated with me at a deep, personal level, in a way that made me feel like I could tell Macalester's story more effectively than I could tell the story of other places that did not have social justice at their core.
What were your first experiences with social justice?
As a kid growing up in an immigrant home, in an immigrant neighborhood, I saw how people could be mistreated for who they are. I can remember as a child going to a store with my grandmother, who didn't speak English at all. I translated for her and saw how differently and disrespectfully people treated her because she couldn't communicate in English. I wouldn't have had a way of talking about that as a kid, but I saw it, and it made me upset.
By the time I got to high school, I became involved in social activism, but it was around the anti-nuclear movement. My mom still has newspaper clippings from protests that I attended. That experience ignited in me this idea that people have a responsibility to raise their voices when they see a need for change.
How did your activism continue in college?
At Brown, I focused my activism on addressing social class inequality and thinking about all the ways that the university was designed to support and affirm the needs of wealthier students and, in a sense, alienate and keep out low-income students. I don't think that's true for my alma mater anymore—Brown has become a leader in the first-gen movement.
But when I got to Brown, I felt really out of place. I saw students who were bringing in stereo systems, computers, televisions, video games. People had matching comforter and curtain sets and incredible wardrobes. I showed up with a trunk, a suitcase that my mom had given me for graduation, and a black garbage bag that I stuffed with the bedding from my bed at home. I looked around and thought, "Every single person here bought their boots at L.L. Bean." And they all appeared to feel comfortable in that environment, because it was familiar to them. I contemplated transferring out, because I felt like that place was not made for people like me.
But you didn't. What happened?
Early in the spring of my freshman year, I saw a school newspaper advertisement: "Are you having difficulty juggling your job with your academic responsibilities? Are you worried about your parents and sending money back home? If you want to come hang out and talk about money issues, come to this discussion group on Wednesday night." When I saw the ad, it was like, "Wait, there are other people here who are feeling like this, too?"
What did you find there?
About a dozen people showed up, including one who eventually became my spouse. All of us came to that first session beleaguered, shell-shocked, in various stages of thinking about transferring—just really struggling. Everyone shared the same sense of isolation.
As the discussion group wrapped up, we decided that we needed a club for financial aid students. We made one, and when officers were elected, Mike and I were elected co-presidents. The next fall, we fell in love in the process of running that organization. The club evolved into an advocacy group. We lobbied the university, for example, to keep the computer labs open all night because we argued that students with computers had an unfair advantage compared to those who worked in the cafeteria until 10 p.m. and still needed to write papers after their shift.
How did that work change your perspective?
Taking that organization's reins allowed me to feel proud instead of ashamed. In my first year, I would've never wanted to admit to anybody that my family had been on public assistance and food stamps. By the time I was a senior, I was elected to speak at graduation, and I spoke about it publicly. That was the power of those four years. It instilled in me the sense that this is exactly what education is for: to give people not only the knowledge, but the tools, skills, and confidence to feel like they can go out and tackle bigger problems.
What role should higher education institutions play in fighting structural inequities?
Long before the civil rights crisis that was sparked this summer in the Twin Cities, I already felt that higher education—like other sectors in our economy and other institutions in our society—was created by people with a very narrow idea about who was entitled to an education and who wasn't. Colleges and universities are in a really weird and tricky position. They're supposed to be both the mantle of tradition and the seat of innovation and change, simultaneously.
There's an inherent tension. Many would argue that the U.S. higher education system is the best in the world. We don't want to burn down these institutions. But part of innovation and change means taking a fresh look at all of the traditions, customs, and systems—and all of the gatekeeping. Instead of treating the academy like a fortress into which we will allow different people to travel over the moat with the alligators, we need to examine the structure itself.
What do we love about higher education that we should preserve? And what about it do we need to reconsider in order to be not just more equitable, but also better? I believe we are better when we are inclusive and open, when people can bring their whole selves to flourish on our campus.
How do you balance this summer's calls for change with centering long-term plans?
My ideas haven't changed, but I have to be realistic about shifting our timeframe to accomplish those goals, because the immediate health and safety concerns we're facing have to be our top priority. We should not make the mistake of saying that attending to health and safety means we don't intend to dismantle structural racism, because indeed, structural racism is a health and safety threat. We can't pull them apart and treat them like they're different issues. But the bolder vision I have for Macalester involves initiatives that are going to take more time than I would have liked.
The truth is that patience is not one of my virtues. When I see something that's not fair, I want to change it right away. But I also am responsible for being an effective steward of this institution and making sure that it is on solid ground and can thrive well into the future so that generations of students to come can benefit from what Macalester has to offer.
What opportunities exist to build on Macalester's academic excellence?
Macalester's academic reputation is stellar and that is an incredibly strong foundation for the college that we can continue to build on and grow. Our faculty members are first-rate scholars and teachers. Students who come here delve deeply into complex topics and are taught to approach problems in interdisciplinary ways. There also are many opportunities for students to collaborate meaningfully with faculty on research projects that frequently result in publications in top-tier journals. It's this academic excellence that gives our students the tools to go out and change the world.
How do you describe your leadership style, and how has it evolved?
My leadership style is my personal style: forthright, energetic, and focused on people. I'm very transparent, which sometimes can be perceived as too honest, but I don't beat around the bush so people know exactly where I stand. That said, I genuinely am interested in others' advice and input so, although I am decisive, I try to keep an open mind and can be persuaded to change gears. I think I've gotten better at reflection and I'm really working on patience.
How do you practice lifelong learning?
I love learning. School has always for me been a place of both order and wonder. As a scholar, when I'm doing research, I derive joy from making new discoveries. In my personal life, I like to learn as part of whatever I'm doing recreationally—which means I read up on a country before I visit, I read restaurant reviews before I dine out, and I like to try new things whenever I get the chance.
What are you hearing from Mac alumni?
I see alumni as the largest branch of Macalester's family tree. You're only a student for four years—you're an alum for life. It's critically important to engage our alumni at every opportunity. Every alumnus who writes to me gets a response from me. By and large, alumni have been extremely supportive: understanding that I'm taking the helm at a really difficult time, applauding our bold messages, affirming the need to be anti-racist and work on social justice.
What's another issue that you're watching in higher education?
Affordability. Everyone's feeling that pressure. Skyrocketing tuition is a concern for access, but it's also just unsustainable. From expanded counseling services to Title IX officers and dozens of other activities, colleges are being asked to do and provide so much more than they were 20 years ago. And I'm not criticizing those programs—I'm glad we provide them. But they all cost money so we have to account for them.
We need to think about different business models for higher education, where the cost of tuition will not consistently outstrip cost-of-living increases. Might we experiment, for example, with more summer classes?
What brings you hope in this difficult season?
I could go on and on. The way young people are leading right now, with passion and righteous objections to injustice. The creativity and imagination our staff and faculty are putting into reconfiguring what we do. The ways our students are pulling together to support one another. The courage and dedication of health care providers, scientists, first responders, and others who are working tirelessly to make us safer. The natural beauty of Minnesota and the glorious weather we've had this summer.
I have a lot of hope and optimism about the future of our college and our country. And I hope everyone votes in November.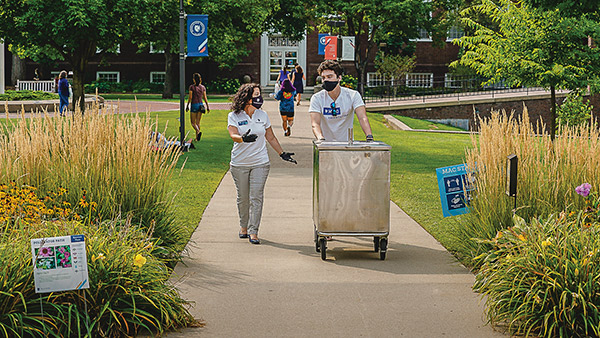 Racial Equity Vision
In June, President Rivera outlined plans to develop three kinds of initiatives focused on diversity, inclusion, and equity at Macalester.
A program to recruit and support the thriving of Black, Indigenous, and other students of color
"People ask me if I want to create something like the Expanded Educational Opportunities program from the 1970s. My answer is yes—but it has to be a twenty-first century version. What I envision is a program that both increases the numbers of students from underrepresented groups and creates an environment in which they can excel. This will not be a program that in any way suggests students of color need remediation to belong and succeed here. I am envisioning a program centered on excellence, one that addresses the environment and the community and makes Mac a place where all of our students can flourish and thrive."
A program to recruit and support faculty and staff of color
"If we can implement a targeted opportunity or cluster hiring program that would bring in a critical mass of faculty of color from underrepresented groups, it would really help us move the needle in terms of making this a community in which our students can see themselves reflected in the faculty. It would bring in different voices, and it would send a strong signal about living our values."
An approach to engage more deeply with partner institutions in and around St. Paul
"Building on great work that's already happening, I want to grow relationships that are not extractive, where the college just takes from the city and views it as its laboratory. I want us to work shoulder to shoulder with Twin Cities residents to improve their well-being, contribute to the region's economic development, and form mutual relationships with bidirectional exchange of ideas, expertise, and knowledge, so that we all benefit."
By Rebecca DeJarlais Ortiz '06 / Photos by David J. Turner