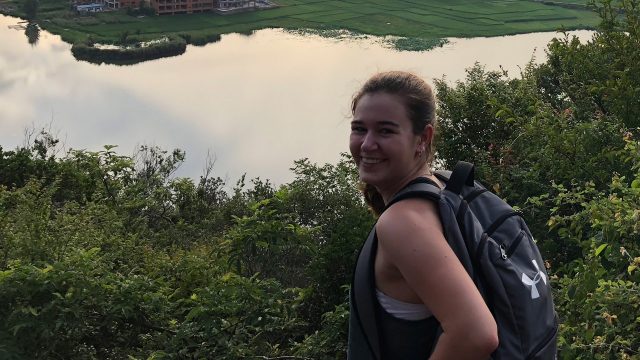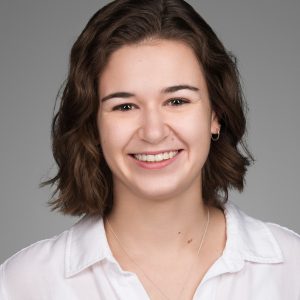 St. Paul, Minn. – Emma Verges '21, of Wynnewood, Pa. has been admitted to the sixth class of Schwarzman Scholars, a fully-funded, one-year master's degree program at Tsinghua University in Beijing. Besides tuition, the scholarship covers room and board, travel to and from Beijing, in-country study tours, health insurance, and a personal stipend. Out of 3,600 applicants, 154 Scholars were chosen. The Class of 2022 will enroll in August 2021 and includes students from 39 countries.
"I've always loved school," says Verges, an international studies and Russian studies double major. "The opportunity to continue that past graduating from Macalester was really exciting to me. The Schwarzman program is perfect because I'd be able to get a master's in global affairs, which is exactly what I want to study."
The program aims to build students' leadership abilities and deepen their understanding of China's role in global trends. Through world-renowned advisers, a rigorous curriculum, and immersion in Chinese culture and commerce, Schwarzman Scholars hopes to create an international network of leaders to serve as a bridge between China and the rest of the world. 
Verges is already eyeing course offerings, such as one called Forty Years of China's Political, Economic, and Social Reform. "I think it'd be really interesting to get to study it from a professor there and be in class with domestic students who might have parents or grandparents who went through it," Verges says. 
She says the emphasis on community is also what attracted her to the program. Schwarzman Scholars live and study together, share meals in the dining hall, and occasionally hold morning yoga classes on the lawn. 
"The cross cultural exchanges that happen in that environment enable participants to become leaders in whatever fields they decide to pursue after the program," says Dr. Ann Minnick, Director of Academic Programs and Advising at Macalester. "Emma was an ideal candidate for Schwarzman given her knowledge of Chinese (as well as Russian, Spanish, French, and Arabic!) and her desire to build bridges across different cultural groups." 
After completing the program, Verges says she hopes to pursue either law school or diplomacy. 
"I fully expect her to emerge from the Schwarzman experience with the leadership skills required to be an effective diplomat," Dr. Minnick says.  
For Verges, her experience at Macalester helped propel her ambitions. "Macalester is one of the best decisions I ever made," she says. "Getting to run cross country with the women's team has developed and built grit into my character. The people I'm in classes with amaze me; how they think and where their opinions are coming from is incredibly interesting. My time at Macalester has made me realize that I can live my life by my passions."
About Schwarzman Scholars
In 2013, Stephen A. Schwarzman, chairman and CEO of the Blackstone Group, founded Schwarzman Scholars to educate future leaders about China. Modeled on the Rhodes Scholarship, Schwarzman Scholars has raised more than $500 million to help endow the program in perpetuity. According to a recent press release from the program, "The vision of Schwarzman Scholars is to bring together the world's best young minds to explore and understand the economic, political and cultural factors that have contributed to China's increasing importance as a global power, and train them to become effective links between China and the rest of the world."