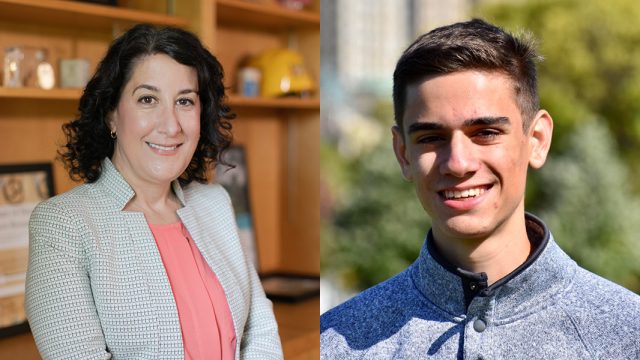 St. Paul, Minn. – President Suzanne Rivera and Sami Banat '24 have been named to the City of Saint Paul's Community-First Public Safety Commission, Mayor Melvin Carter announced on Thursday. The new commission will look at alternative policies and models for the city's emergency response system.
"I am deeply honored to have been chosen by Mayor Carter to serve on this important commission, and I'm looking forward to working alongside other community members and city leaders to make Saint Paul safer for everyone," said Dr. Rivera.  
A Saint Paul native, Banat is an experienced community organizer, having led and worked on successful campaigns that include a 2017 referendum to boost public school funding. He currently serves on the Saint Paul DFL Executive Committee. 
"I love Saint Paul and am constantly influenced by this city and our community, which is why I feel compelled to organize to build something even better," said Banat. 
Sue Abderholden '76, who is executive director of NAMI Minnesota and a 2019 Alumni Service Award-winner, was also named to the 48-member panel. 
The Commission's task will be to examine alternative options for responding to more routine 911 calls, as well as devise approaches to encourage more citizen participation in the city's Community-First Public Safety Plan. 
"Serving the city in this way will allow me to put Mac's values into action. Not only our emphasis on service to society broadly, but also — more specifically — the imperative to make a more just and peaceful world," said Dr. Rivera. "I've said all along that I'd like to help Macalester deepen and thicken its relationships in Saint Paul. One way I can advance that goal is by serving the community when asked."
Through a process led by the Citizens League, the Commission will convene twice a month for five months and present recommendations to the mayor and city council in May 2021. 
"Now more than ever, amid the many crises we face, re-envisioning emergency response is a critical step toward realizing safer outcomes," said Mayor Carter in a press release. "This Commission will help us expand our Community-First Public Safety Framework, and further chart a path forward for our community."
Learn more about Macalester College at macalester.edu.