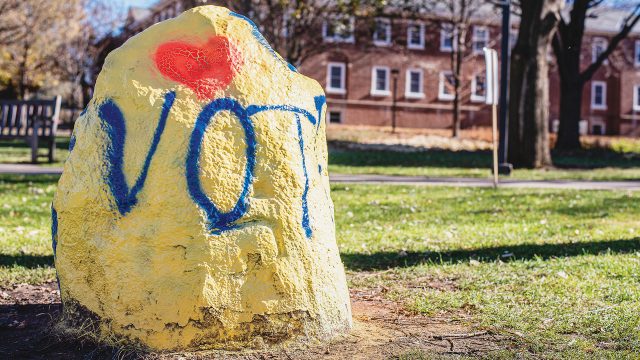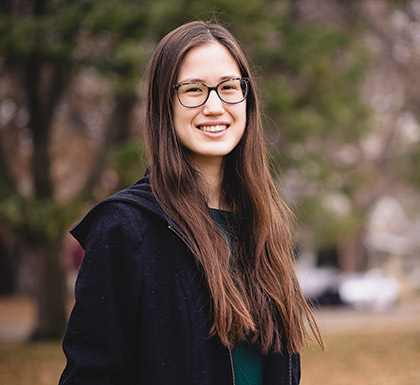 It's the first week of class in "Democracy in Action," and Jason Beal '22 is jotting down initial ideas about one course objective: "Develop a personal theory of change and a plan to put it into action."
It's a big ask, but it's also a big reason why Beal, a physics major from Bethesda, Md., is drawn to this class. As civil rights activists took to the streets last summer in the Twin Cities and worldwide, Beal began engaging with friends and family about social justice issues, initiating conversations he hadn't had before. He wanted to find a path to keep doing that work through an academic course.
"I was looking for a class where I would be forced to engage in conversations and actions that were either uncomfortable or in a direction I'd never taken before," Beal says. "I wanted to take a class that would challenge my understanding about the world."
In a nutshell, that's "Democracy in Action," a new class that's giving students the chance to engage in political action for academic credit. Eric Carter, a geography professor, and Paul Schadewald, senior program director for community-based learning and scholarship, designed the course—a civic engagement component paired with a weekly seminar—with additional guidance from Michael Porter, director of academic internships; Karin Trail-Johnson, director of the Civic Engagement Center; and a faculty and staff steering committee.
Their goal: to take advantage of the once-in-four-years opportunities of a presidential election. By semester's end, they hoped students would better understand what it means to engage in the practices of democracy collectively and contribute to the broader community. And they also wanted students to develop that personal theory of change—in short, identifying a long-term goal and then mapping out the steps to get there.
The course is nonpartisan in its foundation and interdisciplinary by intention. "Those topics cut through partisan politics," Schadewald says. "All of us have skills and perspectives that we bring to public life; all of us have something to contribute and something to learn."
Through the fall, 31 students spend at least 75 hours working with campaigns and civic mobilization organizations, gathering remotely for weekly discussions, readings, and guest speaker presentations. "We've had valuable conversations about the limitations of elections and voting, the importance of civic engagement, and how to stay motivated when there are so many ingrained injustices in the U.S. political system," says Lia Pak '23 (Northfield, Minn.).
"Democracy in Action" took shape initially as the civic engagement component, which Carter and Schadewald imagined would be structured as an independent internship. They learned quickly that students wanted more. "Students told us that they wanted to connect with people, to have a space to share and reflect and put into broader perspective," Schadewald says. "And being in a pandemic makes that hunger even stronger."
Last summer, Carter and Schadewald rebuilt their syllabus to teach the class during COVID-19. They had to scrap plans for in-person group trips around the Twin Cities, but there was a silver lining: the nationwide adoption of virtual meeting technology like Zoom opened new opportunities for students to work on campaigns all over the country.
Early in the semester, Beal decides to take action with Minneapolis-based MN350, an environmental justice organization focused on creating a healthy future for all. He's inspired by MN350's own theory of change: to move people from being "uninvolved in the issue of climate change to anxious about the issue to acting on the issue." Working remotely, he writes emails and commentaries, edits the website, and calls voters to ask them to support candidates focused on climate justice. He's learning a new skill practically every week. "There's a lot of firsts for me in this class," he says, "but that's what I wanted."
Pak decides she wants to focus on voter outreach close to campus. She connects with the nonpartisan League of Women Voters' St. Paul Youth Vote Team, where she oversees student video projects about voter registration, mail-in ballots, and last-minute voting resources that run as part of Central High School's morning announcements via YouTube. "It's so important to get young people engaged," she says. "And that doesn't mean getting them engaged only on issues that I care about. I want to see people my age and younger involved at any level."
"An emotional rollercoaster"
In a global pandemic, students attempting "community engagement" work have to be creative when they can't meet in community. No one in "Democracy in Action" is logging long hours at bustling campaign headquarters with fluorescent lights, walls plastered with posters, and old pizza boxes piled in a corner. Most of their work happens in their bedrooms and living rooms.
As part of U.S. Senator Tina Smith (D-MN)'s reelection campaign team, Emma Eichenbaum '24 (Washington, D.C.) has been working on communications and other tasks, almost entirely from her Dupre single. "For me, this work has helped cement that there are so many ways to take action," Eichenbaum says. "You can go to protests, but you can also stay home and be politically active, and they both make a huge impact."
She's grateful that Smith's team has tried to build community for the interns by setting up Zoom meetings with different campaign directors, to expand each fellow's network beyond their direct supervisor. "We've gotten to hear about their jobs and how they got to where they are now," Eichenbaum says. "It's been incredibly meaningful and helpful to hear that even though you're on a certain path now, it might not be where you end up in the future. It's validating to hear you don't have to plan out your entire life right now."
At home for the semester, Alex Hamann '22 (Lincoln, Neb.) has joined the congressional campaign of Kate Bolz, a Nebraska state senator who represents his home district. With the exception of a few socially distanced outdoor events, staffers have decided the team can't door-knock safely, so they're striving to replicate those connections virtually and over the phone.
The conversations have surprised Hamann, who is calling voters for the first time. "Obviously there are people who hear I'm from a campaign and say something mean and hang up," he says. "But there are also people who give me—a stranger on the phone—a very in-depth look at what they believe in and why. I think people are lonely right now, and, in part because of the pandemic and in part because people are so polarized, we don't have the usual avenues to talk about politics."
In early October, he's focused on his work but also wondering about Election Day. "It's going to be an emotional rollercoaster," he says. "These next few weeks will be ones that I think my grandchildren will ask me about for their school projects: 'What was 2020 like?'"
One week to go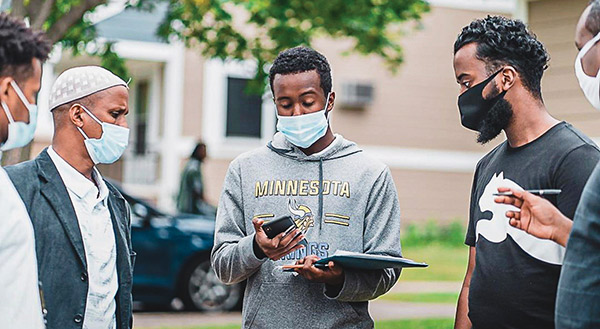 In class the Thursday before Election Day, Jason Beal, who's focused on environmental advocacy, shares the news that his letter to the editor about the Green New Deal has been published in the Grand Rapids, Minn., Herald Review. He's gathered with four other students and Schadewald on Zoom to share the frenetic energy of the final push. Sam Hickman '21 (St. Paul) is phonebanking five nights a week for Minnesota State Sen. Susan Kent and plans to call voters all day Monday and Tuesday. Abdifatah Abdi '22 (Minneapolis) will spend long days canvassing to get out the vote in Rochester and St. Cloud with Faith in Minnesota.
Early voting isn't even over yet, though with students immersed in the democratic process, the students are already feeling a shift in their view. More than one mentions a class reading by Tufts University scholar Eitan Hersh on "political hobbyists" who are obsessed with national politics and may be highly engaged with like-minded people on social media but do little political work like volunteering for campaigns or with community organizations. "They don't attend rallies, don't contribute to campaigns, don't do anything to be involved in the democratic process," Hamann says. "It's a real critique of who I think I was in high school. Every time there's an election, there's somebody like me who's just doing it for the first time. Without that involvement, we lose touch with the big ideals of democracy."
Across the divide
For many students, their work gives them a deeper sense of the country's deep political divides. That partisanship frustrates Hamann in Nebraska. In conversations with early voters, he asks if they voted for his candidate and is surprised by how frequently they aren't able to remember. They report they'd simply voted for the Democrat or the Republican—same as they'd done for years. "That just blew me away," he says. "We need to figure out how to get people to look past the little letter at the end of the candidate's name and pick based on their merit. We need people to be able to say, 'Democrat for president, Republican for Senate, Democrat for House' because of what they're saying or how they're qualified."
Hamann has also refined his theory of change through his work with his candidate, Kate Bolz, who is a Democrat who opposes abortion rights. Hamann, on the other hand, is pro-choice. "That's pretty unconventional nationally, and there's some sort of Democratic litmus test that she'd fail because of where she stands on abortion rights," he says. "It's been a really interesting look into what happens when you work for a campaign for someone that you don't necessarily agree with on every issue. I think there's been a move in recent years to seeing incrementalism as a failed form of politics—that we need radical change now. To me, it's more important that I have somebody who I agree with more, than somebody I don't agree with at all. It's been pretty insightful to work on this campaign, with people coming from all sorts of different backgrounds, to rally around this candidate as one who has a chance in Nebraska."
Back in Minnesota, professor Eric Carter says students—especially those whose only Minnesota community is Macalester—have begun to better understand the amount of ideological diversity statewide. "They learned a lot about just how divided politically we are, but also how the campaigns approach that division really reasonably," Carter says. "It's not in a campaign's interest to demonize voters for their political beliefs. I haven't heard too many examples of our students persuading someone who had planned to vote the other way, but they still had to have conversations, frequently, with people who didn't think just like them. That was really valuable. I think they learned to humanize their political opposites a little bit more."
Beyond campaigns
Schadewald and Carter emphasize that social change work expands far beyond electoral politics, and several students have chosen to focus their efforts toward different forms of advocacy and activism. Unlike most of his classmates, Daryll Seneque '23 (Brownsburg, Ind.) isn't focused on getting out the vote. Instead, he's working with immigrants who can't vote yet. He's part of that group: Born in Haiti, he became a U.S. permanent resident in 2016 and spent most of high school in Indiana. "I don't have the right to vote," he says. "But I do have opinions."
Because of his background, Seneque was drawn to COPAL, a Twin Cities grassroots community organization that strives, among other objectives, to transform the U.S. political system into one where all immigrants can succeed.
From home in Indiana, Seneque is interviewing immigrants via Zoom so that COPAL can compile stories in each person's own words. "It's important for me to let them tell their story the way they want it to be told," Seneque says. That's a harder project than he expected initially, with plenty of people declining to be interviewed for fear of putting their immigration status at risk.
Seneque says he underestimated at first what it takes to engage in successful community organizing. "It's not as easy as I thought it would be," he says. "But after my first couple of meetings, I wanted to keep going with this kind of advocacy. It's hard, but it's worth it."
Bittersweet debrief
For the campaign-focused students, Election Day represents their work's culmination. Abdifatah Abdi spends the day 75 miles away from campus in St. Cloud, offering transportation and helping Muslim voters figure out their polling sites. Maddie Smith '24 (Ely, Iowa) chalks get-out-the-vote messages around campus. In Nebraska, Alex Hamann takes on a new role as a nonpartisan poll worker from 7 a.m. to 9 p.m.
Once Minnesota polls close at 8 p.m., Emma Eichenbaum spends the night watching coverage—first until Tina Smith emerged as the winner in Minnesota's U.S. Senate race, then focusing on the presidential race. "Like a lot of people, I don't really think I slept for more than a couple of hours for a few days," she says.
A week later, the class gathers in small groups via Zoom for a bittersweet conversation. Everyone is processing the presidential election and trends from races around the country. Some, like Sam Hickman, are celebrating victories: his candidate, State Senator Susan Kent, won her race. Lia Pak, who worked with young people through the League of Women Voters, is tracking turnout numbers that have her feeling hopeful that the momentum will continue and lead to higher engagement at all levels in the future. Abdifatah Abdi's big goal to flip the Minnesota senate to Democratic control didn't happen, but his work helped two Democratic challengers win races. "There's a lot of work to be proud of," Abdi says.
Others are grappling with being part of campaigns that lost. Maddie Smith '24 is reflecting on her work with incumbent Minnesota State Representative Anne Claflin, who lost her reelection campaign. "It's difficult to deal with," Smith tells her classmates. "I'm wondering, 'Could I have done more?'"
In Nebraska, congressional candidate Kate Bolz lost her race by a wide margin, and Alex Hamman is questioning the validity and future of polling. "I made thousands of phone calls and my sense was that my candidate had a shot, and she ended up losing by 20 points," he says. "That's pretty decisive, especially in a race that we were considering to be competitive."
After Election Day, the big questions in class discussions change, but they don't stop. Students begin investigating several themes for their final projects, including what role higher education institutions should play in political engagement, what impact the pandemic had on the 2020 election, and whether Americans can find a way to heal their divides.
Already, their work has spurred ideas and changed their perspectives. Alex Hamann is quick to say he'll always respond to future calls or texts from campaign volunteers. Daryll Seneque is applying what he has learned from his COPAL interviews to his role as Macalester College Student Government (MCSG) chief of staff, scheduling conversations with MCSG members to improve the organization's efficiency and better support their needs.
And as they delve into their final projects, the "Democracy in Action" students will continue to apply lessons from their internships to their work in class—and they'll continue to learn from each other. "Years from now, I'll remember that I was working with a lot of talented individuals working for real change," Seneque says. "Coming to Mac, I knew that I was going to create some change while I was here. I didn't know it was going to be on this scale, and I didn't know it was going to be so soon."
Mobilize Mac
"Democracy in Action" is one piece of the broader Mobilize Mac umbrella, coordinated by the Civic Engagement Center. The broad goal: to create more opportunities for community engagement on election-related issues, regardless of voting eligibility, party affiliation, or voting status.
In 2020, more than 20 Mobilize Mac events happened before, during, and after the election. Most of them—including watch parties, reflection sessions, and an election debrief panel—took place via Zoom, but the group also took care to plan programs that could happen in person with physical distancing measures. "Having that space to gather is really important," Jason Beal '22 says. "Seeing someone in person, even six to 10 feet away, is a million times better than seeing them on the computer."
On Wednesday of Election Week, students, faculty, and staff gathered on the Great Lawn for music, warm cider, and a campfire. Community members also contributed "Pieces of Mac," a public art project featuring pieces of cloth labeled with one word to express how each person was feeling that night—a visual representation, organizers wrote, of "how being a piece of Macalester connects us into something bigger."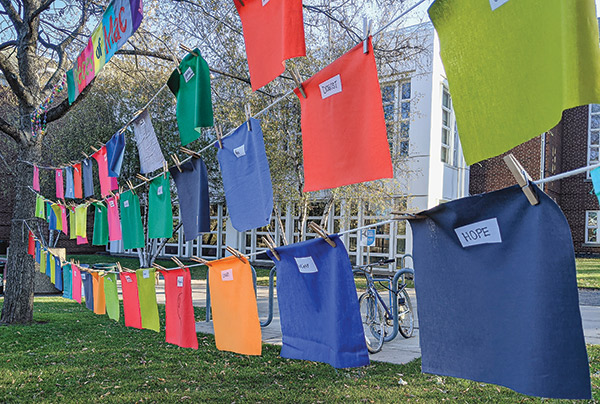 By Rebecca DeJarlais Ortiz '06