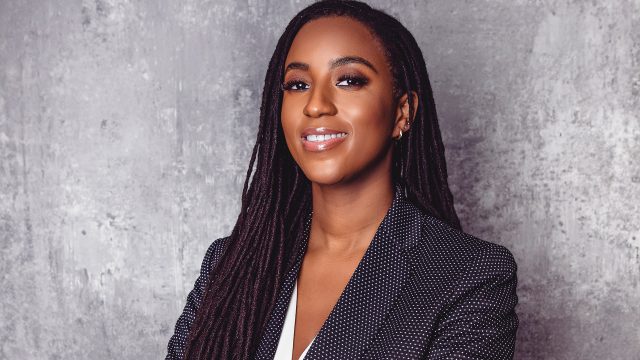 In late 2018, a display of "Pradamalia" in a Manhattan shop window made Chinyere Ezie, a Black New York City resident, do a double-take. The Prada collection consisted of accessories adorned with animal-like imaginary creatures including a black monkey figurine with oversized red lips reminiscent of Sambo, a generations-old caricature that has been used to mock and dehumanize Black people.
Disturbed, Ezie posted pictures of the display on social media, where the post went viral and led to a national outcry. Prada apologized and stopped selling the keychain. But Demoya Gordon '06 and her colleagues at the New York City Commission on Human Rights wanted to see more substantial change.
Gordon, a supervising attorney, worked with deputy commissioner Sapna Raj to lead an investigation of the fashion powerhouse. The commission charged that the display of such racist iconography manifests discrimination on the basis of race, suggesting that Black people are unwelcome at Prada. In February 2020, the company and the commission reached a groundbreaking settlement.
The terms included significant financial investment by Prada to combat racism and promote diversity and inclusion within the fashion industry by creating a scholarship program; hiring a permanent diversity and inclusion officer; undergoing racial equity training; and increasing staff diversity.
"At the commission, we hope this settlement with Prada will serve as an example to other government entities across the country of how government can be a force for good in people's lives," she says.
Gordon has dedicated her career to fighting through the law and through policy for people of color and members of the LGBTQI community. As a teenager in Jamaica, she decided to brave the Minnesota cold and attend Macalester because it embodied her values.
"Growing up, I was keenly attuned to social inequities such as homophobia, colorism, racism, and transphobia," she says. "I was really drawn to Macalester's culture and ethos around social justice and internationalism."
At Mac, where she majored in sociology and minored in legal studies, Spanish, and psychology, her interest in civil rights and social justice continued to flourish. "My courses and the conversations I had with peers, professors, and other community members at the college really ignited my desire for a career path where I could make a difference," she recalls.
Gordon attended law school at the University of California–Berkeley. After working for a traditional law firm for several years, in 2015 she became an attorney for Lambda Legal, a New York-based national nonprofit that works through litigation and public policy on behalf of the LGBTQI community and people living with HIV. At Lambda Legal, Gordon felt she had found her path. She focused on litigating on behalf of transgender people who were incarcerated, a particularly marginalized and misunderstood population. "Trans people in prison are often forgotten—even in social justice and progressive spaces," Gordon says.
After three years at Lambda Legal, Gordon joined the New York City Commission on Human Rights, the agency tasked with enforcing the New York City Human Rights Law, one of the broadest anti-discrimination laws in the country. Her work with the commission focuses on race-based and LGBTQI-based discrimination in public spaces such as stores, restaurants, hotels, taxis, or anywhere else goods or services are offered. She also works on cases involving discrimination by law enforcement and by corrections agencies or officers.
In addition to the Prada case, Gordon and her colleagues recently won discrimination cases on behalf of a non-binary customer at Zara and a transgender man who was discriminated against when he sought safety in homeless shelters. In both cases, the settlements secured monetary damages for the complainant but also included measures to help the transgender community in general. The commission also became the first government entity in the country to issue legal guidance banning discrimination based on hair texture or hairstyles closely associated with Black people.
Carmelyn P. Malalis, chair and commissioner of the NYC Commission on Human Rights, says Gordon's dedication to justice is evident in her work to combat racism and discrimination. "Her work has had broad impact, ensuring in many circumstances that businesses invest in communities that have historically faced discrimination, become more culturally competent, and embrace restorative justice practices," Malalis says.
Working for the government has been a fascinating pivot from Gordon's previous experience at Lambda Legal, where she often sued government entities for violating people's rights. "As a Black queer immigrant woman, it's been really gratifying to now work for a government entity that understands the importance of standing up for people's rights," she says. "It's an example of what government should be—and can be—in the ongoing fight for justice."
By Tequia Burt / Photo by Nicole Mondestin
Tequia Burt is a Chicago-based freelance writer.