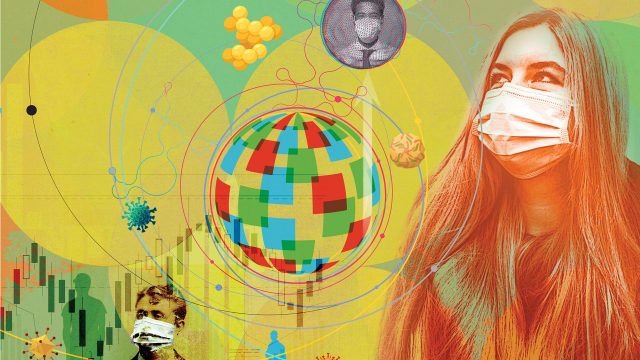 "It's like taking a course on fire narratives while living in a burning building," international studies professor David Chioni Moore says of his newest course, "Global Contagions, Past and Present." "I never could've imagined telling my class that I'd be late to our course on pandemics because I had to get a COVID test."
Still, Moore says, when he—like everyone—became consumed with news of the rapidly spreading coronavirus pandemic last February, he knew this was a course he needed to teach.
"This isn't an area of expertise for me, the epidemiology and virology of the whole thing," Moore says. "But I am a specialist in relations between literature and cultures and identities, and I knew that there was a 2,600-year-old tradition of writing about pandemics."
On a Monday in November, the class is comparing the 2011 Hollywood disaster film Contagion to other historical texts they've studied—including Albert Camus's The Plague, the 1947 novel exploring a bubonic plague outbreak sweeping a French-Algerian city; and Daniel Defoe's A Journal of the Plague Year, an account of surviving the 1665 plague epidemic in London.
The students, who watched the film over the weekend, are eagerly participating and sharing opinions—the class has an easy camaraderie that has become increasingly rare in the age of Zoom. Some feel the movie was almost too realistic, while others critique the scenes of drugstore looting and violence as overly dramatic. Moore notes, however, that it would only take another "two or three degrees of disaster" to make some of those scenes a reality.
Cande Torres Jimenez '22 (Salta, Argentina) says what has surprised her most about the course is the consistency of human nature. "We think that we're evolving, that we're more prepared to face these kinds of troubles," she says. "In reality, we've reacted to this pandemic the same way we've reacted to pandemics throughout history."
Torres Jimenez recalls an article the class read from the 1918 flu pandemic, detailing the U.S. national resistance to wearing masks and closing public spaces.
"If you change the date on the article, it could easily be about COVID," she says.
When Lexi Petronis '23 (Richmond, Va.) read The Plague, she was particularly moved by the description of the monotony of everyday life while waiting for the pandemic to end. "It talks about the endless cycle of waking up every day and feeling like you have no purpose except for the collective," Petronis says. "I was like, yeah, Camus does not have to tell me twice."
Moore hopes the course will contextualize the experience of the coronavirus pandemic for his students, and give them the tools they need to explore and critique the many narratives emerging from the disaster.
"Pandemics are a very old human phenomenon," Moore says. "Humanity has lived and died through these events many times before. It's really important who tells the stories from these experiences, and how they are told."
By Rebecca Edwards '21 / Illustration by Stephanie Dalton Cowan