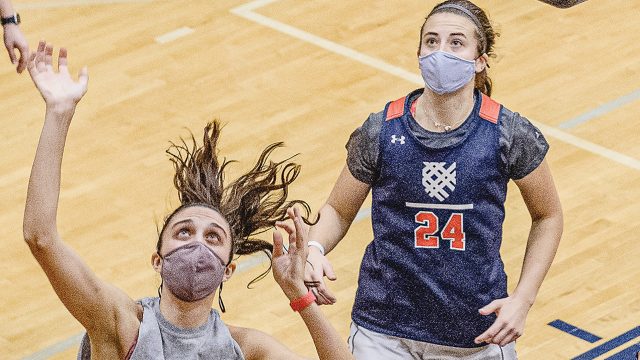 When Athletics Department teams were cleared in mid-September to gather for practice for the first time in six months, athletics director Donnie Brooks's message was one of strict caution: "We're going to have the safest practices you can outline."
That meant implementing a return-to- training plan—crafted with guidance from the CDC, NCAA, and campus partners—that started with a step back: teams created a Phase 0.5 instead of starting at the Phase 1 safety protocols.
Coaches and student-athletes began gathering in groups of six, 10 feet apart, with face coverings. Coaches separated the on-campus athletes—primarily first-years—from returning athletes living off-campus, scheduling duplicate practices or spreading out across a large field in separate groups. Strength and conditioning staff retrofitted the Leonard Center to space equipment appropriately.
Their work and care paid off. Skill development replaced competition this past fall, but teams were able to move through two more phases. Training groups increased from six to 10 to 16, still physically distanced and with face coverings for everyone. Club sports started to develop practice plans. "Our students and coaches followed the plan, and they didn't try to rush," Brooks says.
For many coaches, including second-year women's basketball coach Katie Kollar, team feedback has guided their approach as much as each phase's protocols. "All fall, we've been finding everyone's comfort level," she says. The team stayed at Phase 1 for a month, with a maximum of two players per basket, six feet apart, with no contact. "With Phase 1.5, we can have 15 minutes of live play per practice, and we're playing five on five for the first time since March. That makes a big difference, but we had to make sure everyone was comfortable with that—we paced a bit slower, and that was the right move. There's a lot of joy in the gym."
By early November, Brooks's message had turned to gratitude: to the campus partners who helped build the plan; to coaches and other department staff who have reimagined and supported their teams in new ways; and to the students, faculty, and staff for following the Mac Stays Safer community commitment so closely and helping to keep the college's overall COVID-19 case numbers low. "We had an incredibly safe return to training, with zero stoppages in practice," Brooks says. "Mac students overall—not just athletes—are doing a really good job of following the community commitment."
With all campus activities occurring remotely from mid-November through January per the college's plan for the academic year, practices are paused again, but efforts will continue across the department to build community and connections for both current and prospective students. Brooks has challenged his coaches to recruit the strongest class of student-athletes in college history, and new recruiting possibilities have emerged: in November, the annual Junior Prospect Day program moved online, bringing in students who may not be able to visit campus as easily. Kollar says her days include lots of check-ins with current and prospective students. Student-athletes play a role in the recruiting work, too: many have been Zooming with prospective students, in place of overnights in residence halls.
More uncertainties loom ahead regarding spring competition, but Brooks doesn't rule out the possibility of partnering for friendly competition in the first half of 2021 with other institutions that are being equally cautious and testing rigorously. "We expected it would be a big challenge to keep students motivated with no games in sight," he says. "But our students have this will and desire to keep going, with a glimmer of hope that we may return to some kind of competition when things start to get better."
Photo by Kurt Stepnitz