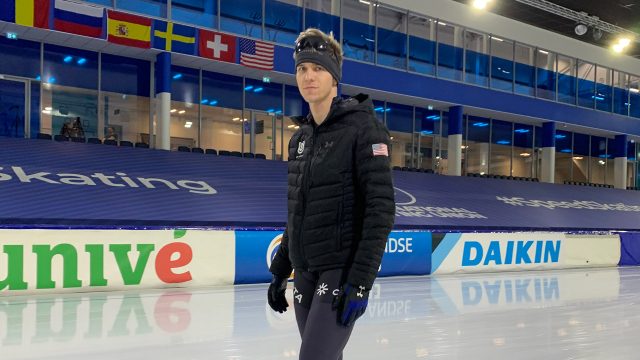 St. Paul, Minn. — Third-year student Conor McDermott-Mostowy is doing everything he can to not let a pandemic get in the way of his Olympic dream. For the past three weeks, the 22-year old neuroscience major has been shuttling back and forth between his hotel and the skating oval in Heerenveen, Netherlands. That's where the world's best long track speedskaters—or at least the ones who've opted to compete—have gathered for this year's shortened season, which includes two World Cup competitions and the world championships all condensed into four weeks at Thialf, the famed Dutch ice arena. 
Having made the 2020-21 U.S. Long Track National Team, as well as the world team, McDermott-Mostowy took Modules 3 and 4 off and agreed to abide by severe travel restrictions in order to have the chance to compete against the world's fastest skaters. This weekend, the Washington D.C. native is slated to race in the 1000m and 1500m at the ISU World Single Distances Speed Skating Championships. How well he performs on this big stage will go a long way toward positioning himself for the Olympic trials and ultimately whether he'll be lacing up his skates for the 2022 Winter Olympic Games in Beijing. 
What has it been like in "the bubble" for the last four weeks? 
It's definitely been an unconventional World Cup experience. Normally there'd be a much bigger team here and we'd go to coffee shops and just see some of the sights in the Netherlands. But we can't leave the hotel, and we can't interact with other skaters because the teams are spread out in different hotels. So definitely the community and the cultural immersion experience of going to World Cups has been hindered. 
But I was expecting to be extremely bored and I haven't been. Between going to the rink everyday and doing my second workout in the afternoons, I've been busy. And we have really long meals as a team, talking for hours, because that's the only time we get to hang out. I bought three books to read and I've only cracked open the one I started before I came here, so it definitely has been less boring than I expected. 
Making the World Championships is a huge achievement, and it's often a prelude to competing in the Olympics. How has the COVID pandemic affected your goal of making the U.S. Olympic team? 
If anything, I think it actually might improve my chances. The U.S. team is very young, our top skaters are in their thirties and then the next tier includes me and those of us in our early twenties. And so having extra time to train is actually beneficial for us. When you're on the World Cup circuit in a normal year, you're traveling for like six weeks and you can't really train when you're competing. 
Last year, I only skated in the 1000 meter races and I didn't really have time to focus on the 1500 meter distance. And then this year I got a lot better at the 1500 because I had a lot of time to practice. So actually having more time has helped me a lot.
Speedskating is not exactly a popular sport in the United States. How did you get into it? 
I learned to skate when I was two, so it's really something I've always done, but I was never interested in playing hockey or figure skating. When I was about 10 years old, my family and I were skating on the C&O Canal in D.C. when it froze over and some guy went by on speedskates and I said, "I want those skates!" So my parents found a local club in D.C. for me to try speedskating, and the rest is history.
What do you love about the sport? 
Part of it is that I'm not really into team sports, because at the end of the day, if you don't do well, there's no one you can blame except yourself, and I like that aspect of it. It's also just an amazing feeling to go that fast. At our fastest, we skate at about 35 miles per hour—or I do, some people skate faster than me, obviously. 
You're from Washington D.C. What made you come to Macalester for college? 
I've had a lot of family go to Macalester, but I also wanted to be in a place where I could skate and go to school. And actually right in Roseville, there is John Rose Oval, which has an outdoor speedskating oval, and that factored into my decision a lot. 
Conor McDermott-Mostowy will compete in the 1000m and 1500m at the ISU World Single Distances Speed Skating Championships in Heerenveen, Netherlands from Feb. 11-14. 
Learn more about Macalester at macalester.edu.